The Florida-based Caribbean Princess is cutting its cruise trip short after a gastrointestinal outbreak that sickened more than 370 people—as Princess Cruises grapples with concerns of coronavirus on board a ship in Japan.
The Centers for Disease Control and Prevention (CDC) said on Tuesday that about 11 percent of the 3,035 passengers, or 345, have become sickened. About 26 of 1,161 crew members have also been sickened.
The outbreak has nothing to do with the Chinese coronavirus outbreak that has impacted other cruise ships around the world.
"This is a highly unusual development and we share the disappointment of our guests," Princess Cruises said in a statement. "However, the health and safety of our guests and crew is our top priority, and in working with the US Centers for Disease Control and Prevention, it was decided out of an abundance of caution, in this specific instance, to discontinue the cruise."
Passengers will get a 50 percent refund and a credit valued at 50 percent of their cruise. It added that the ship is now sailing to Port Everglades in Fort Lauderdale and will arrive Thursday.
The Caribbean Princess will then resume its schedule is slated to depart on Feb. 16 from Port Everglade.
The CDC said the ship will receive "a super sanitation cleaning," and an investigation team will arrive to investigate the outbreak.
It's not clear what caused the gastrointestinal outbreak, but norovirus has been a culprit in a number of similar outbreaks on cruise ships. Dozens of passengers got sick from norovirus on Saga's Spirit of Discovery cruise ship this week, according to the company on Tuesday.
And hundreds of passengers fell ill from norovirus on Royal Caribbean's Oasis of the Seas last month. The CDC said 561 passengers and 31 crew members were treated for the illness, reported USA Today.
Norovirus was also blamed by local health officials for an outbreak that sickened about 200 people at a Lousiana casino earlier this week.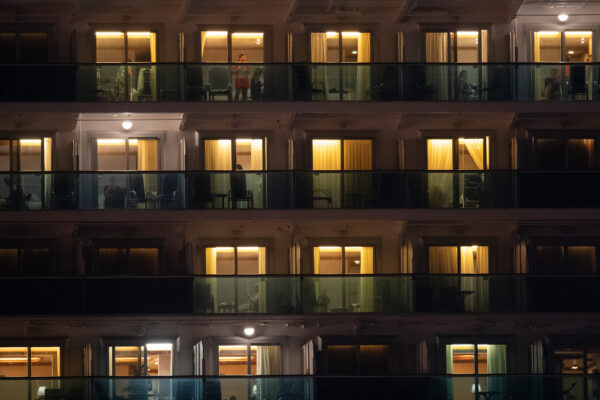 Meanwhile, Princess Cruises has been forced to keep its Diamond Princess ship under quarantine off the coast of Japan. Health officials this week confirmed around 135 cases of coronavirus on the ship after a passenger from Hong Kong was confirmed to have contracted the virus.
"We need to properly address the unease and concerns of our citizens," said Health Minister Katsunobu Katō, reported The Mainichi on Monday.
Princess Cruises said on Sunday that it would refund the full fare for the passengers, including travel, ground transportation, airfare, and other costs.