Commentary
In line with the Chinese Communist Party's (CCP) preparations to celebrate its 100th anniversary, Chinese schools and kindergartens are carrying out various "thank the Party" activities, including one themed "grateful to the Party for giving me a good environment to grow." However, child abuse and injuries in kindergartens have been widely exposed across China.
Physical Injuries
A three-year-old girl from a kindergarten in Xi'an, Shaanxi Province, a landlocked province in northwest China, was spotted with 29 needle jabs in her body after being tortured by a teacher.
A four-year-old boy in Shenzhen, Guangdong Province, a coastal province in southern China, was repeatedly pricked with needles by three teachers.
A kindergarten teacher in Dalian, Liaoning Province, a coastal province in northeast China, was found to be abusive, and toddlers under the person's care were found with many scars.
A kindergarten teacher in Puning, Guangdong Province, hit a toddler, making his mouth bleed and knocking out his tooth.
A three-year-old boy in Harbin, Heilongjiang Province, in northeast China, had injuries on his head and neck because a female teacher pressed a stool on his head.
In Changzhou, Jiangsu Province, an eastern-central coastal province, a kindergarten teacher not only violently slapped the kids but also had the kids slap their own faces.
In Hangzhou, Zhejiang Province, an eastern coastal province, a number of kindergarten teachers beat up their kids.
According to the kids' descriptions and videos, kids were kicked, hit on the head, slapped in the face, and violently dragged.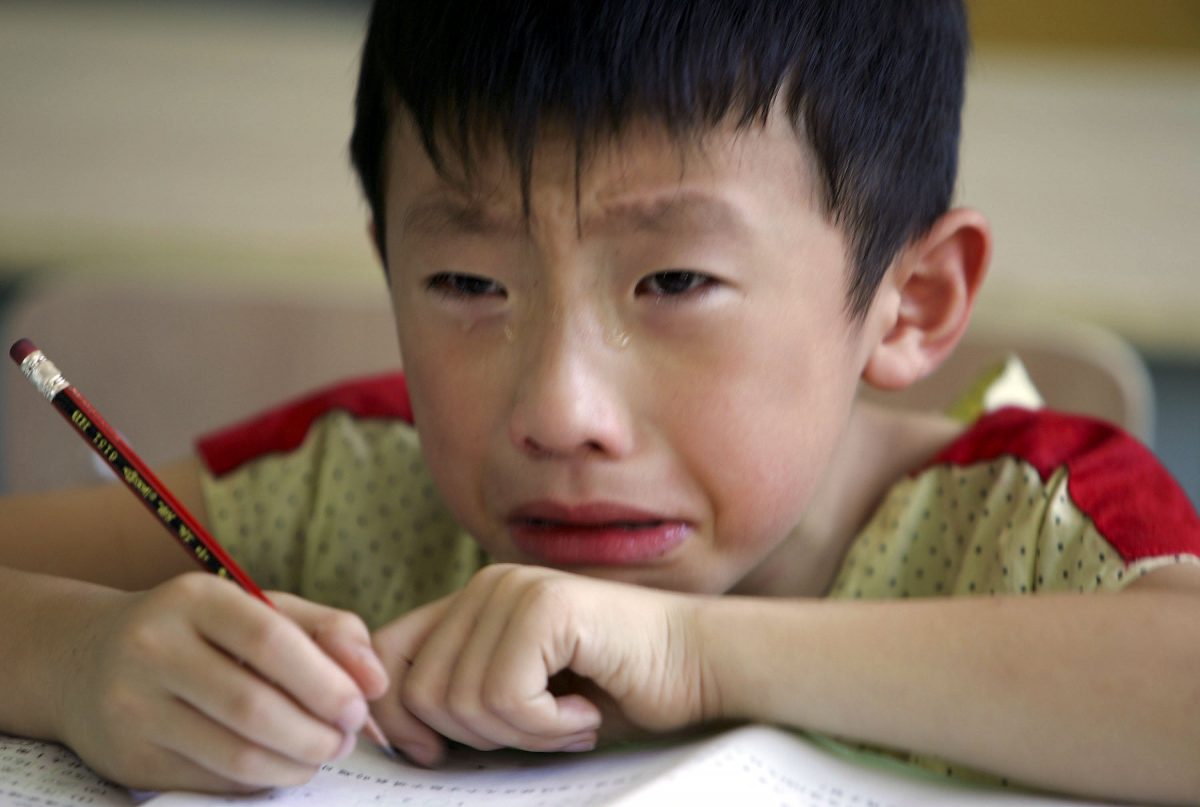 Destroying Self-Esteem
In Yunnan Province, a landlocked province in the southwest, a mother said her three-year-old daughter was forced by her teacher to eat feces from the toilet at a kindergarten in Kunming because she did "not study hard in class and behave at mealtime." She claims other children told her they saw the girl being forced to eat the feces twice by the teacher.
In Jiangxi Province, a landlocked province in the east, a male teacher at a branch of RYB Education, a publicly listed company for preschool education, posted a photo on his Weibo social media account of a toddler's hands holding an adult's foot and sniffing the foot. The post started with the text, "Cultivate 'm' at a young age." Following the picture was two comments, one that said "smell it, carefully smell it," the second that stated, "parents and teachers have been blocked." The "m" in the text was interpreted as a reference to sadomasochism, according to other netizens' comments.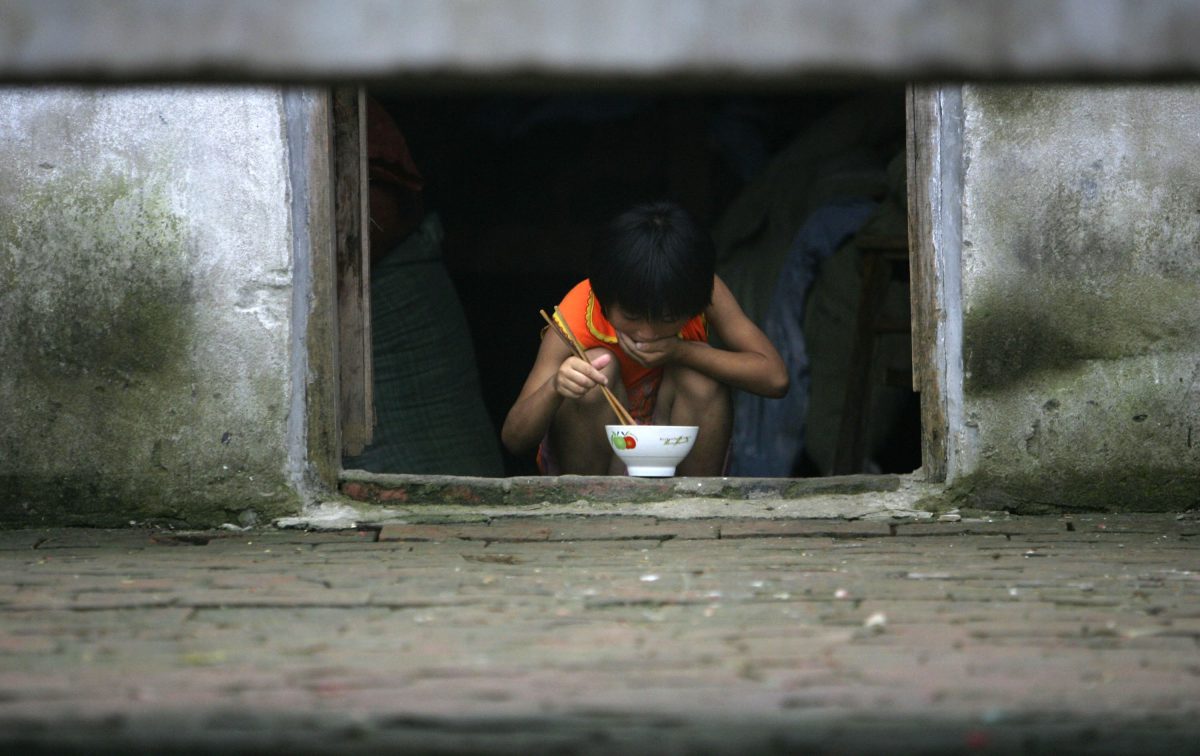 In Yongshun county, Hunan Province, south-central China, a second-grade teacher asked a dozen or so students who hadn't donated money to line up for a video and sent it to the parent group. Parents were mobilized to raise funds and each student was asked to donate six yuan (just under $1). The teacher announced, "It must be done today." The teacher reportedly did it under the instruction of the school, initiated by Yongshun County Education Foundation.
The video announcement of students who failed to donate is nothing new. In 2018, in a primary school in Maoming, Guangdong Province, 10 children were called up by the teacher to take pictures with their hands behind their backs on stage because they had not donated, and the video was sent to the parent group for public criticism.
The video was narrated with the teacher saying their names and that "these 10 students have not donated."
The students who had not donated money were penalized by getting a time out and standing in a row. Their faces were scanned across one by one. At the same time, a voice of harsh questioning was heard in the narration. This scene was very familiar, just like televised "confessions" on state media.
In fact, ever since Chinese state-run CCTV started to broadcast public confessions in 2013, from 2013 until 2016, there was about one prime-time confession every month. CCTV took the lead to demonstrate to locals how to put people on public trials. This time, Hunan's public trial of the young students who failed to donate money took place at Yongshun county, a remote and deeply impoverished area in western Hunan. The local children are not well-off. Unfortunately, dignity is not worth even six yuan.
Numerous Abnormal Casualties
On April 13, a four-year-old boy suddenly died in a kindergarten in Taierzhuang, Shandong Province, northeastern China. When the child's family rushed to the kindergarten and asked to check the security camera, the school claimed the camera was broken. As of now, there is no official conclusion on the cause of the child's death.
On April 28, in a kindergarten in the local township of Yulin city, Guangxi Province, southern China, a man with a knife suddenly began indiscriminately attacking teachers and students. Local officials reported two deaths (both children) and 16 injuries (including two teachers). However, according to news from eyewitnesses on the Internet, more than two kids died at that time, and the actual number of deaths was more than nine children.
Public reports from 2010 to 2020 show that in the past 11 years, there were many homicides in schools across the country each year, particularly in elementary schools and kindergartens.
Take these few cases as examples.
In 2020, there were two deaths and four injuries in a homicide case in a kindergarten in Guangzhou, Guangdong Province; a dismissed security guard at a primary school in Wangfu town, Guangxi, injured 39 students and faculty members.
In 2019, a dismissed custodian of a Beijing Normal University affiliated primary school attacked and injured more than 20 children with a hammer.
In 2018, a suspect attacked and injured 14 children in a local kindergarten in Chongqing, Sichuan Province.
Earlier figures are not much better. According to statistics in 2010, there were five murder cases in school, including four elementary schools and one kindergarten nationwide within 35 days. Chinese officials reported a total of at least 13 deaths and nearly 40 injuries. After that, a picture went viral on the Internet showing that kindergartens all over the country hung up banners saying "for grievances, make a left turn and the government is there," meaning the regime was responsible for the attacks.
At that time, analysts believed the frequent school attacks in China were not simple crimes but mental health problems manifested from social problems. With China's economic growth and the regime's ruling, the disparity between the rich and poor increased, with issues of depression and a loss of morality following. In addition was a flawed legal system, resulting in a lack of fairness and justice. These worsened and further spread mental health problems.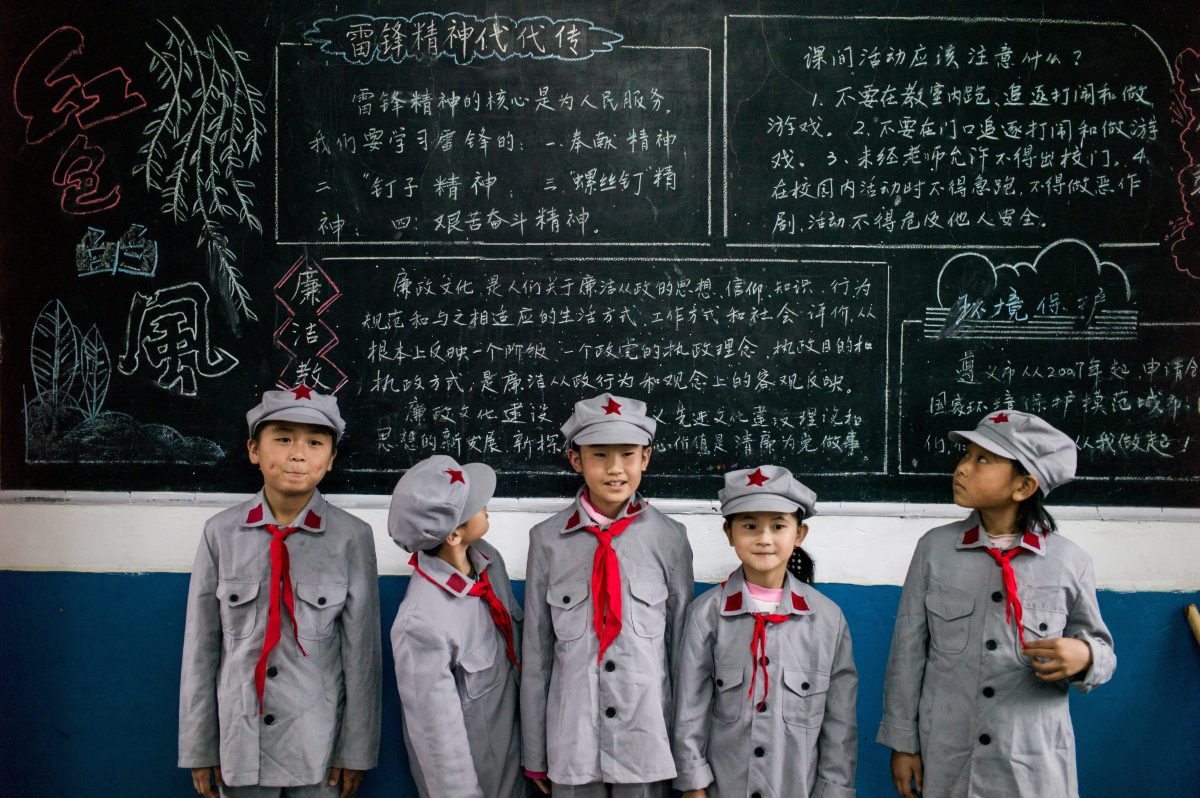 One most important but neglected fact is that the one thing distinguishing Chinese school kids from the rest of the world is the red scarf. School kids were required to wear the red scarf, a symbol of being a member of the Young Pioneers, an affiliation of the Chinese Communist Party. Many kids' deaths were associated with the red scarf, which became a lethal weapon.
In 2020, a fifth-grade boy in Dazhou, Sichuan Province, was suffocated to death by a red scarf while playing.
In 2017, a 12-year-old boy from Pingxiang, Jiangxi Province died from hanging by a red scarf at home.
In 2014, a seven-year-old boy in Wenzhou, Zhejiang Province, was strangled to death by a red scarf. The school insisted that the child committed suicide.
In 2009, a 12-year-old student in Kunming, Yunnan Province, was found dead, hung by a red scarf on an iron bed frame. An 11-year-old student in Hunan Province was reported to have died from committing suicide by hanging himself with a red scarf in a rental house in Dongguan.
In short, the shocking incidents of child abuse and injury in China have been recurring, and they're a slap in the face for the CCP's propaganda, "grateful to the party for giving a good environment to grow."
Chen Simin is a freelance writer who often analyzes China's current affairs. She has contributed to The Epoch Times since 2011.
Views expressed in this article are the opinions of the author and do not necessarily reflect the views of The Epoch Times.