UPDATE: Pressure Mounting to End Madison Square Garden Tax Breaks
September 24, 2013 9:07 pm Last Updated: September 25, 2013 11:23 am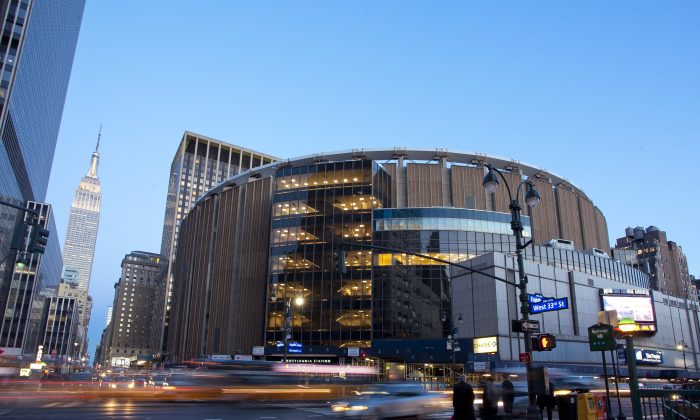 NEW YORK—State and city lawmakers announced growing support in Albany to end a 31-year tax break for Madison Square Garden (MSG) that has cost the City of New York nearly $350 million.
Speaking from the steps of City Hall on Sept. 24, state and city lawmakers urged action to end the $17-million-a-year property tax giveaway.
"It is insane, it is absolutely backward that we are giving them a tax break so that they can have access to New Yorkers' money … so that they can have access to the greatest marketplace in the entire country, if not the entire world," said city Council member Stephen Levin, who also denounced subsidies given to the Yankees, the New York Mets, and the Brooklyn Nets.
UPDATE:  The Madison Square Garden Company wrote in a statement: "Madison Square Garden is the only venue in the City that has used its own money, more than $1 billion, to build a brand new arena inside an existing building.  All other teams, including the Yankees, Nets and Mets, have received, and continue to receive, significant public subsidies, including property tax exemptions, that are estimated to total more than $2.3 billion."
The MSG tax exemption started in 1982, with a deal meant to encourage sports teams to play in the heart of New York City. Then-Mayor Ed Koch meant for the tax exemption to last 10 years, according to state Assemblyman David Weprin (D-Fresh Meadows). It has lasted 31 years.
Meanwhile, The Madison Square Garden Company has grown into a mega-corporation worth $4.4 billion. It owns three cable television channels, as well as Radio City Music Hall, the Beacon Theater, and several other theaters across the country.
As the tax break is written into state law, altering it requires passage by the state Assembly and Senate. In 2008, City Council voted 40–3 to end the venue's tax break.
Weprin and Sen. James Sanders (D-Jamaica) introduced new legislation in Albany in April. It is expected to be brought to a vote on the Assembly floor in early January 2014.
"Can you imagine what 17 million dollars could do for the city's budget?" said Weprin.
Union Support 
Communication Workers of America (CWA) joined lawmakers Sept. 24 at the press event.
CWA lobbied in Albany for the legislation and has supported it from the outset. The union is currently in a labor dispute with Cablevision Systems Corporation and its CEO James Dolan, who is also executive chairman of MSG.
CWA has charged Cablevision with intimidating and spying on workers, illegally firing 22 workers, and bargaining in bad faith. The National Labor Relations Board has found evidence to support the charges and is currently holding hearings.
Cablevision's labor dispute has only strengthened lawmakers' determination to end MSG's tax break.
City Council member Jumaane Williams expressed his support for the union and disgust with the giveaway to a wealthy corporation.
"Stop trying to cut these guys out and lock them out, we are going to support them, wherever you go Mr. Dolan," said Williams.
"That kind of lawbreaker, no one should do any special favor for him," said Tim Dubnau of James Dolan, whom he calls a union-buster. Dubnau is an organizing coordinator with CWA.
Epoch Times staff member Matt Gnaizda contributed to this report