Press Freedom Group Airs Secret Radio as Olympics Begin
August 9, 2008 11:30 pm Last Updated: October 1, 2015 10:56 pm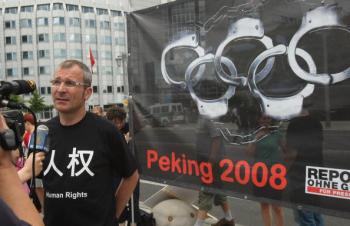 Hours before the Olympic Games commenced, international press freedom watchdog Reporters Without Borders aired unauthorized radio broadcast in different districts of the Chinese capital.
The clandestine radio broadcast lasted 20 minutes and protested China's state media control and Chinese authority's refusal to issue visas to ten members of the press freedom and human rights organization, Reporters Without Borders.
In the secret broadcast from France, heard on 104.4 FM in Beijing, the radio show voiced protest against the Chinese authorities for jailing"dozens and dozens" of journalists and bloggers.
"Despite everything, there are people who are going to be able to speak out about things you don't want the public to hear, in the very heart of Beijing," Reporters Without Borders secretary-general Robert Menard said at the start of the broadcast. "Regardless of the measures you take, you will not get rid of free speech." He urged the Chinese authorities to stop jamming the frequencies used by international radio stations airing programs in Chinese.
In terms of press freedom, China ranks 163 out of 168 countries, followed only marginally by countries like North Korea, Burma and Turkmenistan.
A former political prisoner, Yang Jianli, who found refuge abroad attested on-air to the appalling conditions he endured in prison. Another speaker revealed the dangers facing journalists in China and talked about the censorship and self-censorship that is imposed by authorities on her colleagues still in China.
"You banned us from going to Beijing, you expelled us from China. But despite all that, we are here, making our voice heard peacefully, in a completely non-violent fashion. It is a way of saying censorship just won't work," Menard said.
Protests that coincided with the opening ceremony were staged outside Chinese embassies and consulates around the world on Friday.
In Beijing, however, the streets around the Olympic venues were largely deserted due to pervasive police and military presence, according to media reports.
Chinese authorities also issued strict guidelines for protesters who wish to speak out during the Olympics. Protesters were warned to avoid harming "national interests" during the Games and officials designated three protest zones in parks around Beijing which activists called symbolic and "a trap."
The political move of the communist authorities was seen as a gesture designed to gloss over China's poor human rights record and paint a rosy picture for the members of the foreign media.
But members of The Foreign Correspondents Club of China condemned the Internet censorship and the recent violence by paramilitary police toward Japanese, European and Hong Kong journalists.
"It was unbelievable," said Masami Kawakita, a sports photographer in China for the Olympics who was attempting to cover the recent lethal attacks on Chinese police in the Kashgar region. Paramilitaries forcibly removed journalists from a public street, beat them and damaged their equipment. "Imagine how I felt to be suddenly surrounded by paramilitaries," he said. "In fifteen years in journalism I had never experienced anything like it."
When China was bidding for the Olympics in 2001, Wang Wei, secretary general of the Beijing Olympic committee, promised that the Chinese regime will "give the media complete freedom to report when they come to China."
Reporters Without Borders confirmed through an independent investigation that the Chinese Satelite television station New Tang Dynasty Television, based in New York and run by overseas Chinese and Falun Gong practitioners, was stopped from broadcasting into China via European satellite company Eutelsat due to pressure from Chinese authorities and for promised business incentives in China