Press Freedom Beleaguered in Hong Kong, Says Report
July 8, 2013 7:30 pm Last Updated: August 8, 2013 1:44 am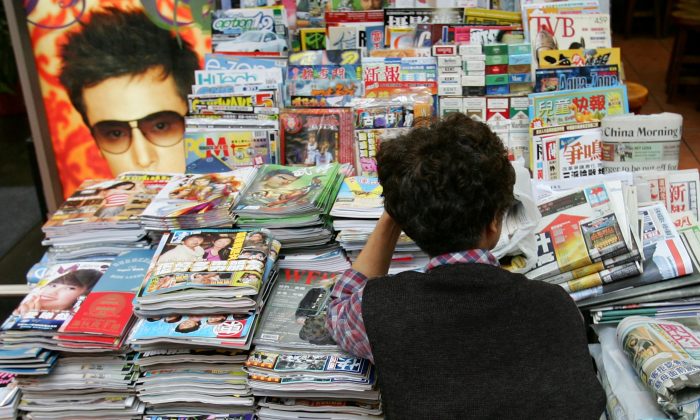 This past year has seen a noticeable deterioration in Hong Kong's freedom of the press since the handover of the territory to the People's Republic of China in 1997, according to a report by the Hong Kong Journalists Association (HKJA) on July 7.
 
The HKJA is the only industry-wide trade union for journalists in Hong Kong. 
Titled "Dark Clouds On the Horizon," the association's 20th annual report on the state of Hong Kong's media said that press freedom in 2012 was "under attack" from two forces: chief executive Leung Chun-ying's administration, and Chinese Communist Party leaders in Beijing.
The report criticized Leung's administration for its tendency to release written statements and arrange pool coverage of government events that only invite photographers and cameramen, thus limiting the opportunity for reporters to ask questions of government officials.
From when Leung took office in July 2012 to May 2013, he and his ministers issued 182 written statements, representing 21.5 percent of the total number of times the government addressed the press, compared to 22 or 0.6 percent under his predecessor Donald Tsang's administration. Leung attended a total of four press conferences within the same time frame.
The report also cited "government apathy" toward attacks on Hong Kong journalists and media organizations. HKJA counted 11 assault or harassment cases that took place in Hong Kong last year, compared to an average of one or two serious assaults per year in recent years. Of the 11, only two resulted in the attackers being punished. No arrests were made in recent incidents such as those involving Next Media, where the home of the founder, Jimmy Lai, was attacked and copies of the group's newspaper, Apple Daily were torched.
The Hong Kong government also failed to take action or respond to attacks on Hong Kong journalists stationed in the mainland, the report said. 
In February, Leung's lawyers issued a letter threatening legal action against a commentator, Joseph Lian, who wrote an article critical of Leung that was published in the Hong Kong Economic Journal a month earlier. The move threatened press freedom in the city, the report said.
The past year also saw an increase of pressure from Beijing for Hong Kong media to report favorably on China and what happens on the mainland. Already, more than half of Hong Kong's media owners are appointed to China's National People's Congress and Chinese People's Political Consultative Conference, two rubber stamp legislative bodies. In December 2012, a veteran journalist for the Chinese regime's mouthpiece, Xinhua, was appointed as publisher of the Sing Tao Daily newspaper, a widely distributed paper in Hong Kong.
HKJA also warned that the new head of Beijing's Liaison Office, Zhang Xiaoming, has made statements indicating Beijing's intent to gain more control of Hong Kong, while the appointment of Yang Jian as the new deputy director of the Liaison Office suggests further erosion of press freedom in the future; Yang was the former deputy director of Guangdong Province's propaganda bureau and worked in Xinhua for many years.
In the report's recommendations, the HKJA urged Leung to help pass a freedom of information act to replace a code on access to government information that was put in place by the British colonial administration in 1995. In February last year, Leung signed a pledge drafted by the HKJA promising "an active role" in pushing the legislation, but the law has since been passed off to a commission to examine whether Hong Kong needs such a law.