President Donald Trump's re-election campaign has started fundraising off the push by Democrats to impeach him.
In an email sent to supporters on Tuesday, Sept. 24, with the subject line, "Impeachment?," the campaign said Trump's opposition is desperate.
"The Democrats know they have no chance of winning in 2020, so now they are crying, 'Impeachment!'" the campaign stated, according to Breitbart.
"There are now over 150 House Democrats who back Impeachment. We CANNOT let these hateful and baseless attacks go on any longer. These Impeachment claims have nothing to do with the President—the Democrats thrive on silencing and intimidating his supporters, like YOU, Joel. They want to take YOUR VOTE away. We won't stand for this any longer, and neither should YOU."
The campaign said Trump is launching an "Official Impeachment Defense Task Force" that will be made up of the president's "most LOYAL supporters."
"House Democrats are holding a meeting at 4 PM EDT today to discuss their Impeachment plans and the President wants us to send him a list of every Patriot who stands with him before the meeting. To make a statement: ALL DONATIONS WILL BE DOUBLE-MATCHED," the campaign said.
Trump has fought back against accusations that he improperly pressured Ukrainian President Vlodomyr Zelensky to investigate former Vice President Joe Biden, a 2020 contender, including announcing on Tuesday he would release an unredacted transcript of the discussion the two leaders had in July.
Democrats whiff again. https://t.co/S14z3qm9XY

— Tim Murtaugh (@TimMurtaugh) September 24, 2019
Tim Murtaugh, the director of communications for Trump's 2020 campaign, shared a tweet by Trump announcing the pending release on Tuesday afternoon, saying, "Democrats whiff again."
Kayleigh McEnany, national press secretary for the campaign, called CNN a "purveyor of fake news" after the outlet wondered whether the the transcript would be "undoctored."
Trump and top campaign officials have sought to focus on Biden's role in getting a Ukrainian prosecutor fired in 2016. Two years later, Biden bragged that he threatened to withhold money from the country unless the official was fired. That official was investigating Burisma, a company for which Hunter Biden sat on the board.
Biden also denied ever talking to his son about his son's business dealings, but Hunter Biden told the New Yorker earlier this year that he and his father did discuss his work for Burisma.
Democrats, meanwhile, including Biden, have pushed for the impeachment of Trump on the basis of a reported whistleblower complaint about a phone call between Trump and Zelensky. The whistleblower is anonymous and, according to various reports, did not have direct knowledge of the conversation.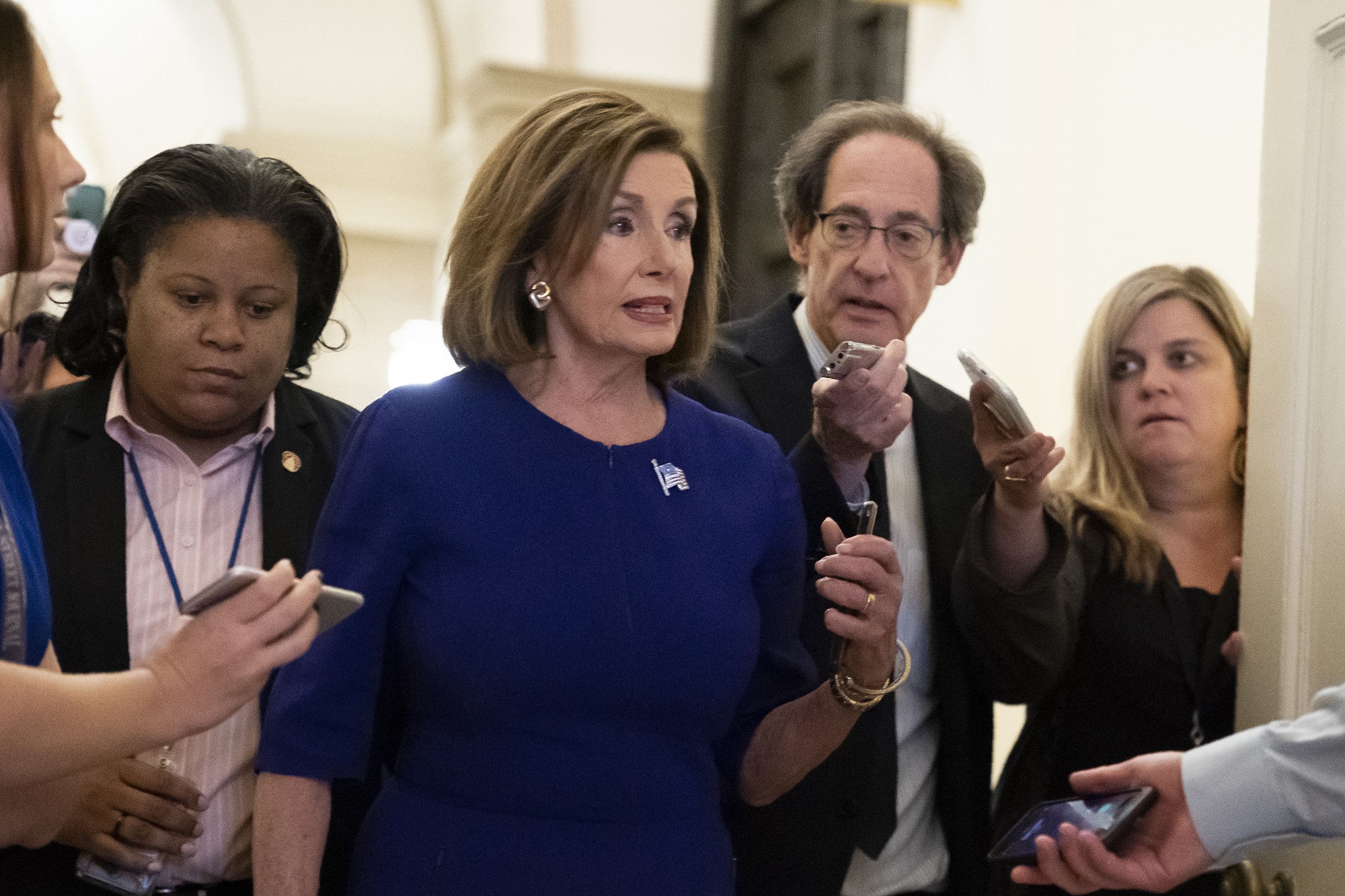 House Speaker Nancy Pelosi (D-Calif.) was expected to announce a formal impeachment inquiry into Trump and told people at The Atlantic Festival earlier Tuesday that it is "sad to think that a president would perform an impeachable offense. It's hard. it's hard to say that we've gotten to that place but what would be [an] impeachable offense would be that which is proven in an investigation."
Senate Minority Leader Chuck Schumer (D-N.Y.) said Tuesday that he supports Pelosi in whatever decision she makes.
"I speak regularly with Leader Pelosi. I spoke to her last night and again twice this morning. As I've said before, I believe she is handling this appropriately and she has my support," Schumer told reporters.
When one reporter asked if he was concerned about possible backlash, Schumer replied, "The bottom line is I think Speaker Pelosi is handling it correctly."