President Donald Trump used the first veto of his presidency on March 15 to override a congressional resolution, which terminated his national emergency declaration over the crisis on the southwest border.
Trump made the announcement in the oval office flanked by law enforcement officials and mothers of people killed by illegal aliens.
"Today I am vetoing this resolution. Congress has the freedom to pass this resolution and I have the duty to veto it," Trump said, calling the congressional resolution "reckless" and "dangerous."
"People hate the word invasion, but that's what it is," the president said, adding that there is "nowhere left to hold all of the people that we're capturing."
The Senate voted 59-41 on March 14 on a resolution, which terminated Trump's emergency declaration, setting up for the first presidential veto. Twelve Republicans joined all of the Democrats to pass the measure. The House passed the same resolution by a 63-vote margin on Feb. 26.
Congress can override a veto via a supermajority vote in both chambers. The vote is widely expected to fail in the Senate since Democrats will need seven more Republicans to defy the president.
Republicans who voted to terminate the national emergency did so because they viewed the move as executive overreach. Democrats have long impeded the president's plan to build a border wall.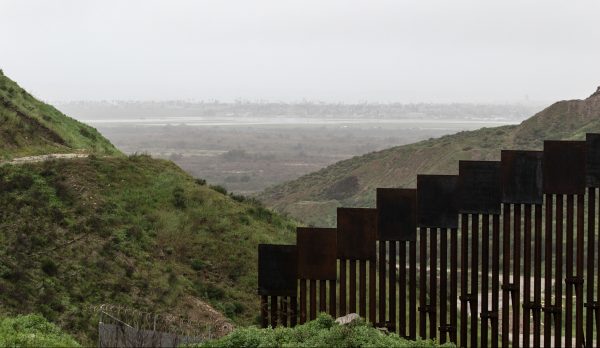 Senate Majority Leader Mitch McConnell (R-Ky.) said Trump was "operating within existing law" and that if senators did not like the powers provided to the president under the National Emergencies Act, "then they should amend it."
Trump said on March 14 he would veto the resolution "100 percent."
"I'll probably have to veto," Trump said before the Senate vote. "This is a vote on border security, and it's a vote on drugs and trafficking and all of that. And I think most Republican senators fully understand that."
The president declared a national emergency in relation to the crisis on the southwest border on Feb. 15, citing the influx of illegal aliens, drugs, and guns into the United States. Trump had promised to use his legal national emergency powers if Congress failed to appropriate $5.7 billion for border wall construction as requested by the Department of Homeland Security.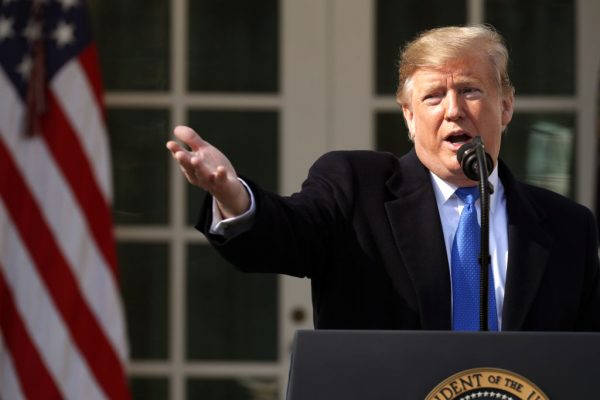 By declaring the national emergency, Trump enabled the transfer of $3.6 billion from the military construction budget toward wall construction. The president also ordered the shifting of an additional $3.1 billion, which did not require declaring a national emergency.
On Feb. 14, one day before Trump declared the national emergency, Congress appropriated $1.4 billion toward construction of border wall in the Rio Grande Valley, far short of Trump's request for $5.7 billion. The battle for the $1.4 billion budget stretched on from last year and included the longest government shutdown in recent American history.
Border Patrol apprehensions on the southern border in the last six months have reached twice what they were in all of fiscal year 2017. In February alone, 66,000 people were apprehended crossing the border illegally, with another 10,000 presenting without documentation at ports of entry.
Customs and Border Protection Commissioner Kevin McAleenan said on March 6 the border crisis is at a breaking point. Aside from fixing U.S. immigration laws, McAleenan said the border must be secured with some 700 miles of additional fencing.
"At the current pace, we are on track to encounter close to 1 million illegal aliens at our southern border this year," Department of Homeland Security Kirstjen Nielsen told the House Homeland Security Committee.
The 12 Republicans who voted to terminate Trump's emergency declaration are Sen. Lamar Alexander (R-Tenn.), Sen. Roy Blunt (R-Mo.), Sen. Susan Collins (R-Maine), Sen. Mike Lee (R-Utah), Sen. Jerry Moran (R-Kan.), Sen. Lisa Murkowski (R-Alaska), Sen. Rand Paul (R-Ky.), Sen. Rob Portman (R-Ohio), Sen. Mitt Romney (R-Utah), Sen. Marco Rubio (R-Fla.), Sen. Patrick Toomey (R-Pa.), and Sen. Roger Wicker (R-Miss.)
Instead of attacking Republican senators who defied him, Trump thanked those who opposed the termination of his emergency declaration.
"I'd like to thank all of the Great Republican Senators who bravely voted for Strong Border Security and the WALL. This will help stop Crime, Human Trafficking, and Drugs entering our Country. Watch, when you get back to your State, they will LOVE you more than ever before!" the president wrote on Twitter on March 15.
Charlotte Cuthbertson contributed to this report.