President Donald Trump signed an emergency declaration for Florida, the U.S. Virgin Islands, and Puerto Rico ahead of "potentially catastrophic" Hurricane Irma, slated to slam the state in the coming days.
Trump declared the emergencies for the respective areas on Tuesday night, according to the Florida Sun-Sentinel and The Associated Press. It comes after Florida Gov. Rick Scott mobilized the National Guard, suspended tolls on Florida roadways, and signed an emergency declaration.
"If there is an evacuation order, follow it," Scott said Tuesday evening. "We can rebuild your home, but we cannot rebuild your life."
Trump "offered the full resources of the federal government as we get ready for this major storm," Scott told the Sun-Sentinel.
The U.S. Navy, meanwhile, will evacuate 5,000 personnel from stations in Florida.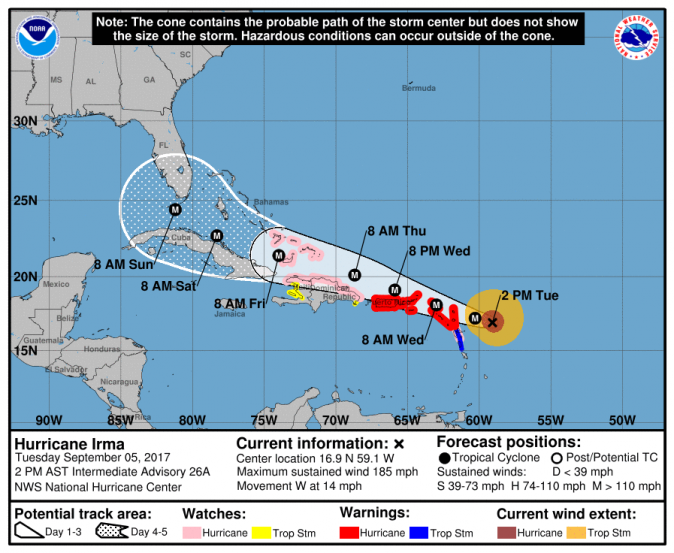 The Commander of the U.S. Navy Region Southeast called for the "mandatory evacuation of non-essential personnel and dependents from NAS Key West to safe haven within 300 miles of Atlanta, Georgia," Navy spokesman Bill Dougherty told CNN.
Planes, helicopters, and other aircraft will be moved inland, officials told the network.
The National Hurricane Center (NHC) in Miami said that Irma's eye is slated to cross the Leeward Islands located east of Puerto Rico on Tuesday night to early Wednesday morning.
It is on track to hit Florida on Saturday.
Irma is a Category 5 storm—the highest designation from the NHC (there is no Category 6 or 7 hurricane, as some reports have claimed) with winds of 185 mph per hour, storm surges, and heavy rains.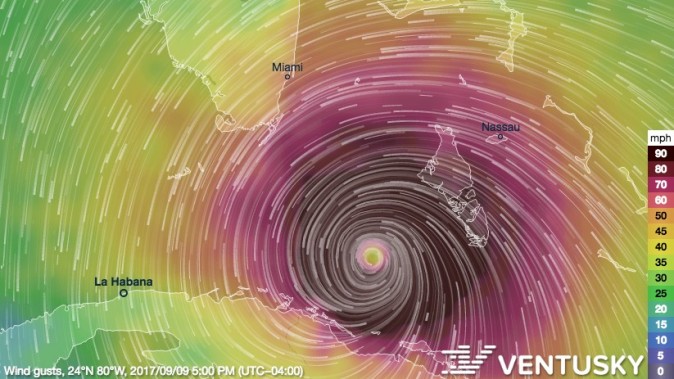 Highlighting the storm's potentially devastating impact, the NHC said Irma is the most powerful Atlantic storm produced outside the Caribbean Sea and the Gulf of Mexico in recorded history.
The Leeward Islands—Antigua, Barbuda, Anguilla, Montserrat, St. Kitts and Nevis—have hurricane warnings. U.S. and British Virgin Islands, Puerto Rico, and the Dominican Republic are also under hurricane warnings.
"Preparations to protect life and property should be rushed to completion," the Hurricane Center said Tuesday.
Florida residents are preparing ahead of Irma, it was reported.
"Normally, people here don't like to prepare," said Gary Palmer, a 60-year-old deputy sheriff, told Reuters. "But what happened in Texas opened up everybody's eyes."
"My wife is leaving the Keys today," Monroe County Emergency Management Director Martin Senterfitt said in a statement, reported the news agency. "She would rather go to the dentist than sit in traffic. The sooner people leave the better. If ever there was a storm to take serious in the Keys, this is it."
Puerto Rico's governor is also saying that the effects of Irma could be catastrophic while calling the storm potentially more devastating and dangerous than Hurricane Harvey, which slammed southern Texas in August, killing some 60 people and causing tens of billions of dollars in property damage.