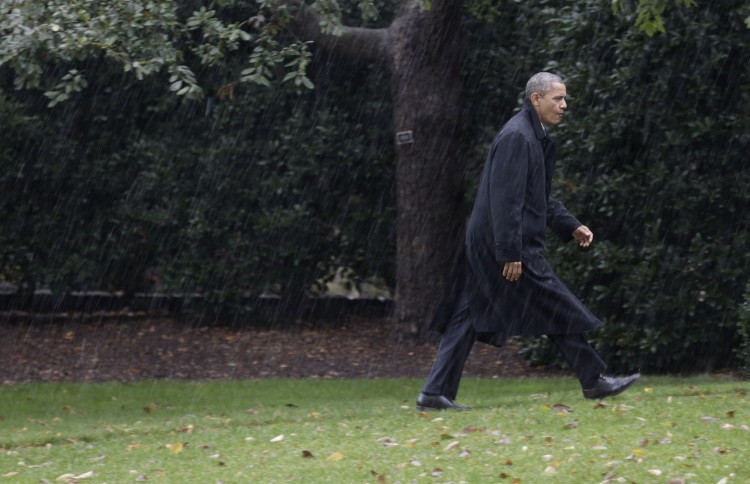 WASHINGTON—President Barack Obama warned the public to heed emergency instructions from state and local authorities, describing Hurricane Sandy as a "big storm" and "a difficult storm."
"When they tell you to evacuate, you need to evacuate … don't question the instructions that are being given, because this is a serious storm and it could potentially have fatal consequence if people haven't acted quickly," Obama said in an emergency press briefing from the White House.
The president had returned to Washington, D.C., from Florida early Monday morning, canceling campaign events in Florida later in the day, plus events in Colorado, Ohio, and Wisconsin on Tuesday.
"The president will remain in Washington, D.C., to closely monitor the impact of and response to the hurricane," a White House representative said in a statement.
Category 1 Hurricane Sandy made landfall on the evening of Oct. 29, and thousands of people were evacuated from coastal communities as far south as North Carolina and as far north as Maine.
Estimated to be among the largest storms to hit the U.S East Coast, Sandy is slow-moving and expected to bringing damaging torrential rains and storm conditions lasting days.
According to the U.S. National Hurricane Center (NHC), the Category 1 storm strengthened as it moved toward the coast. The NHC warned that it could bring hurricane-force winds, storm surges up to 11 feet in some regions, and heavy snowfall in the Appalachian Mountains. It is a very unusual hybrid of winter storm and hurricane, and much larger and less focused than a normal hurricane, according to the National Weather Service.
Obama said the Federal Emergency Management Agency (FEMA) has been working with local authorities to preposition emergency supplies in advance of the storm. Food, water, and emergency generation are in place for communities most in need, he said.
The president said to expect "a lot of trees down, a lot of water," warning that because of the nature of the storm, emergency workers would be spread out across regions and states, and it may take days for power to be restored and transportation to resume.
"The public needs to prepare for the fact that this is going to take a long time for us to clean up," he said.
The Epoch Times publishes in 35 countries and in 19 languages. Subscribe to our e-newsletter.