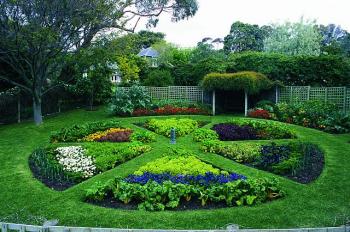 We are all used to hearing about global warming, ice caps melting, CO2 emissions and, of course, genetically modified foods. The rate at which our world is changing has spurred some people to action, determined to preserve plants from extinction. The Digger's Club is leading the way.
With a product range of 1800 items and over 200 heirloom vegetable seeds, the Digger's Club located at Heronswood, 80km from Melbourne is the largest garden club in Australia.
Many of the seeds have been preserved for generations. Generally, to classify for an heirloom variety a seed has to be pure-bred for at least 50 years.
To compete with the big food chains the Digger's Club is a mail order distributor of seeds and plants.
Their purpose was to rescue the old varieties of vegetables, such as Scarlet Runner Beans, which the mainstream companies were dropping from their lists, says owner Clive Blazey.
"People are sick of the horrible flavoured food that comes out of a supermarket," he told The Epoch Times.
Mr. Blazey points out that buying food from the supermarkets rather than growing it at home, is a greater contributor to climate change than the CO2 emissions from coal fired power stations.
"If you garden organically it puts CO2 down, there are no food miles, no packaging, no transport, no shopping at supermarket so that is what the difference is between zero emissions and what happens now."
Heirloom seeds are always open-pollinated varieties. This means that if the seeds produced from the plant are properly saved, they will produce the same variety year after year.
This cannot be done with hybrids, which are a cross between two separate varieties, as the seed produced from those plants will either be sterile or start to revert back to the parent plants.
Digger's Club
Situated on the Mornington Peninsula, Digger's Club supplies heirloom seeds via catalogue to gardeners nationally and internationally.
Vegetables and flowers are grown for their seeds without the use of chemicals or having their genes modified. They are proving to be the best seeds for back yard gardeners.
Mr. Blazey says that Australia grows enough food for 70 million people. "This is 50 million greater than the population and we are short of water and we are short of good soil," he said.
People from other states pay regular visits to Heronswood when on holidays and many have been members of the Digger's Club and growing their own vegetables for years.
GM Concerns
Mr. Blazey says that multinational chemical companies, like Monsanto, can now introduce chemicals into our food supply, namely genetically modified (GM) seeds, which may threaten our health and the existence of our best plant varieties.
As there is no compulsory labelling identifying GM foods, Mr. Blazey says the consumer is not able to determine whether or not the product has GM content.
"So when you buy a GM product it's not labelled in the market or supermarket and so you don't have a choice to refuse it," he explained.
In addition, once patented, GM companies own the seeds which means farmers cannot reuse the seeds and are forced to buy new ones every crop.
"They actually have a network of farming police that come round and make sure that you don't [replant] it so you could be sued for replanting," he added.
Mr. Blazey said he is not confident that food companies will do the right thing.
"We have heard of all the food scares in contaminated beef in the UK, and there is also the contaminated milk in China. There's no proper surveillance of the food we eat and it is all based on trust and I don't trust these food companies to get it right."
There is a growing interest in Australia and worldwide in sustainability and the need to produce our own food and be self sufficient. It is evident that many countries are reliant on supplies from someone else for their daily food.
In the UK and Europe, it is thought that thousands of heritage vegetable varieties have been lost since the 1970s, when European Union (EU) laws were passed to make it illegal to sell any vegetable that is not on a national list of any EU country.
On the other hand groups like Lambi Fund in Haiti are helping farmers' families with sustainable agricultural projects to increase food security and income.
---
Tips: Make a Change

Shading
Direct sun can generate the same heat as a single bar radiator over each square metre of a surface. Unprotected glass is often the greatest source of unwanted heat gain in a home, so shading this glass is critical.
Benefit: Shading can block up to 90 per cent of this heat so shading of a building and outdoor spaces reduces summer temperatures, improves comfort and saves heating and cooling energy.
Insulation
Insulation acts as a barrier to heat flow and is essential to keep buildings warm in winter and cool in summer. There are two types of insulation:
Bulk insulation mainly resists the transfer of heat and is used to retain internal temperatures to stop cool or warm air escaping or entering a building.
Reflective insulation mainly resists radiant heat flow and as such is the main summer heat rejection strategy.
Benefit: Up to 45 per cent of heating and cooling energy can be saved with roof and ceiling insulation alone.
Glazing
Glazing has a major impact on the energy efficiency of the building envelope. Significant heat gain in summer and heat loss in winter is attributed to a buildings windows.
Benefit: Effective window coverings will block summer heat gain and restrict heat loss in winter. This will provide a more comfortable home and save heating and cooling costs.
Rainwater
Rainwater is a valuable natural resource that can be collected for household and/or garden use. While state and territory laws vary regarding the specifics of rainwater use, in city areas all allow toilet flushing and washing machine use.
Benefit: Capturing and reusing rainwater can reduce water bills, provide a supply of restriction free water, reduce community infrastructure costs and avoid unecessary coastal desalinators. Tank water rebates are currently available from all state and territory governments.
Compiled by Daniel Granger, Sustainability Consultant for Neco Holdings, Sydney