Preparations for Inland China's First Nuclear Power Station Underway
July 5, 2006 12:00 am Last Updated: July 5, 2006 12:00 am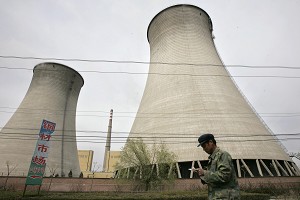 The China National Nuclear Corporation (CNNC) has revealed that initial phase of construction for the Taohuajiang nuclear power station in Hunan Province has recently been started. Once built, it will be the first nuclear power station in inland China.
The Beijing based Guangming Daily quoted the CNNC as saying that its nuclear power station has entered its construction stage and is expected to be the first nuclear power station in inland China. Lishanhe Town in Taojiang County of Hunan has been chosen as the site for this station because of its stable geological structure, low earthquake intensity and small population.
There is a strong demand for electric power in Hunan. The Chinese authorities have already listed Hunan as one of the first inland provinces to start nuclear power development.
It was reported that in the 1980's, Chinese authorities began constructing nuclear power stations including the Taishan station in Zhejiang Province, the Dayawan and the Lingao stations in Guangdong Province and the Tianwan station in Jiangsu Province. The Hongyanhe Nuclear Power Plant in Liaoning Province has used the second generation of nuclear technology and its first phase of construction is underway. It is expected that construction will begin next year.
Currently, the authorities are also inviting public tenders for the Sanmen station in Zhejiang and the Yangjiang Station in Guangdong, which will use the third generation of nuclear technology. It is expected that China's nuclear power installed capacity will reach 40 million kilowatts in 2020.