Pregnant Petitioner Attempts To Jump Off Beijing Building in Protest
February 4, 2009 3:35 pm Last Updated: October 1, 2015 10:15 pm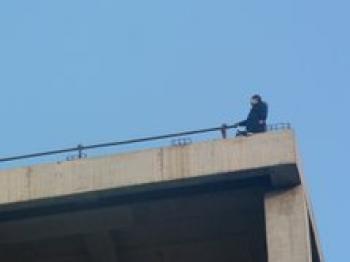 On the afternoon of February 3, four-month pregnant petitioner Zhao Chunhong from Hebei Province climbed to the top of a ten-story building near Xidan Shopping Center in the busiest area of downtown Beijing. Zhao planned to jump off the building in order to protest corrupt officials.
One witness said that Zhao climbed to the top of the building, still under construction, with leaflets and a large banner that read, "Collusion between corrupt businessmen and government officials in Qinhuangdao of Hebei Province." She hung the banner and scattered thousands of leaflets. She hoped to emphasize her point by leaping from the building, but police soon escorted her away from the area.
When the Epoch Times phoned Zhao at 4pm, she said that she had already been on top of the building for an hour. "I have been driven to desperation by corrupt officials" Zhao said, "I have no way out. I want to my death to serve as a deterrent for further corruption."
The Xicheng sub-bureau of the Beijing Public Security Bureau was phoned three times to alert them to Zhao's eminent leap but nobody answered the call.
One witness said that the streets in the area were blocked off and Zhao was taken away by police at around 5:30pm. Police insisted that Zhao report her problem to the Central Commission for Discipline Inspection and the National People's Congress, and drove her to the West Changan Street Police Station to have her statement taken.
Zhao is about 40 years old. She is a resident of Chengde City, Hebei Province. She began a business when she was 24, and spent nearly one million yuan (US$146,362) to partner with a local to develop Qinglong Xigou Copper Mine in Qinglong County. Unbeknownst to Zhao, Tong Shujian from the county's Municipal Bureau of Land and Resources, county head Zhang Liqun, Chairman Chen Jun of the local People's Congress and Chairman Tian Xueqing of the local People's Political Consultative Conference all own secret shares of the mine.
In 2006 when the mine was put in production, Zhao not only lost access and operation rights, but was also deprived of interest from her investment. Zhao filed a law suit in the local court to seek confirmation of her stock rights, but the court saw in favor of the area officials. Consequently, Zhao lost almost all her assets and was left deep in debt.
Zhao began to make appeals, and prepared to sell her house to pay for legal costs. Driven by debt, she doesn't know where she and her unborn baby will live once she sells her home. After appealing in vain many times, Zhao has made several suicide attempts to protest this injustice.
Read this article in Chinese.