Police are asking for the public's help locating a pregnant 19-year-old Chicago woman missing over a week and due to give birth on May 5.
Marlen Ochoa-Uriostegui disappeared from Chicago's Little Village neighborhood on the Southwest Side on April 23, according to the Missing Persons Cases Network.
She was last seen in the 2000 block of South California Avenue after leaving Latino Youth High School in Pilsen. Police say she may have been driving a black 2002 Honda Civic with the license plate AW27865.
"The family says surveillance video at the school shows Uriostegui walking off campus alone at 3:06 p.m. and appeared to be texting on her phone," according to the MPCN.
She was supposed to pick up her three-year-old son from daycare, WGN-TV reported, but never showed up.
Ochoa-Uriostegui is described as 5-foot-3, 125-pounds, with brown eyes, brown hair, and a light brown complexion, according to the MPCN.
She was last seen wearing a gray sweater and sweatpants along with a maroon top with the Latino Youth High School logo on it.
Police have asked anyone with information on her whereabouts to call 911 or the Special Victim's Unit at (312) 747-8274.
Family Pleads for Safe Return
The missing woman's family held a news conference on May 2 pleading for her safe return.
"We know nothing. We're asking the community to help us find her," said her father, Arnulfo Ochoa, according to ABC7.
Her mother said the family believes she has been kidnapped. They say they have received ransom demands from Mexico.
Her husband and father of their three-year-old son said he believes he was the last one to speak to her on the day she disappeared, according to the report.
"This is going on too long. She is 19. She is a mother, she is due any day, she may have already had her baby. There's so many unanswered questions," said Julie Rooney, a school social worker, according to WGN-TV.
The family said she's responsible and would not disappear of her own volition.
Nine months pregnant, her due date is May 5.
Crime in the United States
Violent crime in the United States has fallen sharply over the past 25 years, according to both the FBI's Uniform Crime Reports (UCR) and the Bureau of Justice Statistics (BJS) National Crime Victimization Survey (NCVS).
The rate of violent crimes fell by 49 percent between 1993 and 2017, according to the FBI's UCR, which only reflects crimes reported to the police.
The violent crime rate dropped by 74 percent between 1993 and 2017, according to BJS's CVS, which takes into account both crimes that have been reported to the police and those that have not.
"From 1993 to 2017, the rate of violent victimization declined 74 percent, from 79.8 to 20.6 victimizations per 1,000 persons age 12 or older," the U.S. Department of Justice stated (pdf).
Both studies are based on data up to and including 2017, the most recent year for which complete figures are available.
The FBI recently released preliminary data for 2018. According to the Preliminary Semiannual Uniform Crime Report, from January to June 2018, violent crime rates in the United States dropped by 4.3 percent compared to the same six-month period in 2017.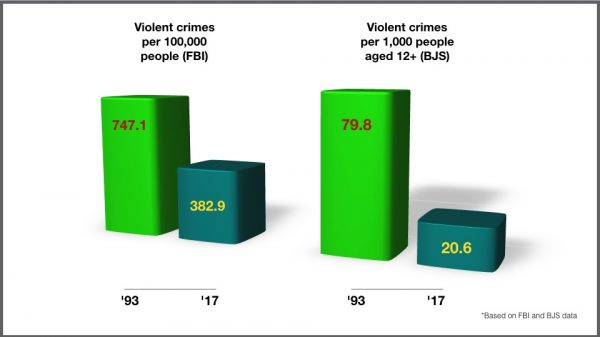 While the overall rate of violent crime has seen a steady downward drop since its peak in the 1990s, there have been several upticks that bucked the trend.
Between 2014 and 2016, the murder rate increased by more than 20 percent, to 5.4 per 100,000 residents, from 4.4, according to an analysis of FBI data. The last two-year period that the rate soared so quickly was between 1966 and 1968.
Property Crime
The property crime rate fell by 50 percent between 1993 and 2017, according to the FBI, and by 69 percent according to BJS.
According to the FBI's preliminary figures for the first half of 2018, property crime rates in the United States dropped by 7.2 percent compared to the same six-month period in 2017.
As with violent crime, the FBI survey only takes into account crime reported to the police, while the BJS figures include reported and nonreported crime.
Public Perception About Crime
Despite falling long-term trends in both violent crime and property crime, opinion surveys repeatedly show Americans believe that crime is up.
The vast majority of Gallup polls taken since 1993 show (pdf) that over 60 percent of Americans believe there is more crime in the United States on a national scale compared to the previous year.
Pew Research surveys show similar findings. A survey in late 2016 revealed that 57 percent of registered voters said crime in the nation as a whole increased since 2008, despite both FBI and BJS data showing double-digit drops in violent and property crimes.
Perceptions differed on a national versus local level.
Surveys of perceptions of crime levels on a local scale showed that fewer than 50 percent of respondents in every single Gallup survey (pdf) done since 1996 believed that crime in their area had risen compared to the previous year.