A digital message of a political nature is reportedly being circulated among ethnic Chinese community groups in Sydney.
The Epoch Times has been informed that the message, directed at Chinese in Australia, warns members in various Chinese community groups against appearing in public because Australian political parties were "clearing out" pro-Chinese Communist Party (CCP) members, it claimed.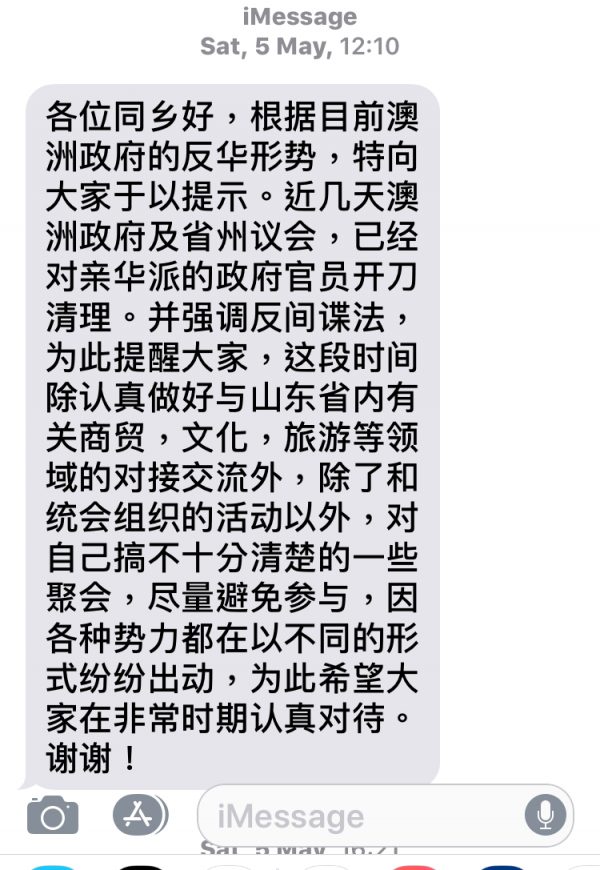 The message reads:
Dear compatriots, We are issuing this special notice in the face of the Australian government's recent anti-Chinese position. In recent days, the Australian government and state parliaments have started targeting Chinese-friendly government officials for removal, as well as emphasizing anti-spy laws [sic]. Hence, we are reminding everyone, in the coming days, apart from working hard to ensure that the business, cultural, and tourism exchanges with Shandong Province continues, unless it is activities organized by the ACPPRC avoid participating in any gatherings that you are unsure about, because various powers are beginning to move in different ways, we hope everyone treats this seriously in this exceptional time. Thank you.
ACPPRC, or the Australian Council for the Promotion of Peaceful Reunification of China, is a Sydney-based organisation that is a front group for the United Front Work Department. The United Front Work Department is an arm of the CCP that is run from Chinese embassies around the world to create a "united front" for the CCP's propaganda warfare that is aimed at subverting and influencing elements in foreign societies to work on behalf of the Chinese regime's interests.
The message, which suggests that criticism of the CCP can only be attempts to stir up "anti-Chinese" sentiment, comes at a time when the Australia-China relationship has entered unchartered waters following Australia announcing that it was updating its espionage and foreign interference laws.
The Australian government announced in December 2017 that it was revising its foreign interference laws after questions were raised over significant political donations made to both the Liberal and Labor parties by certain wealthy individuals with links to the CCP.
The Australian Council for the Promotion of the Peaceful Reunification of China (ACPPRC) was classified as an "agent of the Chinese state" pic.twitter.com/CceqNurJNL

— Ian Burns McCaslin (@IBMcCaslin) September 7, 2017
In preparation for the upcoming election, the Labor party has signaled that it may be reassessing the tenability of its members of parliament who have been seen as toeing the CCP line.
According to a report by The Australian, NSW Upper House Labor MP Ernest Wong was advised by NSW Labor general secretary Kaila Murnain last month that he was unlikely to gain the endorsement needed for a "winnable spot" on the March 2019 ballot papers–a statement that Mr Wong later admitted to local Chinese media was true.
Vince Badalati , Dominic Sin and Mei Mei , local council candidates for George's river council Hurstville ward pic.twitter.com/TlfxCO619c

— Ernest Wong (@ErnestWong19) August 12, 2017
Wong had been criticized in the Australian media for speaking out against the Labor party's official position on the South China Sea, instead supporting the CCP's position that Australia should not interfere regarding China's territorial claims in the region.
Wong also staunchly opposed Turnbull's proposed espionage and foreign interference bill, and was a former "honorary advisor" to the ACPPRC. He was responsible for facilitating lucrative relationships between NSW Labor Party politicians like Sam Dastyari and the wealthy president of ACPPRC, Australian-Chinese businessman Huang Xiangmo, according to the ABC.
But since Dastyari's shock resignation last year following the damaging media reports that he leaked sensitive intelligence information to Huang Xiangmo, as well as other actions deemed favorable to the CCP, "everyone is watching political donations closely, making the money hard to get, and votes more important," Li Yuanhua, former associate professor of history at the Capital Normal University in Beijing who now resides in Australia, told The Epoch Times.
The Labor Party's cutting of ties with Wong may be a sign that the party "does not want to be portrayed as a pro-CCP party in front of Australian citizens, as being pro-CCP does not attract voters and this is something that both Australian major parties are aware of," Li said.
Don't Be Fooled By 'Anti-China' or 'Racist' Labels
In response to the circulating messages, Li says that he does not believe there has been a recent rise in "anti-Chinese" sentiment.
"What the Australian government opposes is the infiltration by the Chinese Communist Party, which in turn threatens Australia's national security and disrupts Australian values; they do not oppose Chinese people.
"Any country that threatens or encroaches on Australia in similar ways would be similarly opposed by Australia," Li said. "This is not targeting any specific racial group or ethnicity."
In a challenge to the CCP's claims of racism by the Australian government, Li asked: "Can the small minority who call Australia 'anti-China' represent all Australian-Chinese people?"
"Many Australian-Chinese people are completely disinterested, they just want to live their own lives," he said.
Li added that the Chinese regime has historically used the "anti-China" label to incite Chinese people's nationalist sentiment.
Australian Government to Rein In CCP Agents of Interference
Chen Yonglin, the former consul for political affairs in the Chinese consulate in Sydney who defected in 2005, told The Epoch Times that he believes Prime Minister Malcolm Turnbull and his administration's push to update Australia's espionage and foreign interference laws signals that Australia will no longer tolerate the CCP's attempts to dictate the loyalties of Chinese expats or friendly politicians.
"In fact, Australia now perceives that the CCP's influence is starting to sway Australian policy, and the democratic system is losing its efficacy, so the government has taken appropriate protective measures," Chen said.
Most politicians of the two major parties appear to have reached a mutual understanding on the reality of CCP interference in Australian politics, and are taking a firm stance.
Earlier this month, Minister for Foreign Affairs Julie Bishop warned the CCP against "threaten(ing) the ordinary operations of business" as China continues to pressure Australian airline Qantas to stop naming Taiwan as a destination, reported news.com.au. Taiwan is a self-ruled island nation, but the Chinese regime claims it as part of its territory.
After years of being involved in infiltration operations himself before he defected, Chen said the recent events in the Australian political sphere are a significant warning to those still acting on the CCP's behalf, but Australians should continue to be vigilant.
"The CCP has been expanding in Australia for over a decade; the infiltration in various government organizations, community groups, and academia is fairly deep-seated. Australia needs to do what Prime Minister Malcolm Turnbull had said … to 'stand up' and defend our own national interests," Chen said.
Reporting by Nina Yan
Watch Next:
Australia's China Experts Discuss Chinese Communist Party Infiltration in Australia
"The conflicts between two different values systems, and the conflicts between the two political systems are issues that cannot be ignored."