A 6.8 magnitude earthquake struck off the coast of Chile on Sept. 29, according to the U.S. Geological Survey (USGS).
The tremor was centered some 83 miles west of Talca.
A video posted online showed overhead lights inside an office swinging due to the tremor.
Another video shot inside an airport showed lights swaying as travelers looked on. And another clip showed a chandelier swinging.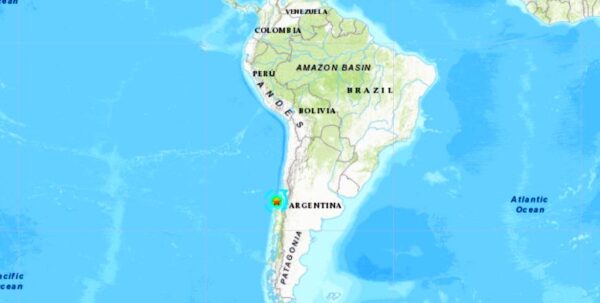 The Pacific Tsunami Warning Center said there was no tsunami warning in effect.
The USGS initially reported Sunday's quake as a 7.2 magnitude tremor, but later they downgraded it to a 6.8 on the Richter scale.
The quake comes nearly a decade after an 8.8 magnitude earthquake hit the coast of Chile.
The 2010 earthquake affected a similar location that caused widespread damage and triggered a tsunami.
In early 2019, a 6.7 magnitude quake struck the coast of northern Chile, and witnesses said it rattled buildings farther south in the capital city of Santiago but left only minor damage in its wake.  "It felt very strong…the tourists were very nervous, but nothing serious happened," Camila Castillo, a receptionist at a hotel in La Serena, told Reuters.
Ring of Fire
Chile is also located along the Pacific "Ring of Fire" that encircles the Pacific Ocean.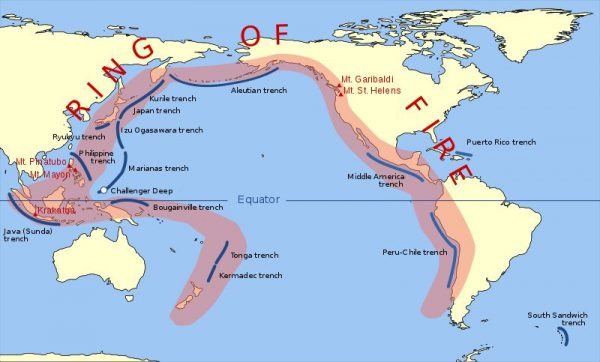 The "Ring of Fire" stretches from New Zealand to Indonesia before going to Taiwan, the Philippines, and Japan. Then, it stretches up to Russia and crosses over to North America through the Bering Sea. The west coasts of North America and South America are part of this seismically active region.
"The Ring of Fire isn't quite a circular ring. It is shaped more like a 25,000-mile horseshoe. A string of 452 volcanoes stretches from the southern tip of South America, up along the coast of North America, across the Bering Strait, down through Japan, and into New Zealand. Several active and dormant volcanoes in Antarctica, however, 'close' the ring," according to National Geographic.
'The Big One'
Last year, a report said that a 9.0 earthquake could hit off the West Coast of Canada, which could kill thousands of people and trigger massive tsunami waves around the West Coast of North America. What's more, the waves could even make it to Japan. It's only a matter of time, they suggested.
"It's difficult to predict when it will happen again. We do know it's occurred about 20 times in the past 10,000 years," Dr. John Clague, an earth sciences professor at Simon Fraser University, told GlobalNews Canada.
The report made reference to a 9.0 magnitude earthquake that hit close to Vancouver Island, British Columbia, in the year 1700.
The quake caused a tsunami that affected the east coast of Japan, and several Native American tribes in the region have oral traditions that speak about a giant earthquake.
"This geologically active region, the Cascadia Subduction Zone, not only hosts erupting volcanoes but also produces megathrust earthquakes capable of generating devastating, ocean-crossing tsunamis. By comparing the tree rings of dead trees with those still living they can tell when the last of these great earthquakes struck the region. The trees all died in the winter of 1699-1700 when the coasts of northern California, Oregon, and Washington suddenly dropped 1-2 m (3-6 feet), flooding them with seawater," the Pacific Tsunami Warning Center writes.