Postmaster General Louis DeJoy is set to testify at a House Oversight Committee hearing next week, the panel confirmed on Monday, in the midst of Democrat-led fury over recent changes at the U.S. Postal Service.
House Oversight and Reform Committee chair Carolyn Maloney (D-N.Y.) said in a statement DeJoy agreed to appear at the panel, which will be held on Aug. 24.
"I'm pleased that the Postmaster General will testify voluntarily before the Oversight Committee on Monday about the sweeping operational and organizational changes that he has been making to the Postal Service," Maloney wrote in a statement. Maloney also said she wants DeJoy to produce documents and other information "by this Friday in response to the detailed request I made last week with" House Speaker Nancy Pelosi (D-Calif.), and other top Democrats.
It's not clear if DeJoy will hand over any documents or information about the changes.
"The American people want their mail, medicines, and mail-in ballots delivered in a timely way," she added, "and they certainly do not want drastic changes and delays in the midst of a global pandemic just months before the election."
On Sunday, Maloney, Pelosi, and Senate Minority Leader Chuck Schumer (D-N.Y.) called for his testimony in Congress. They also sought the testimony of Mike Duncan, chairman of the Postal Service's Board of Governors. Reports have said that he has agreed to testify.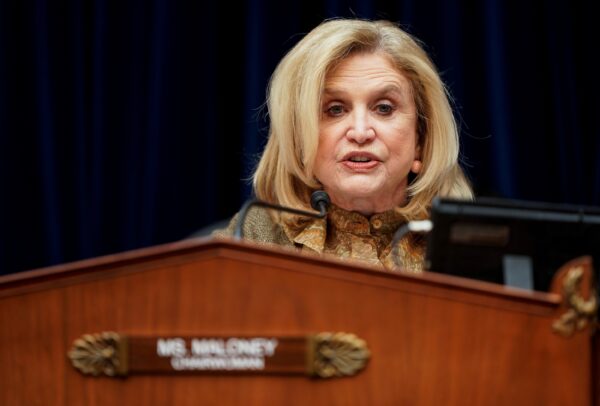 A number of Democrat members of Congress have said that DeJoy should resign, with one member even going so far as to say that he should be arrested by the House's sergeant at arms if he didn't testify.
According to a statement from Pelosi's office, the House is also scheduled to vote on Saturday at the soonest on a proposal to block DeJoy's plans to overhaul the postal agency. It came after Pelosi recalled members of the House back to Congress from their August recess.
President Trump, in statements to reporters, indicated that $25 billion in funding to the USPS and an additional $3.6 billion to provide funding for the agency to deal with Election Day voting is tied to a broader stimulus measure that stalled in Congress earlier this month. Trump remarked last week that he would agree to the $25 billion if Democrats make concessions on the COVID-19 relief package.
"Sure, if they give us what we want," the president said on Friday at a news conference. "And it's not what I want, it's what the American people want."
Negotiations on a pandemic relief bill that includes unemployment benefits, stimulus checks, loans to small businesses, and other programs have stalled in recent days. It is not clear when the White House, Schumer, and Pelosi will meet again.
Trump for months has said that universal voting-by-mail efforts could lead to election fraud and widespread delays. Democrats, meanwhile, said Trump's USPS plans are an attempt to rig the election and are an "abuse of power." They have also alleged, with scant evidence, that DeJoy's efforts at the agency produced backlogs and interruptions.
On Monday, the president told reporters near the White House that he has "encouraged everybody to speed up the mail, not slow the mail."
Correction: This article previously mentioned that Louis DeJoy was appointed by President Trump. He was actually selected by The Board of Governors. The Epoch Times regrets the error.