Poster Urges Chinese to Spy on One Another
August 20, 2008 12:51 am Last Updated: October 1, 2015 10:53 pm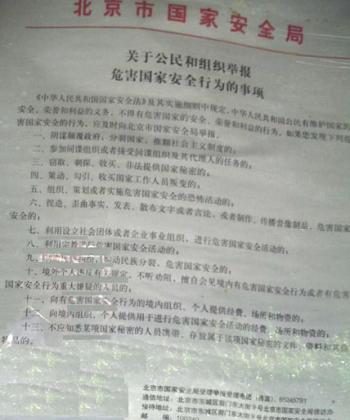 When the Olympics were awarded to Beijing, some had hopes the Games would bring with them an opening up of Chinese society. A poster plastered on Beijing streets suggests the opposite may have occurred.
One of the posters was photographed by a journalist from the Boxun News website. The poster is entitled, "Notice to Citizens and Organizations on Reporting Deeds that Endanger the Security of China." According to the notice, it is the duty of all citizens to "protect the safety, reputation, and profit of the country."
Put out by Beijing's National Security Bureau, the poster lists 13 "Don'ts." The list requires the Chinese should not engage in any of these activities. It also requires that citizens report any such activities—or even suspicion of these activities—to the Beijing National Security Bureau immediately.

In other words, citizens and organizations are being asked to spy on one another.
The "Don'ts" listed include plots to overturn the government, split the country or overthrow the Chinese Communist Party (CCP). It also lists knowledge of espionage or accepting any tasks from groups or individuals that use espionage, including theft or bribery, to illegally provide state secrets.
In addition, people must not organize, plot against or partake in terrorist activity that might interfere with the safety of the country or fabricate, misrepresent (or even misinterpret) any facts that might harm the country either by speech, video, or audio recordings.
It also forbids citizens from using or creating groups, including religious, social, or business groups to host activities that harm the country, including causing dissension in ethnic groups.
These stipulations also cover foreigners, anyone who might seem suspicious, those who fund or facilitate groups with the intent to give China a bad name and even those who, unwittingly or with intention, are found to be in possession of any materials that undermine the state or its secrets.
None of this is new. For instance, "revealing state secrets" is a charge regularly used by the Chinese regime against dissidents who publish information about human rights abuses. And throughout the history of the Chinese Communist Party, it has required citizens to spy on one another.
What is new is the Olympics to be the occasion for exhortations to such surveillance.