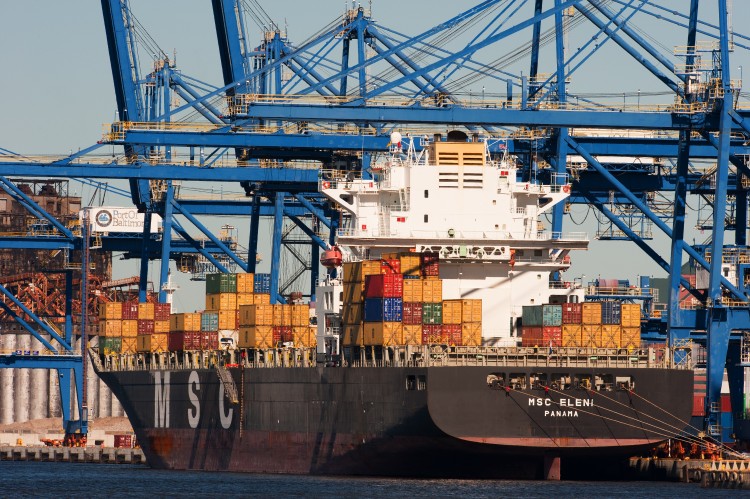 Mediated negotiations between the International Longshoremen's Association (ILA) and the United States Maritime Alliance, Ltd. (USMX) are going so badly that a port strike may start Dec. 30. It would be the first coast-wide strike since 1977. 
A strike like this would mean a heavy blow to the economy, according to the National Retail Federation (NRF).
Stephen Schatz, senior director of media relations, communications, and public affairs at the NRF, said that a strike would be an economic "container cliff." He said that a 2002 10-day walkout on West Coast ports took $1 billion per day from the economy, according to most estimates. An East Coast strike after Christmas could be just as costly.
"We just had Superstorm Sandy. Economically, we are already feeling the hurt along both coasts," said Schatz.
Federal mediators have been trying to help the two sides to come to an agreement for months. Nonetheless, the opponents have now issued public statements blaming each other. 
"USMX and its members are disappointed with the breakdown of negotiations and the inflexible stance that the union's leaders have maintained over the nine-month course of these talks," said James A. Capo, USMX chairman and CEO, in a statement on the USMX website. 
He wrote that the two have always cooperated and compromised until now.
The ILA union expressed the situation more vigorously: "The ILA wanted to say 'Happy New Year' With a Contract Extension to February 1, 2013 but United States Maritime Alliance (USMX) answered with a resounding 'Bah Humbug' and rejected an ILA offer to extend the deadline of the current Master Contract through the end of January 2013," according to a press release from the union.
Container royalties are a non-negotiable issue for the union. 
"USMX seems intent on gutting a provision of our Master Contract that ILA members fought and sacrificed for years to achieve," said ILA President Harold J. Daggett in a statement on the ILA website. "We have repeatedly asked them to leave this item alone—it was a hard-won gain by ILA members and a wage supplement achieved through hard-fought negotiations."
Container royalties are payments per ton of cargo, and they go to the union to fund benefits. 
USMX proposes to not let new members participate and to protect the payments at 2011 levels for current members for 25 years or until they leave the industry, whichever comes first.
The NRF sent President Barack Obama a letter Dec. 17 asking him to intervene in order to keep the sides talking. 
Failing that, the NRF wants the president to invoke the Taft-Hartley Act, which can freeze a strike for 80 days. President George W. Bush did so in 2002. President Obama has not made a statement about the dispute.
A total of 14 or 15 container ports, including Houston, New Orleans, Savannah, New York, Miami, and Boston, would be idled in the event of a strike. 
"This impasse is very alarming to shipping companies, to department stores, to e-commerce giants, to small main-street stores," said Schatz.
"We need certainty. We have boats already coming and going," he said. 
A coalition of stakeholders sent another letter to the Obama administration on Dec. 20.
The Epoch Times publishes in 35 countries and in 20 languages. Subscribe to our e-newsletter.