Port Shelter Regatta Heralds Busy Race Season in Hong Kong
Yachting—Port Shelter Regatta
September 18, 2013 11:42 am Last Updated: September 18, 2013 11:42 am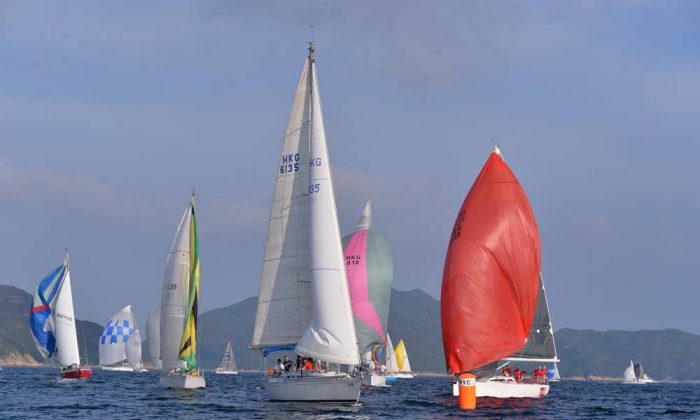 The Port Shelter Regatta on Saturday and Sunday (Sept 14 -15) organised by Hebe Haven Yacht Club is the second event of the Hong Kong Yacht Racing Season following ABC's Opening Regatta the previous weekend. From now until May next year there are many important races scheduled.
A total of 44 boats turned out for the Port Shelter Regatta that were split into five divisions.
On both days the weather started with sunny but calm conditions and Race Officer Simon Boyde was looking rather worried, particularly on Sunday morning when there was not a breath of air to be found. But racing started on time and, luckily, as the days progressed, so did the wind strength and some very enjoyable racing took place.
The competition was close in all of the five categories except in the Dragon division where "Zephyr" took top honours with two wins and two second places, "Celines" came second on 9 points and "Maiden of Hong Kong" won a hard fought third place on 10 points with "Nottinghead" on 11 and "Kamloong" on 12. "Kamloong" had a first and second place on Day-1, but did not compete on Day-2.
Frank Pong's "Jelik" was in great form competing in all four IRC-1 races winning line honours in each, but although finishing well ahead of the rest of the field in such short races it is difficult for her to compete on handicap. She finished seventh overall.
IRC-1
"Electra" and "Signal 8" both finished on 5 points, but on count back "Electra" got the nod.
"Mojito" came in third and "HuaAn", who is performing much better, came a close fourth.
"Krampus" started the regatta well with a second place in the first race, but was then relegated to fourth place or lower in subsequent races.
IRC-2
With only three boats in this division "Talkinghead" took line honours and first place on calculated time in each of the races taking the regatta win.
"Goddess" came second and RB, who only raced on Day-1, came third.
HKPN
In the HKPN division Bits & Pieces did her normal trick of taking line honours in all four races. She did well enough to take first place on calculated time in Race-2 and was placed third overall.
But it was "Jelik VI" that took first place in the regatta, with David Rule helming "Jive" into second place.

Sports Boats
"Merlin" had tough competition from "FreeFire It's My Pleasure" in the Sports Boat category and, although finishing on equal points, just managed to win the regatta on count back.
Catch 22 took third place overall.

Next Events
The next major event will be the Royal Hong Kong Yacht Club's Autumn Regatta held in Victoria Harbour, which takes place on Sept 28 and 29. This is closely followed by the China Coast Regatta from Oct 12-14 and the Hong Kong to Vietnam race starting on Oct 17.