Porsche's New LMP1 Endurance Racer Hits the Test Track
September 2, 2013 12:31 pm Last Updated: September 2, 2013 12:57 pm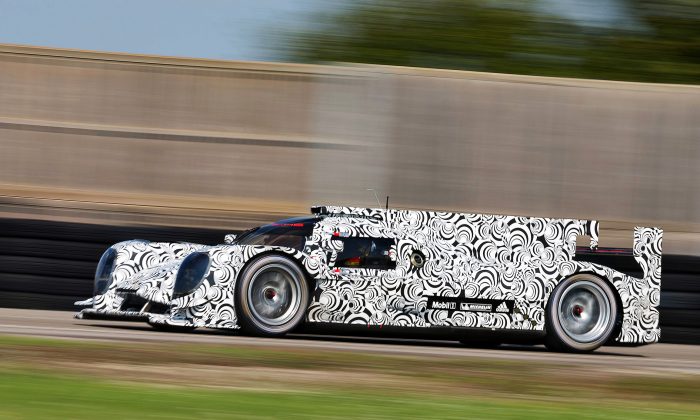 Porsche's much-awaited new LMP1 racer has started track testing, preparing for the 2104 season. The car is the first of the 2014 crop of cars to start testing, turning laps first at the firm's Weissach test track and now on various international circuits.
"The current test drives are enabling us to collect huge amounts of vital data; every single kilometer driven is important," said Fritz Enzinger, vice president of Porsche's LMP1 program. "However, in order to develop the highly complex LMP1 racing car so that it is fit to compete by the start of next year's season, many more kilometers of testing are required.
"We are pleased with the progress being made with each test."
Porsche has a long history in endurance racing—the factory has won the prestigious Le Mans 24 Hours sixteen times, more than any other manufacturer.
The FIA/WEC wrote new regulations for its top prototype class for 2104, focusing on energy efficiency, with the total amount of energy—from both the main motor and whatever energy-recovery units—strictly limited per lap. Everyone will have to build brand-new cars to meet the new rules.
Porsche was one of the first factories to produce a successful endurance race car with KERS (Kinetic Energy Recovery System,) the 2010 911 GT3R Hybrid, with a flywheel-based energy-recovery system from Williams, the F1 team.
While Audi and Toyota both built hybrids to race in the top class of the 2012 World Endurance Championship, Porsche was content to develop its slower GT racers, Porsche waited, knowing new regulations were coming. The company focused on its 2014 car while the competition had to develop its existing cars as well as design new ones.
This should give the Weissach crew an edge heading into 2014.
"After 16 years, we once again want to be a works team in the top category with the LMP1 in the 24 Hours of Le Mans in 2014. It is also our aim to contest the entire WEC season", said Wolfgang Hatz, Member of the Executive Board Research and Development, in a press release.
"Porsche's legacy of success in long-distances races really spurs us on, but also increases the level of expectation placed on us. However, we are happy to rise to this challenge."
Three of the four 2014 drivers have tested the car: Neel Jani, Timo Bernhard, and Romain Dumas. The fourth driver, Mark Webber, is finishing out the season with the Red Bull Formula One team.
While no details have been released, experts seem to think Weissach will be using a inline four-cylinder turbocharged gasoline motor and a more powerful version of the flywheel-hybrid system.