"I won't let you be … You just have to kill me …" were Martinez Zogo's last words on the airwaves of the privately-owned Amplitude FM radio station in Cameroon's capital of Yaounde on Jan. 17, 2023.
In the satirical Embouteillages (Gridlock) daily slot that he was anchoring that fateful day, Zogo denounced an embezzlement case allegedly involving a Cameroonian media/business tycoon and his allegedly shady deals with the country's powerbrokers.
The next day, Zogo was nowhere to be found. His naked and decomposing body was found about 12 miles from Yaounde five days later.
His right leg was broken, his fingers severed, among other degrading injuries, according to autopsy results sent to The Epoch Times by his family.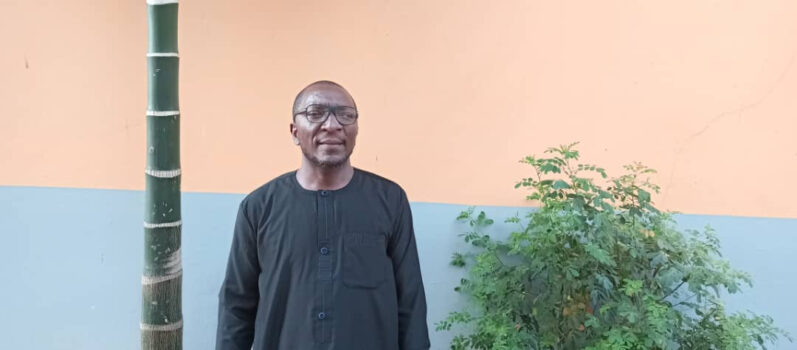 The autopsy also suggested a club was most likely used to inflict the "worst abuse ever" on the 51-year-old father of five.
"This is a grave blow to democracy and press freedom," said Sadibou Marong, director of Reporters Without Borders's sub-Saharan Africa bureau in a Jan. 23 press statement.
"First he was brutally abducted and then his lifeless body was found with the marks of torture. Everything indicates that he was deliberately killed. This murder of a journalist—who was just doing his job—must not go unpunished," he wrote.
In 2020, Zogo served a two-month pre-trial detention in Yaounde relating to a criminal defamation case.
Another popular Cameroonian TV host, Samuel Wazizi was arrested and detained in August 2019 for criticising the government's handling of a separatist revolt in the country's English-speaking north-west and south-west regions. He was later confirmed dead, but his family is yet to see his corpse.
A controversial terrorism law and a military tribunal were used in 2014 to keep a Radio France Internationale correspondent, Ahmed Abba in prison for two-and-a-half years.
In 2021, journalists Paul Chouta and Emmanuel Mbombog Mbog Matip were finally freed after being held on defamation charges for 24 months and 16 months respectively.
Cameroon is the second-worst jailer of reporters in sub-Saharan Africa and fifth on the continent with at least six journalists behind bars as at Dec. 1, 2021, according to the Committee to Protect Journalists.
Hostile Country For Journalists
Reporters Without Borders (RSF) also claims Cameroon is one of Africa's "most dangerous countries for journalists", who operate in a hostile and precarious environment.
"Cameroonian journalists are constantly exposed to the threat of a verbal or physical attack, an arrest, a gag suit, and even murder," says RSF.
A day after Zogo's body was found, many journalists in Cameroon thronged the headquarters of his former Amplitude FM radio station to pay their last respects.
A replay of the late radio host's past satirical slots amid a hymn of mourning noisily animated the atmosphere—while his large photo and some lit candles beckoned visitors to the studios.
"A day at the radio station without Martinez is a day full of sadness," Charlie Aime Tchouenou, editor-in-chief of Amplitude FM radio station, said of his colleague.
Tchouenou explained the "Embouteillages" slot that Zogo anchored was noted for its "satirical tone" and was "one of the must-listened to" in taxis, markets, and offices.
"He had a special touch that he gave to the slot. When he was on air, he had no censorship of what he had to say," he told The Epoch Times.
"He had no script in front of him. Yet, he was capable of sustaining the audience for as long as the programme would last (9:30 a.m. to 12:30pm). And during this period, all he spoke out were facts. He denounced societal ills. The listenership of Amplitude FM increased thanks to him and his slot."
Zogo's death sparked anger in Cameroon and beyond. Cameroon's minister of communication and government spokesperson, Rene Emmanuel Sadi described the journalist's assassination as "heinous, unspeakable, and unacceptable crime," which "cannot be justified under any circumstances."
Sadi promised that investigations have been launched "to find and bring [the perpetrators] to book."
'Barbaric' and 'Chilling'
Taking the cue, Cameroon Human Rights Commission said the act was "barbaric and retrograde" which only goes to undermine the "fundamental right to life, the right to physical and moral integrity, as well as freedom of opinion, freedom of expression and freedom of expression"—all of which it said are "protected by the Preamble to the Cameroon Constitution and by African and international human rights instruments duly ratified by Cameroon."
South Africa's radical and militant economic emancipation movement, Economic Freedom Fighters, said in a tweet that Zogo's death was "chilling" and that his critical voice "echoed through the corridors of power in government offices" in Cameroon's political capital, Yaounde.
The Cameroon Journalists' Trade Union called on media workers in the country to "wear black" on Jan. 25, as a sign of mourning for their slain colleague.
"This day, we are raising our voices that we are in danger—that the media is in danger," said Jude Viban, president of the Cameroon Association of English-speaking Journalists.
"What has happened to Martinez Zogo can also befall any of us," he told The Epoch Times.
Viban lamented that justice for Zogo may be unlikely.  "There is every reason to be pessimistic," he said. "We will not let the government rest until evidence is uncovered. The Cameroonian people need to see that justice is being done."
Knew Life Was in Danger
If anything, Zogo knew so well that his life was in danger, yet, his quest to speak truth to power seemed to have clouded his judgment.
"Martinez used to tell us that he will die for his people and now it has … come to pass. I always told him to stop it but he won't listen," revealed Zogo's elder sister Moungou Crespence to The Epoch Times.
She says the vacuum created by Zogo's passing  is "big" and that this "will never be filled."
"I knew Martinez was going to bury me as his elder sister, but today, I am the one to bury him. All we want now is for the government to hand over Martinez's corpse to us so he can be given a befitting burial. His killers best know why they did what they did. We leave everything to God," the 56-year-old mother of four said.
As a close collaborator of Zogo, Tchouenou confessed he started reading the writing on the wall when their "maestro"—as he was affectionately called—began living "a very discreet life" which baffled him.
"You would hardly see him mingle with anyone. He was always alone," he told The Epoch Times.
"Immediately he would finish his slot, he will leave the station almost immediately. He never confided in anybody. Though his colleagues, we never knew where he lived. He always loved to have scoops which he never would share with us.
"You wouldn't see him eat openly. If he sees you eating, that's when he may join you to have a bite. But if you voluntarily offered him food, he would decline it.
"Neither will you see him drinking in a bar. You won't see him board a taxi with other passengers. He always preferred hiring one for himself, or using his personal car.  He was always extremely cautious," recounted Tchouenou.
In 'Constant Fear'
With Zogo's death, the question on many lips now is "who is next?"
A few days before he was killed a list of at least a dozen Cameroonian investigative  journalists and whistleblowers allegedly earmarked for execution for being critical of the government (including Zogo's) circulated on social media platforms.
"We didn't see Martinez Zogo's death coming, but we knew he, just like us, were being targeted since we started investigating into the massive embezzlement scandal that has come to be known simply as line 94-65-57," revealed Paul Chouta, Cameroonian investigative journalist and whistleblower who was among those blacklisted.
Chouta narrowly escaped being kidnapped in 2018, but was eventually abducted in March 2022.
"I know [Zogo's] death is linked to his work and I dare say his killers are the same people who once ambushed me," he told The Epoch Times. "Just like him, I was undressed and severely tortured. I was even made to eat dust. All because of a post I had made."
Chouta admitted he now lives "in constant fear" yet lacks the means to ensure his security.
"Journalists in Cameroon are not safe. Imagine Martinez Zogo was arrested near a gendarmerie post and he cried out for help but no one came for his rescue," he lamented.
"I have started noticing strange and suspicious individuals around my residence. Nothing has ever been done to ensure our security. I am dumbstricken."