Pond in Hubei Province Mysteriously Disappears
May 6, 2008 12:00 am Last Updated: May 6, 2008 12:00 am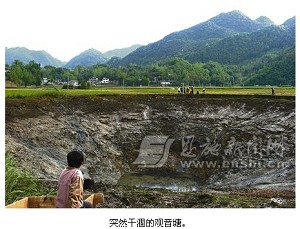 A massive amount of water from Guanyin Tang (Guanyin Pond) in Hubei Province disappeared on the early morning of April 26, according to Enshi Evening News on May 2, 2008.
Guanyin Tang, located in Baiguo Township, Enshi City of Hubei, was a circular pond that normally holds about 80,000 cubic meters of water. The emerald green colored water was usually level with the surrounding land. The pond never lost much water by evaporation.
At 7 a.m. on April 26, one villager noticed that the Guanyin Tang's water level had fallen considerably, but it was not clear why. He noticed that the pond was swirling with thunderous thumping sounds. The green pond vanished within five hours. Many villagers flocked to the now dry pond to see it for themselves. They were astonished at what had occurred. The pond, once near 100 meters in diameter and tens meters deep, is now dried up with mud deposits lying at the bottom. A villager Chen said he was able to catch two large fish weighing about 25 pounds each.
According to the Gazetteer of Baiguo Township, a similar incident previously occurred three times at Guanyin Tang—in 1949, 1976 and 1989. Curiously, each time correlates to a significant historical event: in 1949 the Chinese Communist Party (CCP) usurped state power; in 1976 the arrest of the Gang of Four[1] was preceded by the deaths of the three CCP statesman Zhou Enlai, Zhu De and Mao Zedong; and 1989 saw the June 4 Tiananmen Square Massacre.
Some scholars point out that Chinese history has revealed the relationship between the universe (Heaven) and man―the Mandate of Haven determined human events. All that man did was entirely based on the manifestation of Heaven's will; the social order, the rules of human conduct and human ideals were all underlined by the manifestation of this will. As such, when a dynasty enjoyed favorable climatic, geographical and human conditions, the people lived a life of peace and stability during the dynasty; but when a country had corrupt leadership the people would exhibit completely immoral behavior, thus incurring natural and man-made calamities like the disappearing of Guanyin Tang. They suggest that when these unusual astronomical phenomena happen frequently, the world will soon undergo a tremendous change.
[1] Note: The "Gang of Four" was formed by Mao Zedong's wife Jiang Qing (1913-1991), Shanghai Propaganda Department official Zhang Chunqiao (1917-1991), literary critic Yao Wenyuan(1931-2005) and Shanghai security guard Wang Hongwen (1935-1992). They rose to power during the Cultural Revolution (1966-1976) and dominated Chinese politics during the early 1970s.)