Secretary of State Mike Pompeo called on American tech companies to remove "untrusted" Chinese apps from their stores, while outlining the administration's "clean network" initiative to safeguard U.S. interests.
Pompeo's call—aimed at Apple and Google for their app stores—came as the Trump administration compelled popular video-sharing app TikTok to find an American buyer, citing security concerns. U.S. tech giant Microsoft confirmed it was in talks to buy TikTok from its Beijing-based owner ByteDance.
"With parent companies based in China, apps like TikTok, WeChat, and others are significant threats to the personal data of American citizens, not to mention tools for CCP (Chinese Communist Party) content censorship," Pompeo said at a press conference on Aug. 5.
China's national intelligence law, which went into effect in 2017, allows Beijing access to all data stored within its national borders.
TikTok's existing privacy policy states that the company collects "information you [users] share with us from third-party social network providers, and technical and behavioral information about your use of the platform," as well as user information such as IP address and location-related data.
In July, 25 Republican House members wrote (pdf) to President Donald Trump, pointing to TikTok's privacy policy as a reason to ban it and other apps linked to the CCP.
WeChat, a popular messaging app owned by Chinese tech giant Tencent, complies with the Chinese regime's censorship rules, and also extends its monitoring and censorship to U.S. app users.
Removal of "untrusted" Chinese apps was just one of the six-part initiative in the "clean network" campaign, said Pompeo on Wednesday. The campaign was initially about the U.S. government's effort to push countries to ban Chinese vendors including Huawei from their 5G networks.
The U.S. expands the Clean Network by launching 5 new Clean initiatives–Clean Carrier, Clean Store, Clean Apps, Clean Cloud & Clean Cable–to secure Americans' most sensitive information from the CCP's surveillance state. We call on freedom-loving nations and companies to join us. pic.twitter.com/BQSk6YFt1M

— Secretary Pompeo (@SecPompeo) August 5, 2020
Pompeo also called on U.S. companies not to make their apps available to "untrusted" smartphone makers such as Huawei.
"We don't want companies to be complicit in Huawei's human rights abuses or the CCP's surveillance apparatus," Pompeo said.
In June, the Pentagon named 20 companies including Huawei, China Mobile, and China Telecom, as being owned or controlled by the Chinese military. In mid-July, the State Department announced it would impose visa restrictions on employees of Huawei and other Chinese tech companies that support China's human rights violations around the world.
The "clean network" campaign also covers issues surrounding Chinese cloud computing and undersea data cables, the latter carrying 99 percent of the world's data traffic.
Pompeo named five Chinese cloud service providers—Alibaba, Baidu, China Mobile, China Telecom, and Tencent—and the threat posed to Americans and U.S. companies when they store data, including COVID-19 vaccine research, on these online platforms.
Two state-backed Chinese hackers were indicted in July for stealing trade secrets and attempting to steal COVID-19 research.
"The State Department will work closely with Commerce and other agencies to limit the ability of Chinese cloud service providers to collect, to store, and to process vast amounts of data and sensitive information here in the United States," Pompeo said.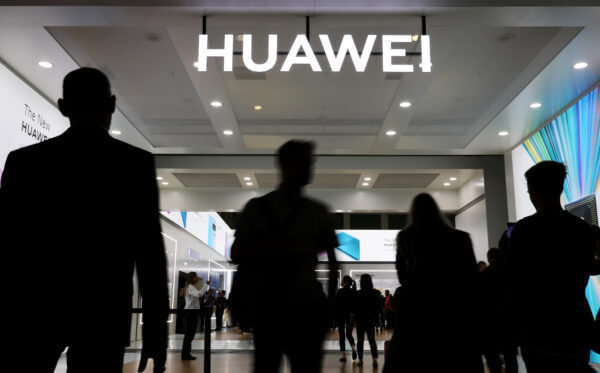 In another initiative, Pompeo warned that data transmitted by undersea cables could be compromised by the CCP, in particular those laid down by Huawei Marine.
Huawei Marine was established in 2008 as a joint venture between Huawei and UK-based submarine communications firm Global Marine. Since then, the company has become one of the world's largest undersea cable providers. Currently, the majority stake owner of Huawei Marine is China-based Hengtong Optic-Electric Corporation, which has ties to the CCP.
In June, Washington urged the Federal Communications Commission (FCC) to block an undersea cable connecting Los Angeles and Hong Kong due to national security risks. The cable, mostly laid and ready to launch, is backed by Google and Facebook.
Finally, Pompeo pointed to the importance of not having Chinese telecom companies connected to U.S. telecommunication networks.
He called on the FCC to bar China Telecom Americas, China Unicom Americas, Pacific Networks and its wholly-owned subsidiary ComNet USA, from providing services to and from the United States.
A Senate report issued in early June warned that China's state-owned telecom carriers may assist the Chinese regime in its cyber and economic espionage efforts against the United States.
"We call on all freedom-loving nations and companies to join the Clean Network," Pompeo concluded.
Also on Wednesday, Pompeo said the "tide is absolutely turning" against the CCP since his speech at the Richard Nixon Presidential Library and Museum in California on July 23, when he called on free nations to "induce change in the CCP's behavior."
"The central idea of distrust and then verify, I think the world is coming to see as the right approach to responding to these challenges," he added.