Former CIA Director and Secretary of State Mike Pompeo said that recent public claims there were Chinese spy balloons transiting over the United States under the Trump administration are "deeply dangerous" and demand an explanation.
Speaking to Fox News, Pompeo said he never heard of the alleged Chinese spy operations while he was in office. Some top-level officials this weekend claimed that at least three spy balloons entered U.S. airspace while former President Donald Trump was in office, which Trump denied over the past weekend.
"I can speak for myself: I certainly never became aware that there was a three-bus-sized floating device coming across our country for five days, either as CIA director or secretary of state [and] I've talked to others who are on my teams—they don't know anything about it either," he told Fox.
With the recent claims, Pompeo added, "This accusation is deeply dangerous that somehow the military hid from its political command and its political authority information that was vital to American security."
Pompeo, a possible 2024 presidential candidate, added that "it seems unimaginable that somehow this wouldn't have gotten to the political leadership in the White House or State Department or at the CIA. I can't figure out how that happened."
Neither former Secretary of Defense James Mattis nor Joint Chiefs of Staff Chairman Gen. Mark Milley have publicly confirmed whether there were Chinese spy flyovers during the previous administration, Pompeo noted.
"I would be shocked if General Mattis knew about it and hadn't shared that with either the CIA director or the secretary of state," he said.
On Monday, White House national security adviser Jake Sullivan told reporters that under the Biden administration, the U.S. "enhanced our surveillance of our territorial airspace, we enhanced our capacity to be able to detect things that the Trump administration was unable to detect."
Sullivan did not explain what specifically allowed the United States to detect and track the latest balloon where the previous administration might not have. Officials have said, without elaborating, that China has flown similar balloons over parts of five continents in recent years.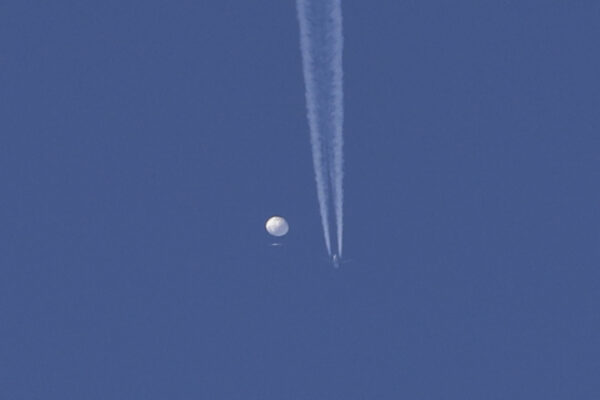 Meanwhile, the Chinese Communist Party (CCP) confirmed that a separate balloon spotted over Colombia and other Latin American countries in recent days is also of Chinese origin. Last week, the regime confirmed the U.S. balloon was of Chinese origin but said it was for civilian purposes, a claim that was denied by U.S. officials.
President Joe Biden has been targeted by some Republicans for not ordering the balloon shot down before it made its way across the United States. Some officials have said there was concern about damage to people on the ground, and Biden addressed the issue on Monday.
"Once it came over to the United States, from Canada, I told the Defense Department I wanted to shoot it down as soon as it was appropriate," Biden said. The military concluded "we should not shoot it down over land, it was not a serious threat," he claimed.
Biden administration officials have planned a classified briefing for all senators on Thursday to discuss the spy balloon situation, according to Senate Majority Leader Chuck Schumer's (D-N.Y.) office.

Before Monday, U.S. officials had said that at least three times during the Trump administration, and at least one other time during Biden's time as president, balloons have crossed American airspace, but not for this long. In those instances, the United States determined the balloons belonged to China only after they had left U.S. airspace, said Gen. Glen VanHerck, head of U.S. Northern Command.
"I will tell you that we did not detect those threats," VanHerck said of his military command. "And that's a domain awareness gap that we have to figure out." He added that the U.S. intelligence community "after the fact" informed his command about the balloons.
Elaborating, VanHerck said the balloon was about 200 feet in height and weighed thousands of pounds. The general also did not rule out the possibility of there being explosives on the craft.
The Associated Press contributed to this report.