U.S. Secretary of State Mike Pompeo, who is in London for a two-day visit, has called on all democratic countries in the world to build a "coalition" to push back against the threat from the Chinese Communist Party (CCP).
Pompeo held talks with Prime Minister Boris Johnson and Foreign Secretary Dominic Raab on a range of China-related issues, including the Hong Kong national security law, China's state-backed telecom giant Huawei, and the global pandemic caused by the CCP virus, also known as the novel coronavirus.
At a joint press conference with Raab, Pompeo started by extending his condolences to the British people for their losses from what he called a "preventable pandemic."
"The CCP's exportation of this disaster to further its own interests has been disgraceful," he said. "Rather than helping the world, General Secretary Xi has shown the world the party's true face."

Pompeo congratulated Britain on its "principled responses" to the challenges posed by the Chinese regime such as the Hong Kong national security law, and praised its decision to purge Huawei gear from its 5G network.
Johnson announced on July 14 that the UK was going to ban Huawei from further input into the UK's telecoms infrastructure by the end of 2020, and to strip existing Huawei kit from the country's 5G network by 2027.
We know that U.S.-UK cooperation is absolutely integral to global security and stability. Glad to meet with @DominicRaab once again – our dynamic discussion covering our shared security concerns and our continued coordination within the G7 reinforced how deep U.S.-UK ties are. pic.twitter.com/RHgmxdAZoT

— Secretary Pompeo (@SecPompeo) July 21, 2020
Pompeo also criticized the Chinese regime for its threatening behavior in the South China Sea and on the Sino-Indian border, as well as its infiltration of international organizations.
"You can't go make claims over maritime regions you have no legal claim to. You can't threaten countries and bully them in the Himalayas. You can't engage in cover-ups and co-opt international institutions like the World Health Organization," said Pompeo.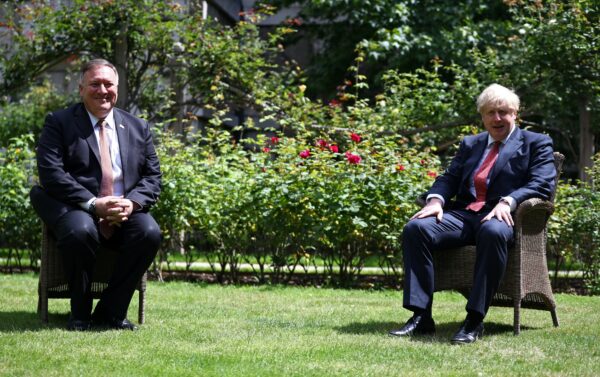 The United States wants to see every nation that values freedom and democracy to "understand this threat the Chinese Communist Party is posing to them" and to "work together to push back against the Chinese Communist Party's efforts," he said.
"I hope we can build out a coalition that understands this threat and will work collectively to convince the Chinese Communist Party that it's not in their best interest to engage in such behavior."
For his part, UK Foreign Secretary Dominic Raab said that the UK wants to work with the United States and other international partners "to protect our freedoms and interests and, as we are showing on Hong Kong, stand up for our values."
"Across the full range of international challenges, of which there are many, we recognize we are always a lot stronger, and always more effective, when we work together. And that is what we are going to continue to do in the weeks and months ahead," he said.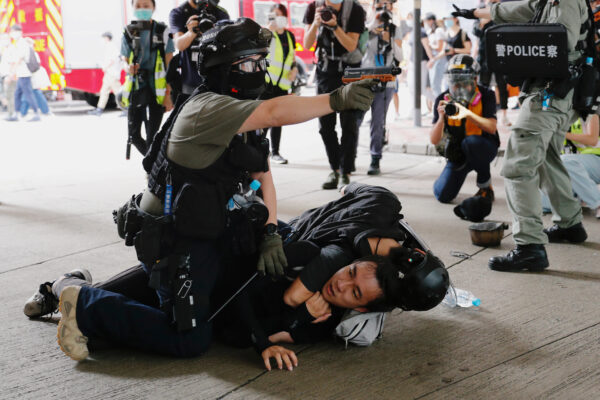 The UK announced it will extend immigration rights for an estimated 3 million Hong Kong residents who hold British National (Overseas) status after the Chinese regime imposed a draconian national security law on Hong Kong on June 30.
The law, which Britain said constitutes a "clear and serious breach" of the Sino-British Joint Declaration, criminalizes individuals for any acts of subversion, secession, and collusion with foreign forces against the CCP regime, with a maximum penalty of life imprisonment.
Raab said yesterday the UK was also suspending its extradition treaty with Hong Kong and expanding its arms embargo on mainland China to the former British colony.
Pompeo is also due to meet Hong Kong democracy activist Nathan Law, who fled to London after the imposition of the security law, and the last British governor of Hong Kong Chris Patten.
Pompeo will visit Denmark on July 22. He will meet Danish Prime Minister Mette Frederiksen to discuss the pandemic, China, and other matters.