Although Hillary Clinton has not entered the 2020 presidential race, a new poll shows that she would be a leading contender among potential Democratic voters.
The poll carried out by Harvard Harris found that 19 percent of people would support former Vice President Joe Biden and 18 percent would support Clinton for the nation's highest office, according to the Washington Examiner.
"Suppose Hillary Clinton, Michael Bloomberg, and John Kerry decides to enter the race, who would you support as a candidate for President?" the poll asked.
Without Clinton entering the race, Biden would generate 33 percent support from Democrats.
Clinton lost to Trump in the 2016 election, and it would be her third attempt at the presidency should she run again. Before 2016, Clinton lost to former President Barack Obama in the Democratic primary.
There have been rumors that Clinton would enter the race again, fueled by Clinton herself.
"You know, it truly is remarkable how obsessed he remains with me … maybe there does need to be a rematch," she told PBS in October. "Obviously, I can beat him again."
Her former adviser Philippe Reines told Fox News that she hasn't closed the door on running again.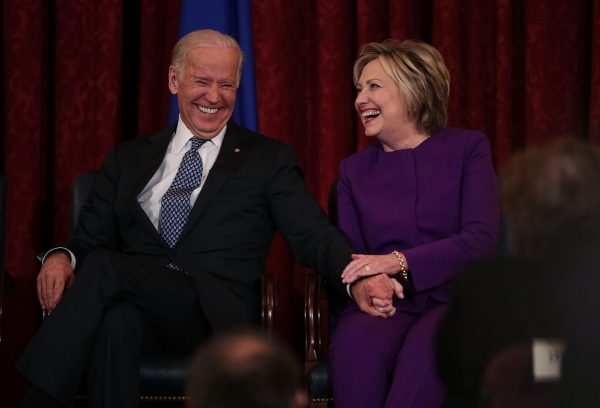 "So, I'm assuming what I just said and what we're hearing is true, that if she thought she was in the best position to beat Donald Trump, she would get in the race," Fox host Tucker Carlson said in the interview.
"You know, she ran for president because she thought she would be the best president," Reines answered. "If she still thought that now, if she thought she had the best odds of beating Donald Trump—I think she would think about it long and hard."
More speculation was triggered after former President Bill Clinton said on Oct. 30 that "she may or may not run for anything, but I can't legally run for president again," when he was asked about his wife, according to RealClearPolitics.
And earlier this month, Hillary Clinton publicly tussled with Democratic candidate Tulsi Gabbard, alleging that the Hawaii congresswoman is a Russian asset.
However, some Democratic U.S. senators suggested that she shouldn't run again.
"She's done a great service to our country and public service, and I supported her wholeheartedly, but I believe it's time for another nominee," said Senate Minority Whip Dick Durbin (D-Ill.), according to a Politico report from October.
"I don't think it would be good for her," Sen. Jon Tester (D-Mont.) told the news outlet. "She's been through this war once. The Republicans have made a target out of her for 30 years and she's still going to [be] that same target. I just think it would be tough."