Federal and provincial politicians have faced backlash and consequences following trips abroad over the holidays, while a large Christmas gathering by an independent MPP has prompted a police investigation.
Jacqueline Biollo, a principal with Aurora Strategy Group, said the politicians' actions are regrettable, even if their political careers survive.
"I'm embarrassed for each and every one of them," she said in an interview.
"They should know better for more than one reason. … Being in the public's eye you're scrutinized more severely and held to greater standards, but you are also looked at as a leader. So regrettably, these 'do as I say and not as I do' senses of entitlement by some elected officials is simply a shame."
Rod Phillips resigned as Ontario's finance minister on Dec. 31, having been at Saint Barthélemy in the Caribbean since Dec. 13.
Phillips apologized for what he called "a significant error in judgment." But Nelson Wiseman, political science professor at the University of Toronto, says the minister had to go, particularly in light of the pre-recorded videos of himself in Canada that were posted to social media while he was in Saint Bart's.
"What's really reprehensible here with Rod Phillips is tweeting that, there he is, in front of this fire on Christmas Eve wishing everyone a merry Christmas and thanking them for the sacrifices they're making. And meanwhile he's down in the Caribbean and lying about it [by using] a photo of Queen's Park behind him," Wiseman told The Epoch Times.
He also criticized Premier Doug Ford for how he handled the situation.
"It's also very dishonest of Ford because he knew that Phillips was away and he didn't order him back. In fact, he sat on it. The only reason he got high and mighty about it … is because it got broken out into the public."
Independent MPP Randy Hillier, ousted from the Progressive Conservative caucus early in 2019, suspects many of his former colleagues flew south.
"That's what people do during the extended winter break in politics," Hillier told The Epoch Times.
"As they impose onerous hardships on everybody that they're supposed to be representing, they're living the life of Riley and not living by what they impose on others. The level of disdain I have for [their] hypocrisy and deceit has no limits."
Hillier has been vocal about his opposition to lockdown restrictions, saying they do more harm than good, and as an act of civil disobedience, he had 15 people gathered at his home for Christmas.
"I wanted to demonstrate by my actions that I'm truthful to my words. At the rally in Ottawa, I said one of the things that we need to do is start taking pictures of us getting together and sharing them publicly, and to give people encouragement to do the same," he said, referring to an anti-lockdown rally in Ottawa on Dec. 12 at which he was one of the speakers.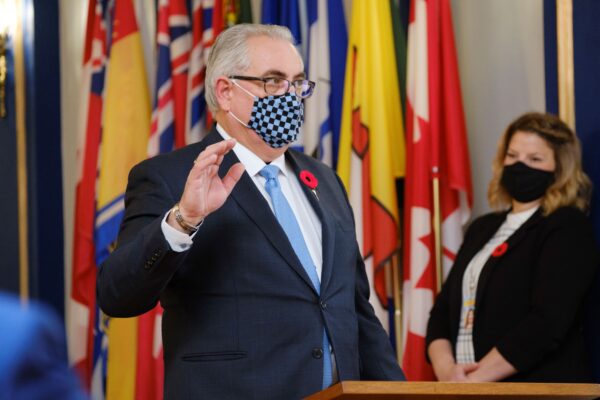 As of Jan. 4, Hillier's Facebook post of a photo of his Christmas gathering had over 8,300 "likes" and over 3,100 "loves," but less than 250 people "angry."
The Ontario Provincial Police is looking into the incident. Hillier will be in court on Jan. 7 over an anti-COVID measures rally held at Queen's Park in November that had more than 10 people, contrary to the Reopening Ontario Act.
On Jan. 1, NDP MP Niki Ashton announced on Twitter that she had flown to Greece to see her ailing grandmother. In response, one person tweeted, "My grandmother died in July. She battled cancer for the last three years and we couldn't see her for her last six months. … Sure must be nice to be a Cdn politician!"
The NDP promptly issued a statement saying: "Canadians, rightfully, expect their elected representatives to lead by example. While this is no family vacation, Ms. Ashton will be removed from her shadow critic roles."
Conservative MP David Sweet resigned  as chair of the House of Commons ethics committee on Jan. 4 over travelling to the United States to take care of a property issue and then staying on "for leisure" without informing the party's whip.
Sweet and MP Ron Liepert had been given approval by the whip to undertake "essential travel" to the United States. Liepert has travelled to Palm Desert, California, twice since March to address "essential house maintenance issues," according to his office, including one trip made during the current parliamentary break.
Liberal MP Sameer Zuberi, who was in Delaware to visit his wife's sick grandfather between Dec. 18 and Dec. 31, has stepped down from his roles on parliamentary committees.
Liberal MP Kamal Khera stepped down as parliamentary secretary to International Development Minister Karina Gould after travelling to Seattle during the holidays to attend a private memorial for her father and uncle, even though her trip was deemed essential.
Saskatchewan Party cabinet minister Joe Hargrave visited Palm Springs, California, over the holidays to finalize the sale of a home, something he called an "error in judgment" and apologized for. On Jan. 4, he resigned as highways minister.
Some United Conservative Party MLAs also left Alberta on flights. Alberta Premier Jason Kenney tweeted on Jan. 4 that he had accepted the resignation of Tracy Allard from her cabinet minister position. He had also accepted the resignations of Jeremy Nixon from his parliamentary secretary position and Jason Stephan from the Treasury Board. Nixon and Stephan, along with Tanya Fir, Pat Rehn, and Tany Yao, have lost their legislature committee responsibilities, he added.
Kenney said he had also requested his chief of staff, Jamie Huckabay, to step down and that Huckabay has done so.
Quebec Liberal MNA Pierre Arcand went to Barbados and has been stripped of his shadow cabinet role. Coalition Avenir Québec MNA Youri Chassin visited his spouse in Peru, whom he said he had not seen for almost a year.
Biollo says that although many of the politicians who travelled over the holidays will survive the scrutiny and go on to receive support in the next election, that "doesn't make it any less unacceptable."
"Apologies do wear thin. Instead of asking for forgiveness, elected officials should consider being more forthcoming and transparent, or at best do their own morality or ethics test. These latest actions [are] pushing and defying the health recommendations that we are all trying to adhere to."