Like two gunslingers from an old Western, Arizona may not be big enough—politically speaking—for former president Donald Trump and his former vice president Mike Pence.
Both plan to wage dueling rallies in the Grand Canyon State on July 22, just 10 days ahead of the August mid-term primary.
Trump will speak at a "Save America" event in Prescott to support a list of his campaign endorsements, including Arizona gubernatorial candidate front-runner Kari Lake and U.S. Senate candidate Blake Masters, who also leads in the polls.
In Phoenix, 100 miles away, Pence will hold a competing rally for Lake's opponent Karrin Taylor Robson, who has the endorsement of both Pence and outgoing Arizona Gov. Doug Ducey.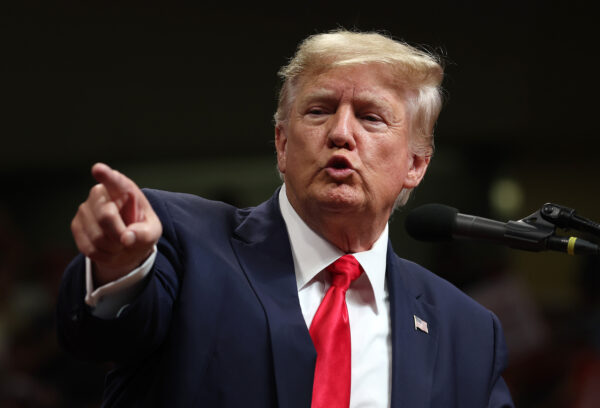 Trump and Pence, however, stand far apart as they "battle for the soul" of the Republican Party in Arizona, one of five key battleground states where Trump lost his bid for re-election in 2020 by a slim margin.
Nearly two years after the election, Trump holds firm in his belief that the election was stolen by Democrats using organized ballot harvesting and electronic tampering.
Pence has rejected that claim as false.
Trump's Clout
The resulting partisan rift—Trump's clout versus Pence's doubt—has split the two erstwhile Republican friends and allies and served as a litmus test for their political endorsements in Arizona.
Lake and Masters haven't wavered in their conviction the election was rife with cheating—"election fraud denialism," their opponents call it.
Though Arizona Attorney General Mark Brnovich, a Republican candidate for U.S. Senate, has publicly stated there was no election fraud, observers say that early stance may have cost him Trump's important endorsement in favor of software company owner Blake Masters.
Calling Brnovich a "lackluster attorney general" in the media, Trump said he was "nowhere to be found" to investigate and prosecute a "massive crime in the 2020 election."
Brnovich has modified his opinion following months of reviewing both the election results and the findings of an independent forensic audit that revealed numerous election irregularities.
He now says he has "serious concerns" about the 2020 election.
"It's frustrating for all of us because I think we all know what happened in 2020," Brnovich recently told podcaster and former Trump adviser Stephen Bannon.
In recent weeks, Brnovich has taken a more forceful posture against Arizona's illegal immigration and human trafficking problems.
Still, his candidacy lags in third place behind Masters and Jim Lamon based on recent polls according to RealClearPolitics.com.
Masters said he now has reason to doubt that the upcoming primary in Arizona will be any more fair than the 2020 election.
"Whatever their cheating capacity is, I'm pretty sure they pulled out all the stops," Masters told media during a recent campaign stop.
"The question is, will that happen again?"
Lamon Leads in Fund-Raising
While Masters leads the pack of candidates in the polls, Arizona businessman Jim Lamon is the clear winner regarding campaign financing.
So far, he's garnered $15 million compared to Masters with $4.6 million, according to campaign financing reports filed with the Federal Election Commission.
Lamon too has concerns about the 2020 election in Arizona, and for that reason he helped pay for the Arizona Senate Republic-led election audit in 2021.
"The Arizona audit I helped fund revealed significant issues in our elections," Lamon said in a Jan. 21 post on Twitter.
"I won't be taking pointers from California libs who can hardly run their own states, much less elections."
Lamon said on his website that the Arizona Legislature has drafted "more robust and impactful election laws" to secure future elections, but the state needs more laws to achieve "complete election integrity."
"To this end, I am donating the maximum amount to the campaigns of those Arizona House and Senate members who will make this happen."
Lamon has amassed many political endorsements since he launched his campaign. Among them are former Acting U.S. Attorney General Matt Whittaker, Brandon Judd, president of the National Border Council, and Keith Schiller, former Trump director of Oval Office operations.
No More 'Weak Leaders'
Retired Arizona National Guard Major General Michael McGuire has received just over $2.4 million in campaign contributions.
"I'm running because there are too many weak leaders that sit on the sidelines and fail to act when they know something must be done," McGuire said on his campaign website.
McGuire endorsements include former Alaska Gov. Sarah Palin, a Republican candidate for the U.S. House of Representatives, Arizona Speaker of the House Rusty Bowers (R-Arizona) and Gov. Asa Hutchinson (R-Arkansas).
A fifth contender in the U.S. Senate race, former Arizona Rep. Justin Olson, said his goal is to shrink the size and overreach of the federal government.
"I am deeply concerned about the direction the Democrats are leading our country," Olson said on his website.
"Spending in [Washington, D.C.] is out of control; and yet, Mark Kelly and the Biden administration are supporting a new $3.5 trillion spending bill.
"This is the largest expansion of the socialist state since the Great Society.
"If we continue down this path, we will bankrupt our children's future; we will create demoralizing governmental dependence and runaway inflation."
On his campaign website, Masters blames Democrats for the country's current problems.
"The Democrats in power have failed us. They've delivered chaos at our border, skyrocketing inflation, failing schools, and widespread wokeness. They've quickly made America dangerous and unaffordable," Masters said.
"You'd think they'd feel bad about it. But they don't. They want it this way, it's by design. An unholy alliance between Big Government, Big Tech, and Big Business threatens to permanently upend America as we know it."
Masters, who served on Trump's presidential transition team in 2016, said he saw "firsthand" how "The Swamp" in Washington worked to undermine Trump's first term.
"The Left believes that our country is fundamentally and irredeemably evil. That's why they denounce it, loot it, and are rushing to make it unrecognizable.
"It's a sad truth, but this ruling class has given up on America. They've given up on you," Masters said.
The Republican winner of the statewide primary will move on to challenge incumbent U.S. Sen. Mark Kelly (D-Arizona), who is running unopposed.
Neither candidate responded to The Epoch Times requests for comments.