More Than 1000 Police Suppress Guangning Villagers Protesting Construction Site
October 20, 2008 2:07 pm Last Updated: October 20, 2008 2:07 pm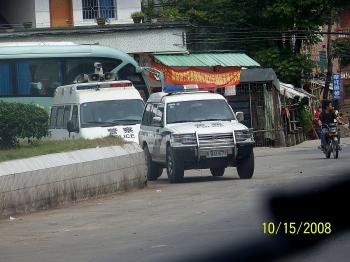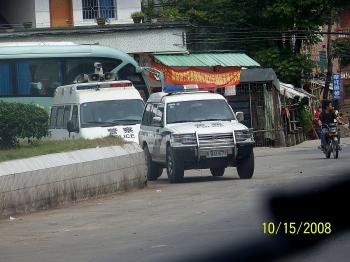 On October 13, over one thousand police officers and hundreds of unidentified people were sent by authorities to enforce unauthorized construction on village farmland in Guangning County.
The authorities of Guangning County, Zhaoqing City, Guangdong Province sent these forces into several villages in Jiangbu Region, Jinji Village, Wuhe Town. In the midst of the conflict between the two sides, the authorities fired tear gas to scatter villagers, and used batons to beat many villagers, arresting over a dozen of them.
The next day, police blocked all the entrances to these villages and to the construction site. The police also entered the villages and arrested people protesting for their land rights.
In his interview with The Epoch Times, Mr. Lu from Mabu village said, "In the past two days, many policemen have been guarding the village day and night. We want to leave the village for some business, but are unable to. Construction goes on at the site goes on around the clock, with the farmland being bulldozed. Quite a few policemen threatened to arrest the head of our village, accusing him of incitement. The police searched his house, threatened to beat him to death. That day, the head of our village was so terrified that he fled to the mountains to hide."
"That day they were powerfully armed, accompanied by police dogs and firing tear gas at villagers who could do nothing to fight back," continued Mr. Lu. "Meanwhile, the police picked targets at random, beating anyone, even if women or elderly women. And some unknown spray was being sprayed on us, making it hard for us to open our eyes. When the police caught someone, they would spray the liquid directly into their face. My mother returned home unable to see anything with her eyes."
On October 13, over 1000 riot police, police officers, and armed police, along with hundreds of hoodlums, were deployed to block each entrance of the Wujiang Region forcibly guarantee construction on farmland in the following nine villages: Hebu, Chayuan, Mabu, Liang, Jiangao, and Sizhe. Villagers in each of these villages went to the sites to try to stop the construction, but were stopped by the police.

Mr. Lu said, "That day, the police did not treat the villagers as humans. My dad and mom had wounds all over their bodies. The situation turned chaotic—riot police walked up to anyone, picking anyone and beating them with batons, whether male or female, young or old."
Another Mr. Lu said that 80% of the villagers objected to the land expropriation.
Mr. Li from Chayuan village said in panic, "The situation here is getting very tough, with villagers wounded and the police searching houses to arrest villagers. The police had cordoned off the farmland. Anyone who crossed the cordon would be beaten. Over twenty villagers were wounded, apart from a few injured elders. Now many policemen are staying there to prevent any interference with the construction. The villagers have been scared off from the cordoned area."
The governor of Wuhe Town started expropriating farmland and mountainous areas in July 2007. This land expropriation has not been authorized by any legal document, nor has any legal procedure been followed. 2200 acres of land were expropriated to construct a Huanan Industry Plant for Energy Recycling and Plastic Recycling. Each villager was paid compensation ranging from ten to several thousand dollars for each acre of expropriated land. Villagers strongly opposed such low compensation. Since then, villagers have submitted over ten appeals, but with no result.
This reporter called the local government of Wehe Town to inquire about the land expropriation. One staff member said, "I had no idea of this." The reporter asked, "Which government agent should I call to get a better understanding of the issue?" "No other government agency has any idea of this. You don't have to make a phone call; we know nothing about it."
The villagers had turned to local media and newspapers for help for several times. None of the media dared to interview the villagers, saying, "We know the issue. Many people have called to complain about it, but we have to wait for our supervisors' instructions."