Police Strip Searches Becoming Routine, Says Group
September 7, 2011 11:33 pm Last Updated: October 1, 2015 3:42 pm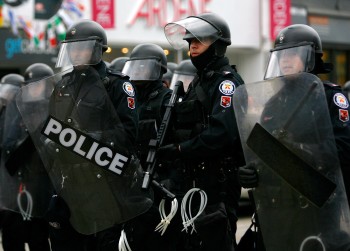 A Toronto police accountability group says strip searches have become routine for police and that in many cases they are not necessary.
"Police are strip searching a lot of people, [they] treat it as routine," says John Sewell, a former Toronto mayor and a spokesperson with the Toronto Police Accountability Coalition (TPAC).
"It's a power trip," Sewell notes.
In an online bulletin published in late July, TPAC says that about 60 percent of those arrested by the Toronto Police Service in the last two years have been strip searched.
TPAC bases this percentage on the number of strip searches in 2010 and 2009 reported by Police Chief Bill Blair at 29,789 and 31,072, respectively. It also assumes that the number of people arrested each year were less than 50,000, based on 2007 data and extrapolating based on fallen crime rates since 2007.
President of the Toronto Police Association, Mike McCormack, however, argues that the percentage is lower. He cites recent statistics showing that there were 70,758 arrests made in 2010, which means less than 50 percent of those arrested were subject to a strip search.
McCormack says the searches are not done routinely, and that they must be justified on a "case-by-case basis."
"A Level 3 search [strip search] must be approved by a supervisor only after officers articulate the reasons for requesting to conduct one," McCormack notes.
He adds that if anyone believes that their rights were violated, they should go through the legal process to follow up.
Sewell says the police should first do a frisk search, which is a Level 2 search, and only conduct a Level 3 if they can establish "reasonable and probable grounds" that it was necessary.
"Most people won't have weapons in their underwear," says Sewell.
Toronto Police Service was contacted for comments but they did not respond by press time.