The family of a Texas girl who allegedly passed away after she was electrocuted in a bathtub released the final text message that she had sent.
Madison Coe, 14, sent out a text message about plugging in her phone as she was in the bath while staying at her father's home in New Mexico.
"When you use [an] extension cord so you can plug your phone in while you're in the bath," she wrote alongside a picture of the cord, KSAT reported. The photo shows her charger lying on a towel or possibly a bath mat.
PLEASE PLEASE PLEASE share and bring awareness!! A friend of a friend put this together. I don't even know this person and they are helping to bring awareness to their kids and everyone else's!

Posted by Angela Downs on Monday, July 10, 2017
Police released the text message with her family's permission. It's unclear to whom the text was sent.
Her parents said that raising awareness about her death will prevent future accidents.
"[Coe's parents] hope this will raise awareness of the dangers that combination of electricity, water and portable electronic devices can pose to people, especially teenagers, who are the heaviest users of these devices," David Miranda, public information officer for Lovington Police, said in a statement according to KSAT.
Coe's stepmother, who is also a nurse and EMT, performed CPR on Coe until paramedics arrived.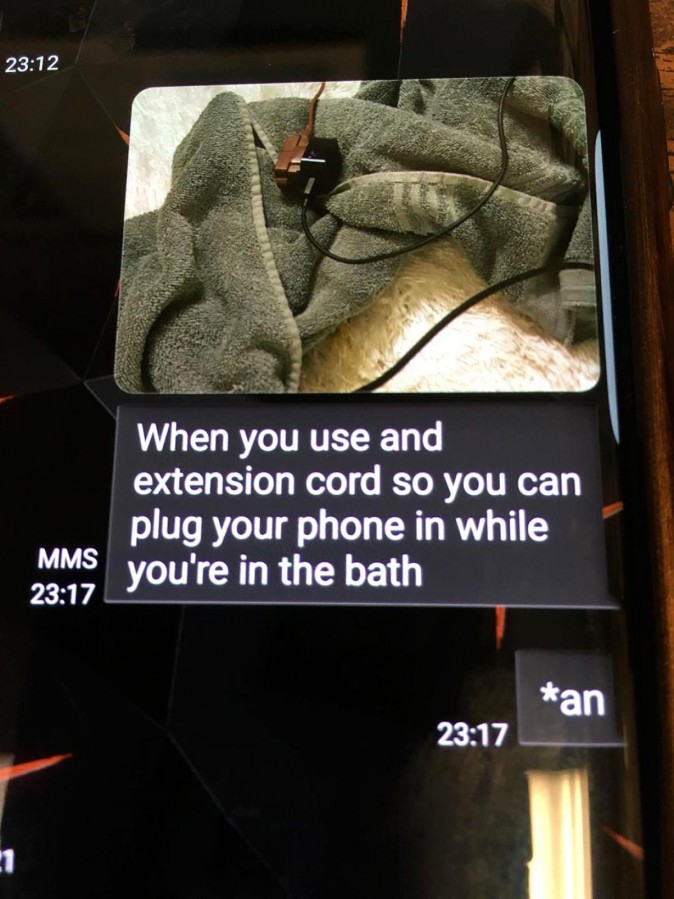 "It's not uncommon for her to spend two hours to two and a half hours in the bathtub," her stepmother Felisha Owens told CBS affiliate KRQE.
NBC12 reported that her cell phone was never immersed in water. Officials said that the girl died after touching the frayed part of an extension cord that had water in it.
"There was a burn mark on her hand, the hand that would have grabbed the phone. And that was just very obvious that that's what had happened," Coe's grandmother, Donna O'Guinn, told NBC News.
To make a donation to the Coe family visit: https://www.gofundme.com/madison-coe-memorial-fund For more on Madison's story and funeral services read Tuesday's Hobbs News-Sun.

Posted by Hobbs News-Sun on Monday, July 10, 2017
Before she was found, the girl had graduated from the 8th grade at Terra Vista Middle School and was expected to attend a high school in Houston, according to People magazine.
She was a basketball player and played the tuba in her school's band.
"She was such a bright, vibrant, very intelligent, loving, caring young lady," her mother, Angela O'Guinn-Downs, said of the teen. "She had such a huge heart. Always willing to help others."
A GoFundMe page was created for the family of the teen.
Another Warning Over Chargers
Apple has warned customers to be careful about phone and iPad chargers.
Apple or non-apple, mobile devices & charging cables pose a fire risk. Please be mindful when charging electronics & unplug when not in use. https://t.co/nlSZzKwPQ6

— Richmond Hill Fire (@RHFES) April 7, 2017
The firm has issued this warning: "Beware of counterfeit parts. Some counterfeit and third-party power adapters and batteries may not be designed properly and could result in safety issues."
"To ensure you receive a genuine Apple battery during a battery replacement, we recommend visiting an Apple Store or an Apple Authorized Service Provider. If you need a replacement adapter to charge your Apple device, we recommend getting an Apple power adapter," Apple also warned.
"Apple or non-Apple, mobile devices and charging cables pose a fire risk. Please be mindful when charging electronics and unplug when not in use," a local fire department also tweeted, showing a woman's charred cable.