Police on Tiananmen Square Outnumber Tourists During 17th Communist Party Congress
October 16, 2007 12:00 am Last Updated: October 16, 2007 12:00 am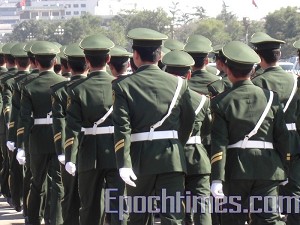 BEIJING—October 16 marks the second day of the Chinese Communist Party's 17th National Congress. The area surrounding Beijing's Tiananmen Square remains on high alert. While the military and plainclothes police patrolled the area throughout the day, passersby tried to keep a low profile.
A Chinese woman just returned from Japan to Beijing on October 13. She went to Tiananmen Square on October 16 for sightseeing, but she was not allowed to enter. All the entrances to Tiananmen Square were blocked by the Chinese police. The police at Tiananmen Square actually outnumbered the tourists today.
According to the woman, she went to Tiananmen Square yesterday and saw a few Chinese people arrested for their attempt to appeal to the Chinese government at Zhongnanhai (the CCP government's headquarters in Beijing) to seek justice. Today she didn't see any protesters on Tiananmen Square. According to this woman, the area was packed with police and their vehicles.

The woman said today the police searched her bag twice. The police stopped her from taking any photo and tried to grab her camera. She saw that a policewoman passed out while grabbing personal items from a visitor on Tiananmen Square. She thought that it was probably because the policewoman was exhausted because she was on high alert all day long.
According to Mr. Li, a Beijing resident, the entire police force and special police force in Beijing are helping with the patrol activities in Beijing and with intercepting protesters trying to make an appeal on Tiananmen Square. The entrance of Beijing City government was swarmed with plainclothes police. According to Mr. Li, there is an ambient level of tension in Beijing and famous activists in Beijing are under police watch right now. Many activists have lost contact because some of them are imprisoned on a mountain and others have been driven out of Beijing temporarily.
It is alleged that Beijing has put the equivalent of 8,240,000 in manpower into the security work for the Chinese Communist Party's 17th National Congress with the attendance of 2,237 representatives from around China.