Working a late shift on Thanksgiving night might seem like the short straw—especially for those with family.
But for Police Officer Michael Colotti, his Thanksgiving shift became the "most incredible experience" of his career after he got an unusual call for assistance in  Stoneham, Massachusetts.
He didn't miss out on the family vibes either, becoming involved in the most powerful moment of any family—the birth of a child—from the second he stepped into the house.
According to Boston25 News, Stoneham police received a report of a woman in labor around 11 p.m. on Thursday, Nov. 23.
Colotti and his partner, officer Christopher Murphy were dispatched to the house.
With no children themselves, and little experience to fall back on, they had to quickly assess the situation and help as best they could and rely on their training.
They had time to help the woman onto her back and prop her up with pillows—and then helped her deliver a healthy baby boy.
An ambulance arrived soon after, taking mother and child to a nearby hospital.
"We see and deal with so much stuff, that was an uplifting thing to be a part of," Colitti, told Boston 25. "I would say nothing is going to prepare for that situation but training did kick in for both of us and we did what we had to do."
Stoneham police officer delivers baby for family that couldn't make it to the hospital on Thanksgiving Day. #wcvb pic.twitter.com/UYAEvFmHuF

— John Atwater (@AtwaterWCVB) November 24, 2017
The baby's father told WMBC that there was "a sigh of relief" when the officers arrived to help, and was grateful for their help.
Colotti took the chance to visit mother and baby at Winchester Hospital the next day. Mother and baby are both doing fine.
At 7: grateful Stoneham dad thanks the police officers who helped deliver his baby boy in his home on Thanksgiving #WCVB pic.twitter.com/XE0NAPS9Ix

— John Atwater (@AtwaterWCVB) November 24, 2017
The unusual situation came about after the woman had been rushed to hospital earlier that day, only to be sent back home because the midwives thought the baby wasn't ready yet. She was told to come back when the contractions were closer together.
"[She] came back home and was getting ready for bed and we all know what happened next," said Colotti, according to Boston 25.
Neither parent has been named.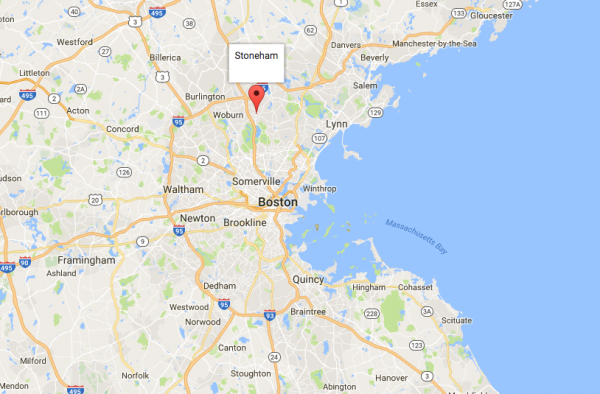 Stoneham Police Chief James McIntyre said he was proud of the officers for their "calm and professional response."
"This isn't something that happens every day, and I want to congratulate the new mother and father on the birth of their son," he said in a statement according to the Boston Globe.
Share this story!