It was an 88-degree sunny day in Tukwila, Washington, when somebody noticed a dog locked in a parked car and called the police.
When officers arrived on the scene, the dog has already been inside for at least half an hour and was "in visible distress," the local police department wrote on its Facebook page.
One of the officers broke the car window with a pair of bolt cutters, unlocked the door, and carried the dog out.
"We were able to extract the dog, provide it with water, and cool it off in our air conditioned patrol car," the department stated. "Thankfully this incident did not end in tragedy."
The department posted a video of the rescue on Facebook along with pictures of the dog and a weather app showing 88-degree temperature that day.
Leaving an animal or a child in a car with the air conditioning off and the windows closed quickly becomes very dangerous on a sunny day. It can only take 10 minutes for the temperature inside a car to rise by 20 degrees. It takes as little as an hour for a child or pet to overheat, faint, and even die.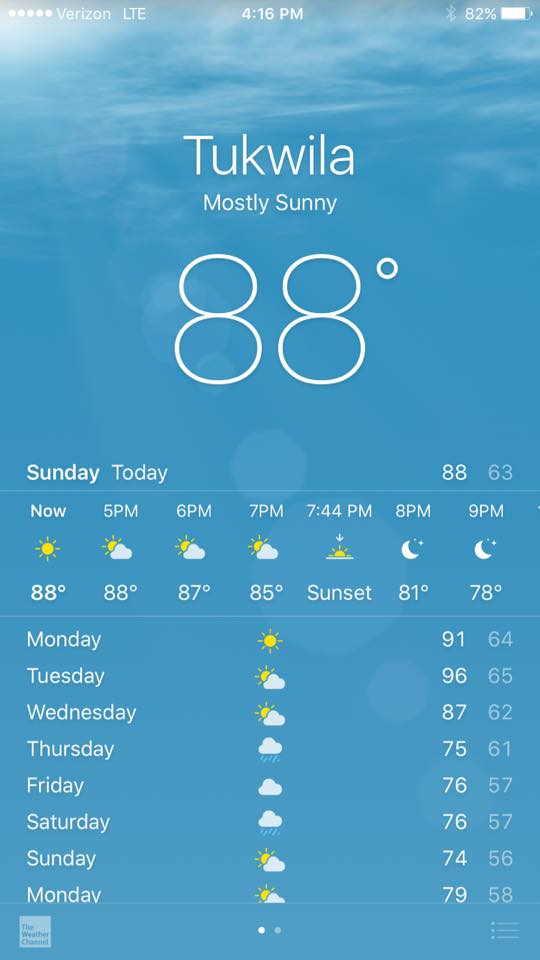 The Tukwila officers waited around for the owner of the car, who can face a misdemeanor charge for animal cruelty. The car had one window opened a crack, but that makes almost no difference.
The state's law prohibits leaving an animal in a car or confined space if it could be harmed by excessive heat, cold, lack of ventilation, or lack of water. Animal control officers and law enforcement officers can break into vehicles and confined spaces if necessary to rescue the animals and can't be held liable for the damages.
"So again, DO NOT leave your pets unattended in your vehicle during the warmer months," the department stated. "We WILL break your car window and rescue the dog and you will be penalized for leaving your dog in a hot car."
According to the American Veterinary Medical Foundation, hundreds of animals die in overheated cars each year. Since 1998, over 700 children have died in overheated cars.