Illinois authorities said hospital staff did not alert them to early clues in the case of the murder of a 9-month-pregnant woman and the subsequent removal of the baby from her womb.
Police and Illinois child welfare agency representatives were cited by The Associated Press as saying that Advocate Christ Medical Center staff did not notify them when medics discovered that a bloodied woman who arrived with a seriously ill newborn had not given birth to the baby boy.
Police said the woman, 46-year-old Clarisa Figueroa, murdered 9-month-pregnant Marlen Ochoa-Lopez on April 23 and then cut the baby out of her womb.
Figueroa then allegedly phoned 911 to say she had just given birth to a baby who wasn't breathing.
Paramedics transported Figueroa to the hospital in Oak Lawn, a suburb of Chicago, where she reportedly underwent a physical exam that determined she had not given birth.
The baby was put on life support and he remains in intensive care.
Now both police and Illinois's child welfare agency representatives said the hospital raised no alarm on circumstances that investigators suggested should have raised a red flag.
Oak Lawn police said they were not contacted about Figueroa, by the medical center, or any other agency. Police spokesman Anthony Guglielmi said on Saturday, May 18, that authorities had to subpoena medical records from the hospital for Figueroa and the child. He said police didn't learn that Figueroa showed no signs of childbirth until "a couple of weeks" after she was examined.
Illinois Department of Children and Family Services spokesman Jassen Strokosch said Saturday the agency was alerted on May 9 that there were questions about who had custody of the child in order to make medical decisions.
He said he couldn't speculate about why the agency wasn't contacted sooner.
"We don't know what was happening at the hospital," he said.
Strokosch said the Department of Children and Family Services was alerted by someone required by law to contact the department about suspected abuse or neglect, but he couldn't say who contacted the agency.
A hospital spokesman told The Associated Press in an emailed statement, "We have been cooperating with authorities and as this is an ongoing police matter, we're referring all inquiries to local law enforcement."
Murder Charges Announced
Police announced on Thursday that three people had been arrested and charged in connection with Ochoa-Lopez's death.
Chicago Police said at a news conference that Figueroa and her 24-year-old daughter, Desiree Figueroa, would face charges of first-degree murder. The mother's boyfriend, 40-year-old Piotr Bobak, is charged with concealment of a homicide.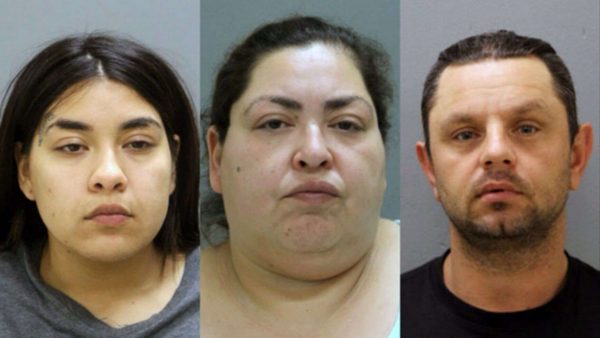 The victim, 19-year-old Marlen Ochoa-Lopez, was found on May 15, strangled to death. Her unborn son had been removed from her womb.
People magazine reported that the baby, who Ochoa-Lopez had intended to name Yavani Yadiel Lopez, has no brain function.
Fox32 reported that the family doesn't have plans to remove the child from life support.
Yavani Yadiel Lopez is Marlen Ochoa-Lopez's son. He is brain dead and on life-support at Christ Hospital where his family has decided to keep him on life-support.

Charges against the people responsible expected shortly.

You can help the family here: https://t.co/D7PUH1CJgQ pic.twitter.com/6LBjpgZ3Rf

— Dakarai Turner (@Dakarai_Turner) May 16, 2019
The family said that they are praying for the child.
"I have a lot of faith that the baby's going to live. God is going to give me that miracle. We're anxiously waiting to have him, to love him," Yiovanni Lopez, 20, the husband of Marlen Ochoa-Lopez, reported the Chicago Sun-Times.
Clarisa Figueroa's adult son died of natural causes two years ago, and police believe the woman was hoping to raise the newborn as her own. However, they said the investigation is continuing.
'My Other Son Feels Sad'
Ochoa-Lopez, 19, went missing for three weeks before her body was found.
She left behind a 3-year-old son, Joshua, who has reportedly been asking for his mother.
"My other son feels sad," Lopez told the paper. "I can't explain what happened because he's still a kid, but I try to make him happy."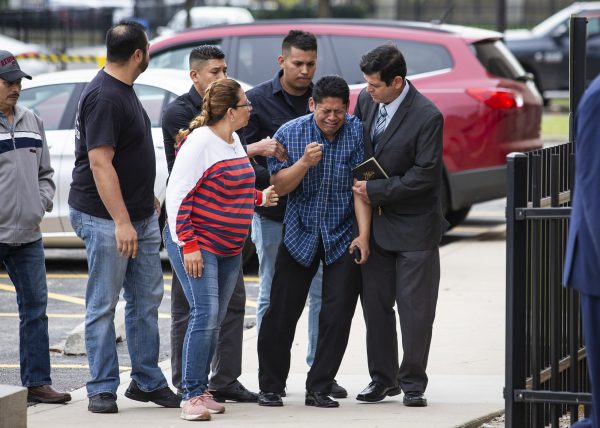 "There were plenty of clues and in my view this all took way too long. They kept saying how a judge had to OK every request—to check her phone, to check Facebook," Lopez said. "I hired a private investigator and he found all of that information, where my daughter was murdered, and he shared that information with police," he added.
Arnulfo Ochoa, Ochoa-Lopez's father, meanwhile, also said he is displeased with the Chicago Police Department's response.
"We just want them to face justice," Arnulfo Ochoa said on May 16. "We are not against them but we just want them to understand what they did wrong."
Chicago Police tell me 4 people are being questioned, 3 of them are under arrest. A press conference will happen today and charges will be announced in the death of #MarlenOchoa. She was 9 months pregnant when she disappeared, sources say the baby was cut from her womb.@fox32news pic.twitter.com/XAJUFeFmLy

— Tia A. Ewing (@TIA_EWING) May 16, 2019
Cecilia Garcia, a spokeswoman for the family, said that Ochoa-Lopez was possibly lured on Facebook by a woman who told her she was giving away baby clothes, The Washington Post reported.

"She was giving clothes away, supposedly under the pretense that her daughters had been given clothes and they had all these extra boy clothes," Garcia told the Post. "That's the false pretenses that we believe led [Ochoa-Lopez] to that house."
Epoch Times reported Jack Phillips and The Associated Press contributed to this report.