Drivers who don't wash their vehicles properly could be hit with a fine to the tune of hundreds of dollars in Australia.
Police in New South Wales warned motorists in March that they could face a nearly $450 charge and three penalty points if their license plates aren't displayed in a clean and clear manner.
The police force stated on Facebook: "Not washing your car properly- $448 and 3 points. Don't wash your car and neglect your number plate. Remover (sic) the cover."
The department's post was met with mixed reactions.
"I get the whole number plate thing but really? A dirty car? This has got to be a joke right?" asked one person. "Ridiculous," exclaimed another.
Added another, "People wonder why no one has any respect for the highway patrol."
Another Facebook user said it was a "joke," adding that "they'll do anything for a buck."
Still entirely unsure why people get white cars in Australia. Our red car looks dirty enough. pic.twitter.com/9NW1w2Nh

— David (@davidmhewitt) September 12, 2012
One woman said that the police department's Facebook post wasn't clearly written. "The accompanying photo states its due to an obscured number plate which was always against the law," she wrote.
"I understand if the plates are covered but if they are giving tickets out for dirty cars with the number plate clearly visible that's wrong," said another person.
But another praised the police, saying it's sad that people "need to be financially forced to do this," referring to keeping one's license plate visible.
According to Clause 25 of the New South Wales Roads and Maritime Services regulation, plates have to be "clear and clean" and cannot be obscured, defaced, or not legible.
Other countries have similar laws.
Could your license plate land you with a £1000 fine? Cars with dirty or obscured plates can be pulled over by police and issued an £1000 fine and failed MOT, so check your plates and get scrubbing #winter #2018 https://t.co/aznzvdT33m pic.twitter.com/Q5yLISPqfp

— Autocraft (@autocraftwirral) January 18, 2018
U.S. License Plate Laws
In a number of U.S. states, according to law website LegalMatch.com, license plates have to be valid and clearly visible.
"The plate should be mounted to the car in the proper place in a manner that is free of obstruction," the site says. "All of the numbers and letters should be clearly visible, as well as any other identifying markers."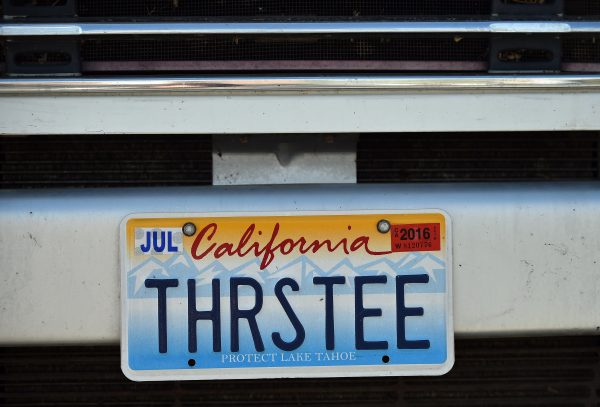 It means that the plates have to be cleaned every so often and checked to make sure that no mud, debris, dirt, or anything else is obscuring them.
Nineteen states require only the rear license plate, but all the rest require both the front and the back of the vehicle to be fitted with plates.
Every state has differing penalties and fines for license plate violations.
In some states, "a violation of a license plate provision can be accompanied by a fine, usually from $100-$200. Repeat offenses can result in more serious consequences, such as increased fines or suspension of driving privileges," according to the website.