The Denver police are investigating after teenagers at East High School in Denver reported being forced into the splits during a summer cheerleading camp, leading to at least one girl being injured.
Video obtained by Denver-based 9News shows one of the girls, Ally Wakefield, being pushed into a front split despite repeatedly pleading the coach and assistants to stop.
Warning: some may find the following video distressing
9News obtained other video showing eight girls being forced to do the same, with teammates and assistants around them holding up their arms so they couldn't move out of that position.
The head coach, Ozell Williams, can be seen in the videos pushing the girls' shoulders down, 9News reports.
Ally's teammates recorded the exercise, and on June 15, her mother, Kirsten Wakefield, sent a video to the school's athletic director saying that was how Ally had injured her leg.
"My husband and I would like to know what the administration is going to do about my daughter's injury and how it happened," she wrote, according to 9News.
On Aug. 23, the Denver Public Schools superintendent released a statement saying that the school's principal, assistant principal, cheer coach, assistant cheer coach, and the Denver Public School's deputy general counsel had all been placed on leave.
The statement said they were cooperating with the Denver Police investigation, as well as launching their own.
"We absolutely prohibit any practices that place our students' physical and mental health in jeopardy. We do not and will not allow any situation in which a student is forced to perform an activity or exercise beyond the point at which they express their desire to stop," wrote Superintendent Tom Boasberg.
"As the superintendent of the school district and the father of two high school-aged daughters … the images and actions depicted are extremely distressing and absolutely contrary to our core values as a public school community."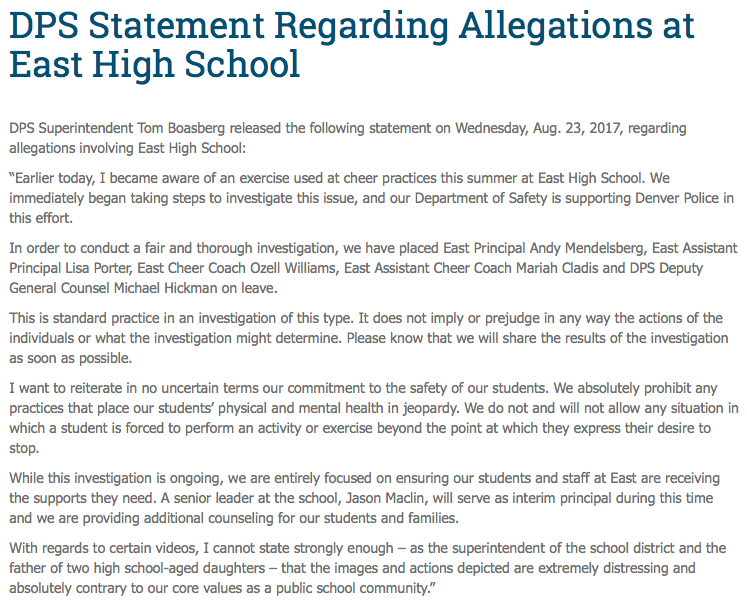 This was the first year Williams had been head coach for East High School.
In a TedX Talk at CU Boulder in April, Williams said he started tumbling after watching Power Rangers on TV at age 3. After being caught shoplifting at a Walmart in high school, he said he made a pivot in his life, and tumbling helped him to stay on course.
"Through [tumbling] I'm able to share not only my turmoil of seeing my mom beaten, going through violence at an early age, having a gun put to my head, as well as being on stand and testifying," he said.
"I started Mile High Tumblers 5280, which is an organization where we give back to the youth through mentor and tutoring, by giving them the outlet to shine in front of thousands of fans." 
The bio on his website says he is a cheerleader for the CU Buffaloes and has performed at Denver Broncos and Denver Nuggets games.
From NTD.tv