The number of fines being handed out by police for breach of COVID-19 controls has risen alongside new restrictions over the past month, according to official figures published today.
At the height of the lockdown in April, over 3,000 fines were given out in one week in England and Wales, dropping to fewer than 100 a week by July as restrictions were lifted.
But since the introduction of the "rule of six" and the three-tier system, the latest figures from the National Police Chiefs Council (NPCC) show that 1,103 Fixed Penalty Notices were issued in England over the last month.
Fixed Penalty Notices (FPN) are fines that can be directly meted out by police if they reasonably believe an offence has been committed, without the need to go through a court.
The figures, published on Oct. 28, also reveal that police were unable to trace over 1,000 people who were supposed to be under quarantine after arriving from abroad.
In total, police have issued 125 fines to travelers breaching self-isolation rules since they were introduced.
Although crime has fallen or remained stable in most categories during the pandemic and lockdowns, assaults on police officers have risen by one fifth, according to the report.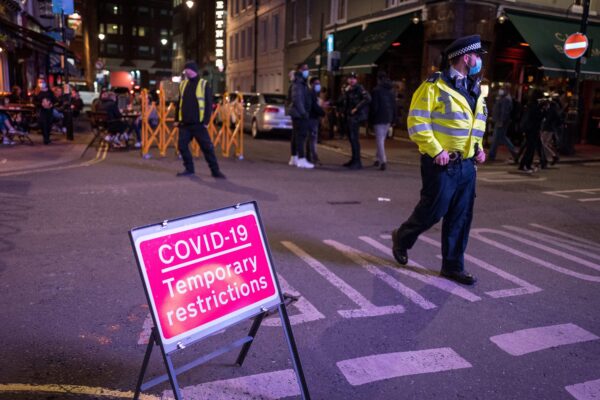 "We have seen an increase in enforcement activity in the last month, reflecting new regulations coming into effect, and a shift towards quicker enforcement against those knowingly breaking the rules," said NPCC Chair, Martin Hewitt.
"Where people don't listen to police officers' encouragement then we will take action. That is our job and I believe the public expects us to do that."
Hewitt said he was "extremely concerned at the rise in assaults against emergency service workers." He added, "We will not hesitate to prosecute anyone who uses violence against frontline staff."
Since March, police have handed out a total of 20,223  fines in England and Wales relating to regulations aimed at curbing the spread of the CCP virus.
Almost half of the fines over the last month have been for breaking the "rule of six," and around a quarter for failing to wear face-coverings.
In the last month, just 64 FPNs were handed out for breaching rules that ban gatherings of over 30, which carries a maximum £10,000 fine.
In England, breaching most COVID-19 rules carries a £100 for the first offence, which is halved to £50 if paid within 14 days. The fine rises by double on repeat offences up to a maximum of £3,200.
However, since Sept. 28. breaking self-isolation rules has carried a £1,000 fine, which can increase to up to £10,000 for repeat offences "and for the most egregious breaches."
In the two months that followed the start of the spring lockdown, a total of 17,039 fines were handed out across all of England and Wales—a rate of 3 fines per 10,000 people.