Police found about two dozen guns in the Las Vegas shooting suspect's hotel room—days after he killed 59 people and injured hundreds more.
Officials found 19 guns—after they found 23 guns in his hotel room—in his Mesquite, Nevada, home. They also found something more deadly: several pounds of tannerite and ammonium nitrate, which can be used to make explosives.
Clark County Sheriff Joseph Lombardo said that the ammonium nitrate was found in his car. The tannerite was found in his house, Newsweek reported.
The Irish Republican Army in Britain's Canary Wharf financial district, al-Qaeda in Turkey and Saudi Arabia, and the Oklahoma City bombings have used explosives derived from ammonium nitrate, which is used as a high-nitrogen fertilizer.
Las Vegas police find pounds of chemicals used for explosives at shooter's home https://t.co/0Ao5faM3rC pic.twitter.com/NrNh90JKgQ

— Newsweek (@Newsweek) October 3, 2017
The U.S. Department of Homeland Security is to "regulate the sale and transfer of ammonium nitrate by an ammonium nitrate facility" due to its potential as an explosive.
Tannerite has been used in attempted attacks like in the September 2016 bombs that were placed in New York and New Jersey, which wounded 29 people. Tannerite is used for explosive powder in long-range target practice, according to Business Insider.
Tannerite only explodes when mixed with another component. It's not clear if he was in possession of the substance for target practice before the shooting.
According to company website Tannerite.com, the substance is legal under federal law to buy, and it's described as ammonium nitrate and/or ammonium perchlorate. It explodes with a "VERY loud" bang, the website said.

"Tannerite is the shot indicator target of choice for hunters, law enforcement, and U.S. armed services," the site states.
Federal, state, and local investigators have found no evidence that Paddock, 64, had even incidental contacts with foreign or domestic extremist groups, and reviews of his history show no underlying pattern of lawbreaking or hate speech, a senior Department of Homeland Security official said on Tuesday.
"We cannot even rule out mental illness or some form of brain damage, although there's no evidence of that, either," the official said, speaking on the condition of anonymity to discuss the probe, Reuters reported.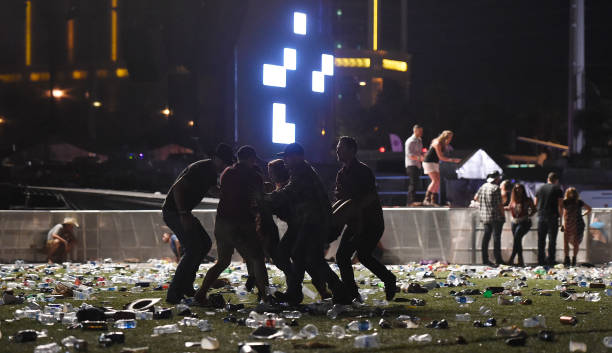 U.S. officials discounted a claim of responsibility by the ISIS militant group and said they believed Paddock acted alone.
Although police said they had no other suspects, Clark County Sheriff Joseph Lombardo said investigators wanted to talk with Paddock's girlfriend and live-in companion, Marilou Danley, who he said was traveling abroad, possibly in Tokyo.
The closest Paddock appeared to have ever had a brush with the law was a traffic infraction, authorities said.
Police are still looking for a motive in the attack.
Reuters contributed to this report.