Dozens of Chinese police raided a home in Jilin City last month and destroyed a shrine set up to honour a family member who had been tortured to death in police custody.
According to Clearwisdom.net, at about 5 a.m. on April 30, 2006, the police chief from Changyi District, Jilin City led 40 to 50 armed police in 13 vehicles to the Wang family home. The family had set up a temporary shrine in their courtyard in memory of their 30-year-old son,Wang Jiaoguo. Wang and his wife Zhao Qiumei had been arrested in early March for practicing Falun Gong. Five weeks later, Wang was tortured to death at the No. 1 Detention Center in Jilin City.
Before the raid on April 30, the family had been harassed several times by the Jilin City police and the 610 Office. When the raid occurred, the police closed the surrounding street, broke into the courtyard and forcefully tore down the shrine. They took away everything that had been in and around the shrine, except the photos of Wang.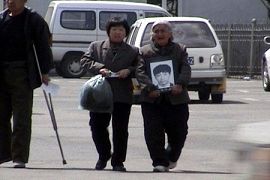 Clearwisdom.net also reported that two plainclothes policemen from Jilin City Police Department had been to Wang's uncle's home the previous night and warned them that they needed to stay away from the shrine. Many of Wang's friends and relatives also received threats and warnings. Most of Wang's family members' cell phones and home phones are being monitored.
The police who arrested Wang and his wife were from Nanjing police station, led by Tan Xinquang.