Motorists pulled over by police officers in several cities around the country this holiday season got a welcome surprise.
Instead of a ticket and fine for a minor traffic misdeed, they instead pocketed cash.
It's a practice that not only has lifted the spirits of recipients, but has given law enforcement officers a badly needed boost as well, officials involved with the efforts said. And that's especially important in a time of unprecedented tensions between police and the people in their communities.
Hearts warmed all over frosty Fremont, Nebraska, this December after an anonymous donor sent the city's police department $5,000. The intention of the gift-giver was to make it so officers could hand out 50 Christmas cards, each with $100 inside, reported Nebraska Public Media. The benefactor bestowed the same gift on the community for the past several years, the outlet reported. And it's a ritual that often brings recipients to tears, and fills the hearts of officers, as well, police officials there said.
Further south, the spirit of Santa was at work in Walhalla, South Carolina. The Isaiah 40:31 Foundation gave the Oconee County Sheriff's Office $5,000 to pass out to 100 surprised people in need, the Index-Journal reported.
And in Ocala, Florida, the tradition carried on this year, the fifth time for the city's police department, when an anonymous giver sent in $2,500 to be given away. A video montage of the resulting joy was shared on the department's Facebook page and has been viewed over 300,000 times. The effort is a gift that just keeps giving, said Ocala Police Chief Mike Balken.
"You can see in some of those videos and photos on the faces of, not only the people that are getting these blessings from our officers, but I think on the face of the officers, as well," Balken told The Epoch Times. "We're always thinking about ways to improve morale. And, really, I think this is kind of therapeutic for some of our officers that deal with some really horrible things day in and day out. To take some time to slow down, and go out and find somebody in a non-enforcement manner, and just maybe brighten their holiday—I think it does a lot, not only for the folks that are receiving, but for the officers, as well."
When he offered the opportunity to pass out cash, requests to participate flooded in, and he had to pick in the order the requests were received. After seeing the positive effect the effort had on both officers and people in the community, Balken hopes more donors will contribute next year, giving more officers the chance to play a role in Operation Secret Santa next December. His predecessor started the program about five years ago and died in a private plane crash last year. The force was still reeling from his death last Christmas, but Balken was inspired to put the program back into place this year in honor of the previous chief of police.
"I made quite frankly one phone call" to a potential donor, who insisted on remaining anonymous, he said. "And within about 30 minutes, I had a $2,500 donation in my hands ready to move this forward."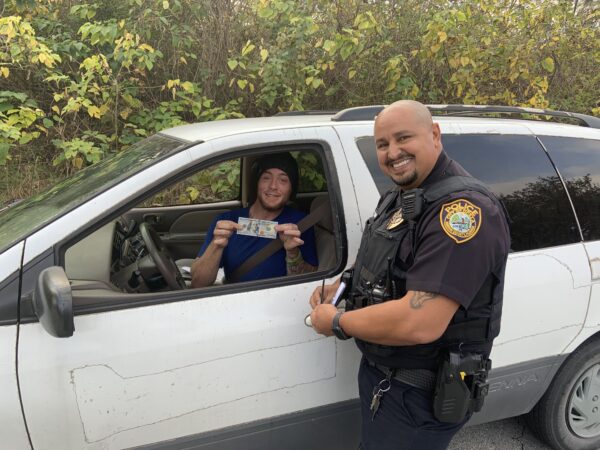 About a week before Christmas, Anthony Talley had to make a quick decision, he told the officer who pulled him over. He knew it was wrong. But rush-hour jam threatened to block him from picking up medicine he needed to take.
He'd worked all day, and had only about 30 minutes before the pharmacy closed. So he zipped through a parking lot to bypass a lane clogged with cars. His heart sank when he heard the police siren and saw flashing lights in the rearview mirror of his white SUV.
After answering the police officer's question about why he was in such a hurry, Talley braced for the bad news, as the cop returned to his patrol car, then walked back, accompanied by his partner, who was holding a camera.
Officer Santiago's heart beat with anticipation, too, and he knew he had to hurry, what with the pharmacy closing in about half an hour.
"On behalf of the Ocala Police Department, we want to give you a little present, all right?" Santiago said, flipping open his pad of traffic tickets and pulling out a hundred-dollar bill. "This is something we do every year. I want you to have a Merry Christmas."
"No way!" Talley breathed, his voice quavering and his eyes clouding, as he reached out to shake the officer's hand. "Thank you, sir! I've been working all day to work up $100 today. Thank you so very much! Thank you so very much!"
That "just made my day," Santiago, a four-year veteran with the police department, said. "I had the biggest smile for the rest of the day. I was like, Yes! This is what police work is about—making other people realize that we're not just here just to chase bad people [but that] we also do a lot of the things that, unfortunately, don't get exposed throughout media, or social media, or things like that."
It was non-functioning brake lights on a cream-colored sedan that prompted his partner, Officer J. Zaino, to signal to the driver of the vehicle to pull over. When he approached, Zaino noticed that the woman behind the wheel was wearing a hospital ID band and had an IV line taped to her arm. This was the traffic stop he'd hoped to make all day, he knew in an instant.
"Do you know why I'm stopping you today?" Zaino, who just moved to Florida two months ago, asked the bewildered woman, who appears in the department's video.
"No!" she replied with a panicky tone, her brow furrowed, her eyes flashing.
"I'm playing the role of Santa Claus," Zaino said, reaching for a pocket on the top front of his uniform, "and on behalf of the Ocala Police Department, I want to give you $100."
"What?" she exclaimed, reaching for the crisp bill. "Thank you, Jesus! I mean, me, out of all people. Thank you, Jesus!
"God bless you, brother," she said, reaching to shake his hand.
When Zaino worked as a police officer in Long Island, he didn't face the hatred he witnessed toward cops in nearby New York City.
Still, "when I saw smile on her face, that made me feel good," he said. It "is just something different from what we do every day, to be able to give back to our community. It means a lot."
Anything that improves the morale of law enforcement officers now is a win, says Florida-based therapist and professor David Thomas, a retired 20-year officer, who teaches criminology and counsels veterans, members of the military, and police.
Depression is rampant in police work, and suicides now surpass the number of officer deaths in the line of duty, Thomas told The Epoch Times. Officers often reveal to him that they'd rather "find a place and sit, other than go out and make traffic stops and do those kinds of things that interact with the public, for fear that things our going to go south, and there's no way they can help."
A police academy where he teaches just graduated a new recruit class of nine, he said. The average class used to be full with 45 recruits and another 45 on a waiting list to begin training.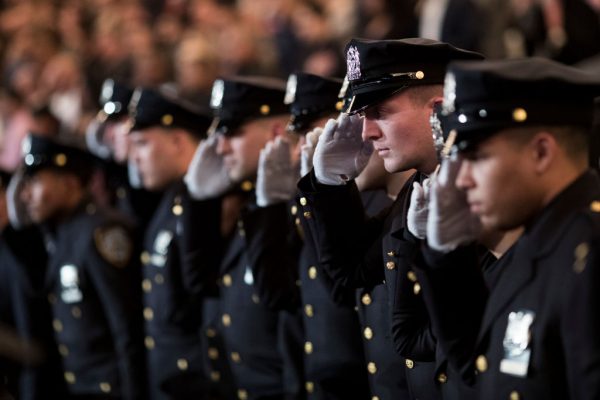 "That sends a message that nobody really wants to be the police right now, because of the way the situation is," he said.
The Christmas giveaways are about so much more than quick cash, Balken said. Those interactions with people in the community paint a truer picture of most police officers.
"Nine hundred ninety-nine times out of 1,000, those events go off without any issues," he said.
And when an officer acts inappropriately "we're generally the first ones to cry foul and demand, you know, proper discipline and action by the agencies that have encountered those," Balken added. "So, I think what's going on around the country over the past couple of years has just done a huge disservice to the profession, because I think there's been a narrative cast out there, and it's just not an accurate depiction of who police officers are around the country."
"That's the goal of the [Secret Santa] program," he said. "It sends the correct narrative about who our police officers are, what their real vision is out there on the street, and just tells the true story."