Police Chief Pot Cake: Eats Entire Cake Laced With Pot
April 17, 2013 4:10 pm Last Updated: April 17, 2013 4:57 pm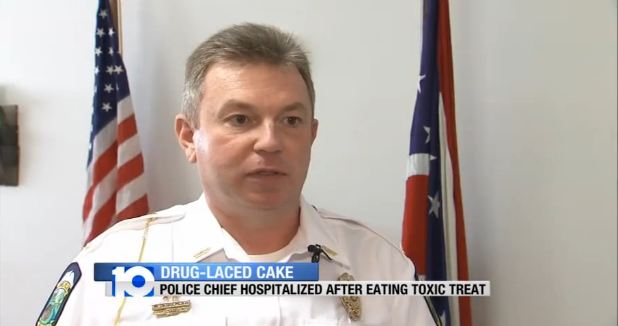 Police chief pot cake: The boyfriend of a police chief's daughter allegedly laced a cake with pot.
Mike Berkemeier, a police chief in Laurelville, Ohio, ate an entire cake that was sitting on his counter, in a container.
The cake was later found to be laced with a significant amount of hash oil, a concentrated form of THC typically accumulated by scraping out glass pipes.
Berkemeier's second daughter allegedly had a friend bring it into the home, despite the daughter telling the friend not to, according to the Logan Daily News.
Berkemeier was visiting his first daughter in the hospital. He had picked the younger daughter up from home, in a hurry, and during that time, the friend left the home, too, forgetting the cake.
"I was on the phone with my daughter in the hospital, and I'm talking to her and I'm answering questions, but I'm not remembering what I just said. I'm going, 'What is wrong me?'" Berkemeier said. The police chief went outside to get some fresh air, but found the problem was getting worse, or he was getting more of the high produced by THC.
After he drove to the Laurelville Police Department, EMS took Berkemeier to the hospital, where doctors gave the police chief a sedative. When he woke up the high was gone.
"It was flat out the worst experience of my entire life," he told the Daily News. ""I have never felt like I was going to die before. Not knowing what has happened to you and feeling like you have no control over what's happening and not knowing what's happened, is, I can't even describe."
"I felt like I was out of my mind," he told 10TV, a local broadcaster. "I thought I was dying,"
The broadcaster said that the Hocking County Sheriff's office is investigating possible charges.