Police Chief Beats Yilishen Ant Farmer
March 6, 2008 12:00 am Last Updated: March 6, 2008 12:00 am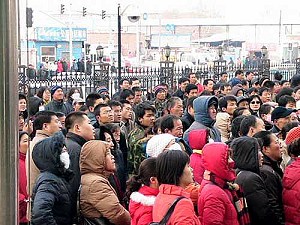 [Editor's Note: Yilishen Tianxi Group, a Shenyang-based company that sold ant-derived health-care products, went bankrupt in November 2007. The principle cause of the bankruptcy was disagreements between corporate and local officials.
Before the bankruptcy, many high-ranking government figures urged people to invest in Yilishen. Over an eight-year period, the company had recruited about a million people for its ant farms, collecting about 15 billion yuan (US$2.11 billion).
Yilishen workers who had lost their lives' savings in the bankruptcy staged demonstrations around the company headquarters and provincial government offices, demanding government assistance in recovering their investments. In response, the military was called out to disperse the demonstrators. News of that and subsequent protests has been tightly suppressed by the Chinese regime.
On February 16, Al Jazeera English interviewed Shenyang ant farmer Liu Yang, at his home. The Al Jazeera's video report of the Yilishen scandal has been made public via Youtube.
The event described below occurred after the release of Al Jazeera's report.]
On March 1, at least 3,000 ant farmers gathered at the headquarters of Yilishen Tianxi Group in Shenyang City, Laioning Province to seek company officials' help in recovering the farmers' lost money. In response the head of Shenyang's Public Security Bureau led plainclothes policemen in forcibly dispersing the ant farmers Liu Yang and his wife were both beaten by police.
An Epoch Times reporter contacted Liu Yang on that evening. Liu Yang said he thought that the Security Chief, Kong, had brought plainclothes policemen to identify him and then beat him and his wife, in revenge upon him for exposing the Yilishen scandal to the whole world via Al Jazeera English.
Liu Yang said that during the demonstration, the jeep in which Kong rode stopped right in front of Liu. Kong pointed at him and told three plainclothes officers, "That is Liu Yang." Then several plainclothes seized him and dragged him to a police car; at the same time many more policemen arrived at the scene. When Liu's wife tried to protect her husband, one policeman grabbed her and threw her on the floor.
About a dozen policemen took turns beating and kicking Liu Yang and his wife, who tried to protect each other against the violence of the policemen. When Liu Yang forced into the police car, Kong grabbed Liu Yang's wife's hair and dragged her back, and then slapped her face three times.
Liu Yang said, "When those policemen saw their head himself beating us up, they started beating us up even worse; then they threw me inside the police car."
The entire incident of Kong and the police beating Liu and his wife was videotaped by a journalist from a foreign TV network; this was confirmed by another ant farmer who had initially called the station.
The ant farmers said that the purpose of their going to Shenyang was to get their money back because authorities have frozen their payment for more than 50 days. The farmers are in need of money for their children's tuition and for buying seeds and fertilizer for their crops, and for other essentials.
The regional police officials had warned the farmers not to go to Beijing to appeal during the "Two Sessions" (the annual Communist Party Congress) or to Shenyang to seek redress.
Ant farmers from Liaoning's Benxi City, who were the first arrivals at Yilishen's headquarters on March 1, said that when they arrived, at 8:00 a.m., the police were already on the site. As soon as groups demonstrators arrived, they were herded into waiting buses and taken to Sujiatun Stadium, where their names and other information was collected.
The reporter called the Shenyang Public Security Bureau on that evening and asked if the head's last name was Kong, but the person who answered the phone refused to confirm or deny. He told the reporter that the Bureau Chief was only available by appointment and only met with representatives of certain departments.