Authorities are closing in on the woman who was filmed licking an ice cream tub in a store and replacing it in the freezer in a 9-second video that quickly went viral.
Propelled by public disgust, the video topped 11 million views within just a few days, catching the attention of the ice cream company, Blue Bells, and law enforcement.
Now, a police force in Lufkin, Texas, believes that they have not only identified the store, but also identified the woman in the video, who they say will face charges.
Lufkin police have not released the name of the woman and have not arrested her, saying in a statement that the investigation is still ongoing.
The video shows the woman licking a half-gallon of Blue Bell's Tin Roof flavor, put the lid back on and return it to the freezer, before laughing and walking away. The video left few clues as to the woman's identity or the location of the store.
"Early this week social media commenters identified the woman seen licking a half-gallon of 'Tin Roof' as being from San Antonio," said Lufkin Police in a statement. "That led San Antonio law enforcement to believe it was one of their Walmart stores."
Blue Bell ice cream is working with law enforcement officials to track down a woman seen licking ice cream and then placing it back on store shelves. https://t.co/Pc0aWjCeZm

— KSAT 12 (@ksatnews) July 2, 2019
However, they could find no store display case that matched the one in the video.
"The search then went to Houston Walmart stores after investigators learned the identified woman may be living with a boyfriend in that area. Again, a store display case matching the one in the video could not be found."
The breakthrough came on July 3, when Blue Bell corporate told its division managers to see if they could identify the store location. Within an hour they had their answer: a Lufkin Walmart.
Detectives were then quickly able to track down surveillance footage from the store of a woman matching the description. Appropriate charges will be filed, according to Lufkin Director of Public Safety Gerald Williamson.
"Our biggest concern is consumer safety—in that regard we are glad to see the tainted product off the shelves," Williamson said.
According to Lufkin police, Blue Bell has removed all half-gallons of Tin Roof product from the Lufkin Walmart shelves.
"Food tampering is not a joke, and we will not tolerate tampering with our products," Blue Bell said in a statement, according to Fox. "We are grateful to the customers who alerted us and provided us with information."
Blue Bell said in earlier statements on social media: "We will continue looking for ways to improve, including looking at methods within our manufacturing process to add additional protection to the carton. (i.e. peel-off seals or wrap around seals). Nothing yet has been determined."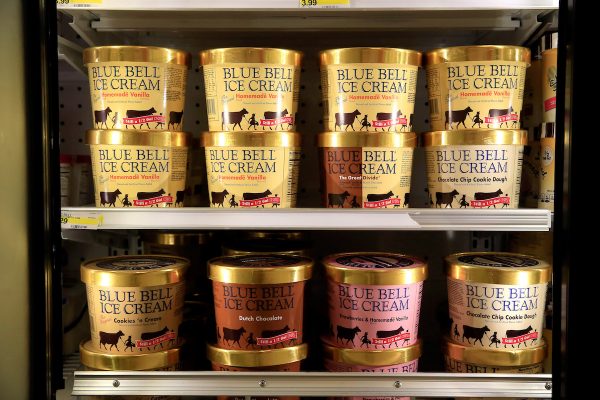 Some social media users have shared a screenshot they claimed is from a—now private—Instagram account that claimed to have been the girl in the video.
"Yeah, I really did that. You can call it Flu Bell ice cream now 'cause I was a little sick last week." She encouraged others to "start an epidemic (literally)."
Commenting on the Lufkin police Facebook post, many people expressed their disgust at the girl's actions and wished for her to face justice.
"She needs to spend some time in jail and pay a stiff fine," one said. "That is so unsanitary, no telling what kind of germs she has. My husband is battling stage four colon cancer, I would hate to think he ate ice cream after she spread her germs when his immune system is so fragile."
But, despite assurances from Blue Bell, some people were still put off.
"I think I'll buy the other brands for a while," wrote one person.
Another wrote: "This happened 1 week ago. Do you honestly think that that 1/2 gallon of ice cream really hadn't sold within the week? Say what you will to make the residents of Lufkin and the media feel better but I myself don't believe it."