Hong Kong police have arrested seven Hong Kong independence activists over Beijing's national security law, with five of them arrested while attempting to claim asylum at the U.S. Consulate.
Four unidentified individuals were arrested by police on Tuesday afternoon shortly after leaving the U.S. Consulate where they were said to have sought to apply for political asylum, according to the South China Morning Post.
Local media have reported that their asylum requests were not accepted. According to the consulate's website, "Under U.S. law, the United States considers asylum only for aliens who are physically present in the United States."
The arrests came just hours after three former members of Studentlocalism were reported to be in police custody on Tuesday morning on alleged charges of violating Hong Kong's national security law. They included 19-year-old Tony Chung, founder and convener of the local student group; 17-year-old Ho Yanni Loren; and 21-year-old William Chan.
Studentlocalism is a Hong Kong-based pro-independence student organization. It was founded in April 2016 but its Hong Kong headquarters was shut down on Jun. 30—the same day that the Chinese Communist Party's national security law was passed in the city, throwing into question the rule of law in the former British colony. The group's overseas branches are still in operation.
Chung was arrested by police from the national security unit at a Pacific Coffee outlet around 8 a.m. while waiting for the nearby U.S. consulate to open.
Supporters of Chung from the UK-based organization Friends of Hong Kong told Radio Free Asia (RFA) they have been trying to assist him with an asylum application as the young freedom-lover faces retaliation for his activism from the pro-Beijing government. It is believed that Chung was planning to seek political asylum at the consulate at the time of his arrest.
According to Friends of Hong Kong, Chung's passport has already been seized by the Hong Kong authorities, leaving Chung without a means to leave the city. The group said they have been unable to reach him since Tuesday morning, RFA reported.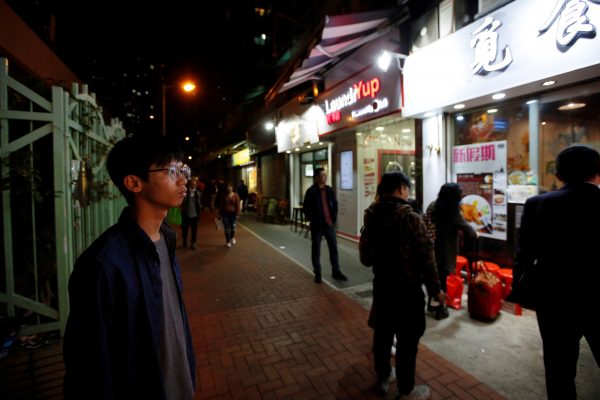 Shortly after Chung's arrest, Ho and Chan were also arrested by police while they were traveling to report to their respective police stations as per the bail requirements of a prior July 29 arrest over pro-independence social media posts.
U.S. Congressman Michael Waltz (R-Fla.) on Wednesday voiced his support for Chung and the other activists on Twitter after learning of the news.
"China arrested Tony Chung because he dared to call for Hong Kong's autonomy and speak out against the #CCP. China continues to violate basic human rights. I stand with Tony Chung & the people of #HongKong in their fight for freedom," he wrote.
Congressman Robert Aderholt (R-Ala.) also voiced his concern for Hongkongers' freedoms and condemned communist China for the arrests under the so-called national security law.
"The arrests taking place in Hong Kong are dispicable acts of communist oppression," he wrote in a post on Twitter. "China's security laws go against every fabric of freedom and free speech that exist. The CCP must be held responsible on a global stage."
'Like North Korea Defectors, They Are Hong Kong Defectors'
Sang Pu, Hong Kong commentator and lawyer, told RFA: "It is a never-heard-of story for Hongkongers to venture into the U.S. consulate for protection. Evidence suggests that the situation in Hong Kong [after the passing of Beijing's national security law] is increasingly exacerbated; and that many residents are expecting to flee Hong Kong."
He expressed that there could be a lot of Hong Kong defectors looking to leave the city, just like the crowds of North Korean defectors that were seen fleeing their home country after an armistice put on hold the Korean War.
However, Sang Pu said that it remains to be seen whether Hongkongers like Chung, even in the unlikely scenario of being granted asylum by the United States, would be allowed to safely depart Hong Kong. He believes that cooperation among all the parties concerned would be needed for the consulate to transfer such individuals safely to the airport.
The consulate granting political asylum would undoubtedly provoke a major diplomatic row between the United States and China, he said, and the consulate would face huge pressure from Beijing and the current Hong Kong government to release the claimants.
UK-based rights group Hong Kong Watch said in a statement on Tuesday that the arrests "demonstrate the need for a special U.N. envoy for Hong Kong to monitor the situation on the ground and report accurate and regular information on the deteriorating human rights situation to the international community."
The group also urged governments to consider sanctions against those responsible for the attacks on basic freedoms in Hong Kong.
Exiled Hong Kong Activist: Path to Protection Getting Tougher
Honcques Laus, former student of the Open University of Hong Kong currently living in exile in the United Kingdom, told RFA that with Beijing's national security law in effect in Hong Kong, the government has stepped up its efforts to crackdown on pro-democracy protesters.
He said that countless activists are facing political prosecution and prolonged surveillance, and quite a number of them have seen their passports seized by the local authorities, adding further difficulty to any attempts to apply for political asylum.