Police Arrest Several Hundred Dissidents During China's Congress Session
March 9, 2006 12:00 am Last Updated: March 9, 2006 12:00 am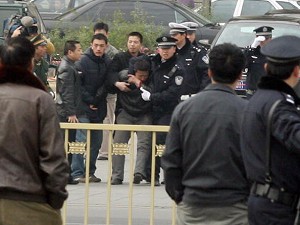 According to various organizations and detainees, Chinese police have already arrested several hundred people in a full scale suppression carried out during the National Congress and Political Consultative Conference session.
At present, large numbers of "appellants" have gathered in Beijing. They view the annual session of China's National People's Congress an ideal opportunity to make appeals to the government.
However some appellants as well as human rights organization "Amnesty International" have revealed that several hundred appellants were arrested and detained or sent home.
As for the appellants who managed to remain in Beijing, they would have little chance of getting close to the venue where the congress session is held – The People's Congress Hall, due to the tight security measures deployed all round the building.

These appellants would also have no means of entering the hotels where Members of the People's Congress are staying, yet these Members suppose to represent the people. A man from China's northeast province Jilin said: "I have tried to enter the hotel to see the representative for our province but the security guard would not let me in. They even detained me for two hours." This man has come to seek justice for a family member killed in a car accident.
An AIDS prevention organization based in Beijing said policemen from Henan province had already placed several AIDS victims and AIDS prevention advocators under house arrest for fear that they might go to Beijing to make appeals during the congress session.

Many provinces in China have already taken suppression measures to deal with well-known figures who have spoken out openly their intention to expose government's illegal actions.
For example, Amnesty International pointed out that since mid February, many long-term appellants in Shanghai have been arrested, including people protesting the forced demolishment of their residential homes.