The driver of a semi that allegedly caused a 28-vehicle crash on the I-70 in Lakewood, Colorado, has been arrested and faces charges of vehicular homicide.
Authorities have identified the driver as 23-year-old Rogel Lazaro Aguilera-Mederos. He is expected to make his first court appearance on April 27.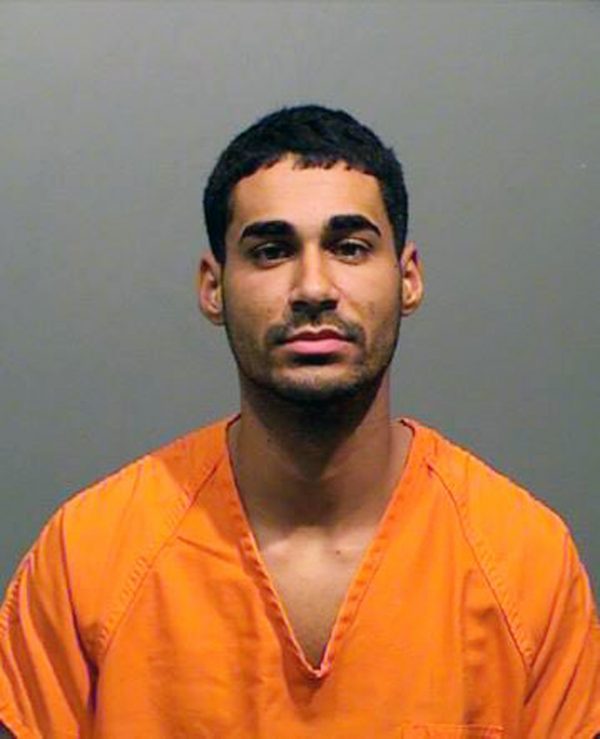 Ty Countryman with the Lakewood Police Department gave an update on Thursday's crash on the morning of Friday, April 26, saying that "multiple people" had been killed.
"Last night the investigators were able to get in and look at the devastation," Countryman said.
"Right now we're at 28 vehicles involved," he said, "24 cars and 4 semis."
The spokesman added that investigators still have not determined the number of fatalities.
"We're just saying 'multiple' at this time because there are still some things we have to look into and check for accountability to the vehicles and drivers to make sure we have all of them."
No information was provided on the severity of injuries of the six people who were taken to the hospital last night.
Vehicular Homicide
The driver of the semi, which was carrying lumber, is not from Colorado, according to Countryman.
"The driver of the semi that started this event was taken into custody. He is being processed and will be lodged at the Jefferson County Jail on multiple counts of vehicular homicide. Those charges are stemming from interviews and evidence that was gathered overnight," said Countryman.
The spokesman added the driver had been injured in the crash, but "not seriously."
Countryman added, "We feel at this time we have enough probable cause to charge with vehicular homicide."
He said there was no evidence that drugs or alcohol were involved.
I-70 crash update from LPD and Colorado Department of Transportation. 28 total vehicles involved. Multiple fatalities. Driver of semi in custody facing suspicion of Vehicular Homicide. Highway not expected to open until tomorrow.

由 Lakewood Police Department 发布于 2019年4月26日周五
The crash shut down Interstate 70 in both directions in Lakewood, Colorado.
The Lakewood Police Department representative said in a press briefing Thursday that a tractor-trailer heading east down a hill crashed into slower traffic in the afternoon hours of April 25, sparking a massive fire.
The spokesman said the semi plowed into traffic that had been backed up near Denver West Colorado Mills Parkway due to an accident further up the road.
He said that after impact, a vehicle ignited and the fire spread.
A towering plume of black smoke was seen for miles as firefighters doused the burnt-out shells of several vehicles in the vicinity of the Denver West Parkway Bridge, The Associated Press reported.
West Metro Fire Rescue said on Twitter that a firefighter suffered minor injuries when he was hit by debris, possibly from an exploding tire.
Our crews working a multiple car crash on I-70 near Colorado Mills. Several vehicles are on fire, firefighters are working to extinguish the blaze. There are at least two injuries. Several agencies are assisting. Please avoid the area. pic.twitter.com/XUZygCKRS0

— WestMetroFire (@WestMetroFire) April 25, 2019
The Lakewood Police Department said in a tweet that the highway would remain closed "at least overnight."
Investigation
Speaking to reporters Thursday, Countryman did not specify a death toll, citing persistent hotspots and ongoing fire suppression efforts by West Metro Fire Rescue.
"We have now confirmed multiple fatalities in this," Countryman said at an on-location press conference around 9 p.m. local time. "We still are just getting to the wreckage."
He said the investigation is in its early stages, as fire crews were still working to make the site safe for investigators due to the "the devastation and the fire" at the crash scene.
"They're still working on the hotspots and—I wouldn't say flare-ups—but the issues that come up."
Six people had been taken to the hospital. Their conditions were unknown.
"The driver of the semi is one of those six," Countryman said.
Countryman was earlier cited by 9News as vowing to investigate the cause of the tragedy.
"We have to try and figure out why this happened," Countryman said. "The semi coming into the slower traffic. There's got to be a reason. We'll investigate and find out."
Final update for the night on I-70 crash. Highway will remain closed at least overnight. We can confirm that there are multiple fatalities and 6 others taken to local hospitals.
Footage from the Crash
Video footage from a news helicopter showed flames whipping off the vehicles and what appeared to be lumber spilled across the interstate.
Local YouTuber Joshua McCutchen, who goes by the name "Burger Planet," captured the moment the semi sped by him moments before crashing into stationary traffic ahead.
*Warning: some viewers might find the language used in the video offensive.
McCutchen also captured footage from the scene of the crash and interviewed an eyewitness.
Airborne traffic reporter John Morrissey posted an aerial photograph of the scene on Twitter.
"EB I70 is CLOSED at Ward Rd by this crash. School bus, tanker, and several cars involved. No word on injuries but several children are being evaluated in the 2 ambulances on scene."
EB I70 is CLOSED at Ward Rd by this crash. School bus, tanker, and several cars involved. No word on injuries but several children are being evaluated in the 2 ambulances on scene. #cotraffic @KOANewsRadio pic.twitter.com/Tf5rwVvdsB

— John Morrissey (@KOAJetcopter) April 25, 2019
This is a developing story.
The Associated Press contributed to this report.
Update: Article updated to identify the driver who was arrested.