Twenty-three suspected child predators and human traffickers were arrested during an online sting operation, officials in Florida said.
The suspects, all men, were using online applications to try to find children, the Sarasota County Sheriff's Office said.
The apps the men were using included Plenty of Fish, HILY, MocoSpace, and Zoosk to find boys and girls they thought were 14-years-old.
One of the men, John Inga, an Oklahoma resident who was born outside of the country, was in Florida to meet a person he thought was a 14-year-old child, deputies said. Another, William Heagney, a handyman, drove two hours on a suspended license to meet with someone he met over an app.
When he was arrested, deputies found child pornography on his phone. Officials said Heagney sent more than 90 explicit photographs over the app to someone he thought was a 14-year-old child.
Several men brought condoms with them to the arranged meetings; one had candy; another had a sex toy.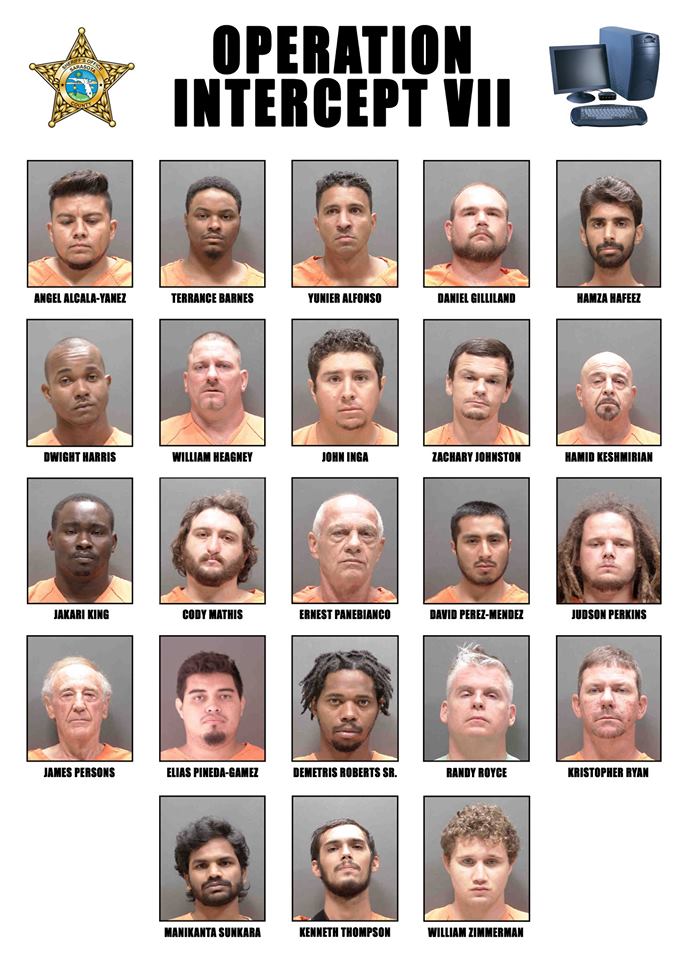 "I wish I could say these operations were no longer needed but time and time again, even after we make dozens of arrests, these men keep coming back for more," Sheriff Tom Knight said in a statement.
"In this digital world we live in, innocent children are far too accessible to predators. That is why, as parents, we have to get serious about prevention. Parents are the first line of defense and we will never stop reminding our community of that."
The others arrested were named as: Angel Alcala-Yanez, a roofer; Yunier Alfonso; Terrance Barnes; Daniel Gilliland, a landscaper; college student Hamza Hafeez; Dwight Harris; Hamid Keshmirian, owner of a dry-cleaning business; Jakari King, a chef; Cody Mathis, a contractor; Ernest Panebianco, a gas station clerk, David Perez-Mendez, a foreign-born construction worker; Judson Perkins; James Persons; Elias Pineda-Gamez, a tile installer; Demetris Roberts, who works in construction; Randy Royce, a real estate agent, Kristopher Ryan, an electrician, Manikanta Sunkara, a foreign-born unemployed man; Kenneth Thompson, a postal carrier, and William Zimmerman, a tiler.
Knight's office announced that 21 men were arrested in May 2018 and released nine applications that parents should watch out for. The office recently released an updated list that now includes 21 applications.
Here are the 15 applications authorities said parents should know about:
Plenty of Fish: A free dating application with a chat function.
MocoSpace: A free social networking and dating app geared towards African American and Latino communities.
MeetMe: A dating social media app that lets users connect with people based on geographic proximity and encourages users to meet in person.
WhatsApp: An encrypted app that lets users send texts and pictures and call each other.
Bumble: A dating application like Bumble that requires women to make the first contact.
Live.Me: A live-streaming video application that tags users' location.
Ask.Fm: An app that encourages users to allow anonymous people to ask them questions, which sometimes leads to cyberbullying, according to the sheriff's office.
HILY: A dating application where users can chat, send private videos, browse pictures, and arrange to meet up.
Best Secret Folder: An app designed to let users hide parents and pictures from others browsing the phone.
Grindr: A dating app geared towards the gay community.
TikTok: A newer app that is used by children to upload short videos.
Snapchat: A social media app that lets users take a photo or video and post it with the assurance the media will disappear after a set time; it also includes the location of users.
Holla: A video chat app that lets users meet people all over the world.
Calculator%: A secret application used to hide pictures and other files.
Zoosk: A location-based dating app that matches users with random strangers.
Monkey: A live video chat app that lets users interact with each other; children as young as 12 are openly allowed to use it and it says it has "mild sexual content and nudity," the sheriff said.
Skout: A location-based dating application.
Badoo: A dating and social media app that is known to be used by teens.
Kik: An app that lets anyone contact and direct messages to users, bypassing traditional text messaging features.
Whisper: A social media network that encourages users to share secrets with strangers; it can include users' locations so people can use it to meet up.
Hot or Not: An app that encourages users to rate other users' profiles; "the goal of this app is to hook up," the sheriff's office said.