Police and Villagers Clash in Guangdong Land Dispute
March 12, 2013 5:32 am Last Updated: October 1, 2015 10:53 am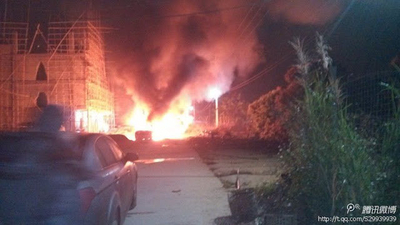 A large number of police attempted to tear down a roadblock set up by villagers in a southern China province, following a land grab protest that erupted in late February.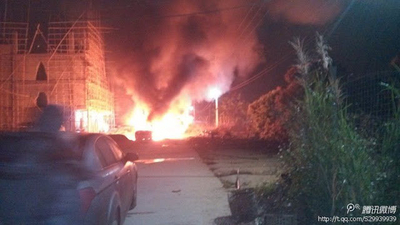 Well over a thousand police stormed a Guangdong village early on March 10 in a surprise attack meant to subdue locals, who have been protesting a land grab since February, but the police were forced to retreat by residents.
Local authorities in Jiexi County, Jieyang City, cut off power and communications to Shangpu Village, and then sent in police at around 2 a.m. with over 100 cars and cranes to remove vehicles being used as makeshift barricades, according to Mr. Shen, who lives in nearby Mainhu Town. He said village sentries used drums to awaken the locals, who arrived on the scene armed with basic weapons like sticks, rocks, and shovels. About 5,000 villagers of all ages turned up, many were injured, and eight people were arrested.
Police used stun grenades to disorient the villagers, as well as tear gas, smoke grenades, and explosives
After about three hours of fighting, the police retreated, but by then more than 10 vehicles had been set on fire. Among the many injured residents were children and old people. Dozens of villagers were taken to the local hospital for treatment, including several who had their vision damaged by the stun grenades and may become permanently blind.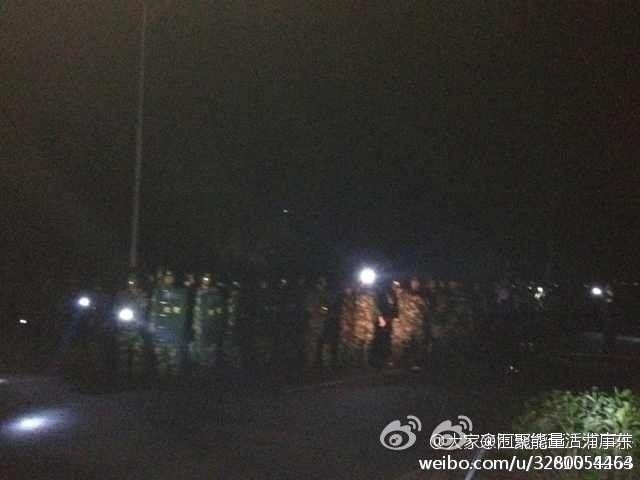 On March 10, The Epoch Times called the public security bureau at Jiexi County, but the person who answered the phone claimed to know nothing of the incident. Later that day, however, Guangdong authorities released details of the confrontation, saying that Shangpu Village officials were among those arrested.
Shangpu villagers have been protesting since Feb. 22, angry at village officials for selling 500 acres of land without consultation. On Feb. 24, village officials hired thugs to suppress the locals, and about 30 cars were destroyed. The residents were unhappy that the local government had sent the police to attack the village again, according to a Shangpu Village elder.
Although local officials are claiming the incident has been resolved, according to foreign media, keyword searches such as "Shangpu" and "Jiexi" have been censored on the Internet.
Research by Jenny Li and Ariel Tian. Translated by Frank Fang.
Read the original Chinese article.
The Epoch Times publishes in 35 countries and in 21 languages. Subscribe to our e-newsletter.