WARSAW—Malgorzata Gersdorf, who the Polish government says is now retired, but who insists her constitutional term as the head of the Supreme Court runs until 2020, walked into the court on July 18 saying the situation was "very tense and dramatic."
Gersdorf is now at the heart of a rule of law dispute in Poland, the largest ex-communist member of the European Union.
She defied new laws that, according to members of the ruling Law and Justice (PiS) party, mean she has been dismissed and no longer has the power to make decisions at Poland's top court.
"According to the law, Madame Gersdorf is a retired Supreme Court judge. According to law, all decisions she could make are invalid," a senior PiS lawmaker, Marek Ast, told Reuters on July 18.
The constitution stipulates a six-year term for the head of the Supreme Court, but it also gives parliament the authority to impose a retirement age on judges. After setting the age at 65, PiS lawmakers argue that 65-year-old Gersdorf's term is no longer valid.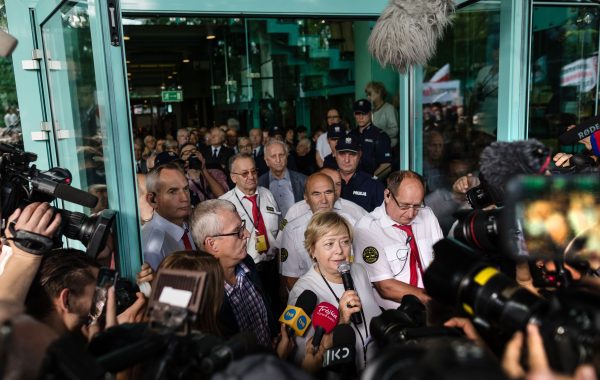 Legal interpretations differ around whether the new law can in effect apply retroactively and cut short a term of office enshrined in the constitution.
Outside the Supreme Court entrance in Warsaw, Gersdorf was asked by reporters what it would take for her to submit.
"When I'm [physically] prevented from entering the court," Gersdorf replied, according to TVN24.
"Do you fear that you might really be blocked from entering the court?" a TVN24 reporter asked.
"I'm sure of it. … Two years ago, [PiS leader] Kaczynski said that he would not physically throw me out of court, but he would take this away," she said, holding up her security pass.
Since coming to power in 2015, party head and de facto behind-the-scenes shot-caller Jaroslaw Kaczynski has pressed ahead with a controversial judicial overhaul that he considers the lynchpin to sweeping reforms he is determined to carry out in Poland.
"If we don't reform the judiciary, all the other reforms will make little sense, because sooner or later these would be overturned or negated by the kind of courts that we have now," Kaczynski said in an interview with Sieci, a Polish weekly, on July 9.
He claims this is needed to make Polish courts more efficient, less corrupt, and cleansed of the vestiges of communism.

Opposition parties, many constitutional experts, and the EU's executive European Commission say Warsaw's efforts to push Gersdorf out amount to unacceptable political meddling that erodes judicial independence and undercuts democratic standards.
On July 13, the Organization for Security and Cooperation (OSCE), a leading rights body in Europe, said Poland's executive branch risks undermining the public's trust in state institutions.
"It's creating a lot of uncertainty and this can undermine the trust in the judiciary," said Ingibjorg Gisladottir, head of the OSCE's Office for Democratic Institutions and Human Rights.
Since taking office, PiS has taken a hardline stance on attempts by Brussels to compel Poland to accept migrants according to a quota system. The ruling party has also gotten tough on tax fraud and has disbursed a monthly benefit of 500 zlotys ($120) per child to families—moves popular with the public.
Additionally, PiS has tightened rules around media, courts, and nongovernmental groups. Pressing ahead with rapid reforms, using clumsy legislative tactics and, at times, heavy-handed governance, PiS now stands accused of violating the rule of law.
A Supreme Court spokesperson, in a July 16 press statement, criticized a draft bill tabled for parliamentary debate on July 19 that includes a range of amendments to the way the highest court operates.
"Before getting into a detailed analysis of the specifics of the draft bill, it unfortunately must be concluded that they are an example of a highly instrumental use of the law to achieve political ends," Supreme Court Justice Jozef Iwulski wrote. "This way of adopting new laws stands in obvious opposition to the rule of law."
Gersdorf is openly critical of the laws and says they are aimed at appointing the new head of the Supreme Court swiftly.
"I am fighting for the country, for the rule of law, for preserving the constitution," the defiant justice said.
Through a raft of hastily-approved new laws, PiS has dismissed many judges in the country's Constitutional Tribunal, the National Judiciary Council, and many regular courts. New ones have been appointed by the president, a PiS ally, under revamped procedures that give the parliamentary majority more say.
Critics decry the changes as rolling back democratic standards 30 years after Poland overthrew communism.
The EU has launched several legal cases, as well as an unprecedented rule of law probe against Warsaw, which risks losing billions of euros in funding from the bloc.
The Polish government has offered only cosmetic concessions and says the judicial overhaul is needed to improve the efficiency of the courts and to rid the country of a lingering communist residue.
Reuters contributed to this report.